by Melissa Voss
A bounce house, bubble ball, an inflatable obstacle course and free popcorn were brought into the University Recreation Center (U-Rec) basketball courts to create a winter carnival aimed at getting students more familiar with the U-Rec facilities. On Friday night, students were invited to visit and familiarize themselves with the U-Rec while having a lot of fun in the process.
"We wanted to bring all of these things into a controlled, safe environment so students could have some fun," said Todd Sandberg, director of the U-Rec. "There are a lot of activities that students may not particularly participate in just out of hesitation or reservation but hopefully this can reduce some of those anxieties."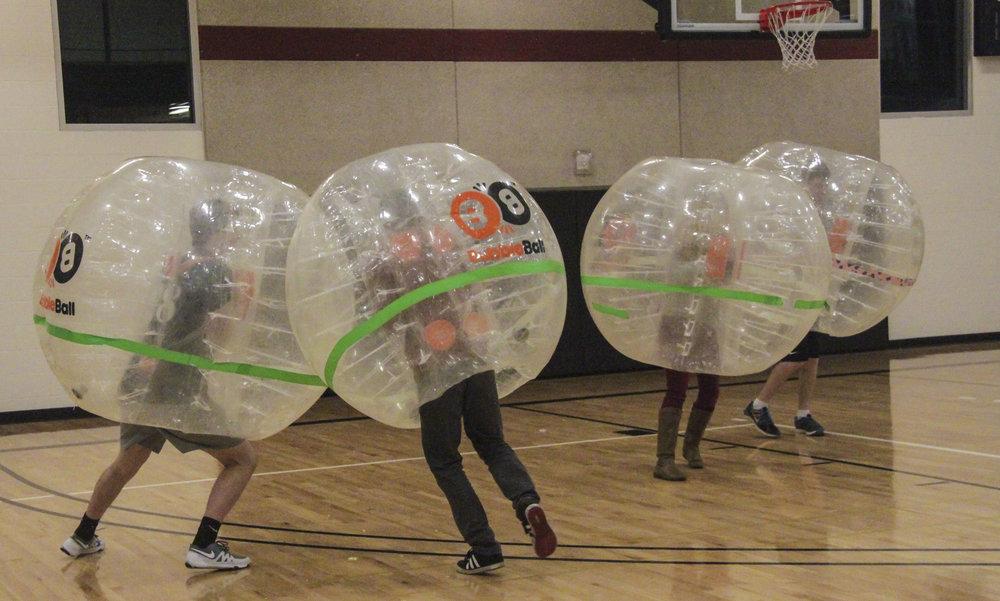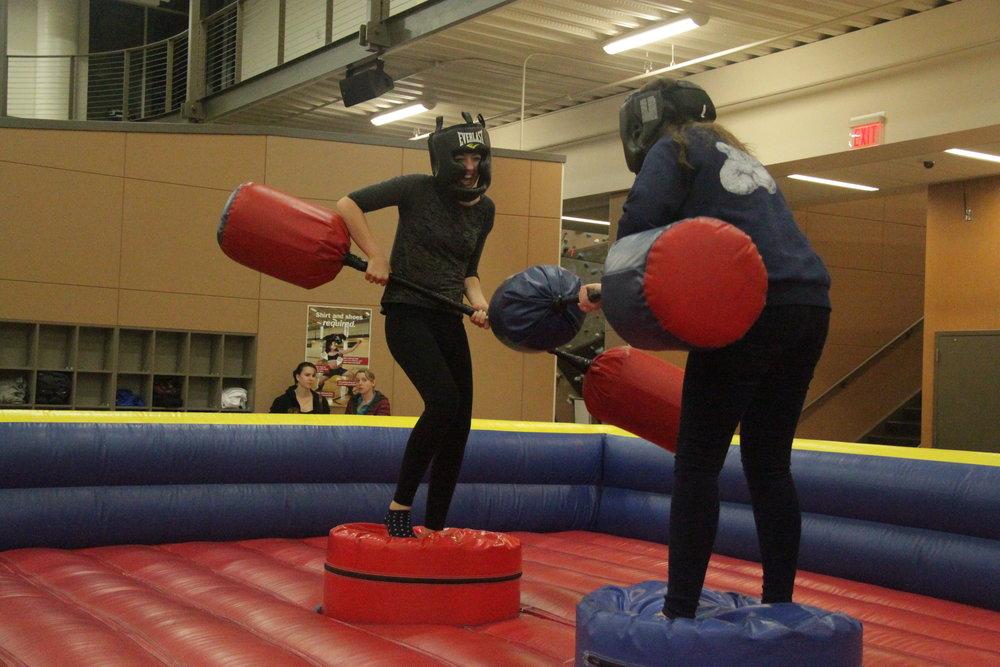 The carnival featured a crate stacking competition where students were harnessed and had to climb and stack crates on top of each other in the middle of the basketball courts. Many students were eager to try the activity and found it to be an exciting challenge.
"Crate stacking was very hard," freshman Nate English said.
Freshman Kaitlyn Halsted attended with a group of friends and found the event to be extremely rewarding.
"We have definitely been entertained well," Halsted said.
Also offered at the carnival was bubble ball, a game which puts students in inflatables and lets them serve as human soccer balls.
"I didn't know that I needed bubble ball in my life until I tried it," freshman Joe Spencer said.
Friday's carnival was the first event of its type hosted by the U-Rec.
"Because it was the first time we've ever done this it was really unknown how many students were going to come," Sandberg said. "I think it has been really successful."
Sandberg was first presented with the idea of the carnival at a recreation conference at Montana State University over the summer.
"They did something similar and it was really successful, so that spurred the idea," Sandberg said.
The carnival helped to bring students into the U-Rec who may not usually use the facilities.
"We wanted to do something different and try to reach all students to bring them into the U-Rec," Sandberg said.
Students were provided with information about the programs put on by the U-Rec, including Outdoor Recreation activities, while at the carnival.
"Hopefully we can get them on to the climbing wall or out into intramurals," Sandberg said.
Along with providing a free, fun Friday night event, Sandberg hopes that the carnival helped alleviate some people's fears about using the rec center.
"The U-Rec shouldn't be intimidating," Sandberg said. "Ultimately, about two-thirds of the student population come in here for one reason or another but our goal is always to bring more people in."
Contact Melissa Voss at mvoss19@my.whitworth.edu