by Melissa Voss
When people think about the Middle East, they first think of the political turmoil that frequents the news. However, On Friday night, Sept. 18, the Qadim Ensemble showed a different perspective of the Middle East that is often overlooked.
The Bay Area-based music group performed ancient, soulful music of the Near East in the HUB Multipurpose room. Their repertoire included music spanning several centuries. From traditional Andalucian music written over 700 years ago to modern Arabic style music incorporating western and flamenco influence, the trio's array of music was as wide as it was beautiful. Similarly, the band performed music from many Middle Eastern regions: Morocco, Iraq, Yemen and Turkey being among the nations represented.
The Qadim Ensemble offers an important look into the Middle Eastern culture. The trio, comprised of Eliyahu Sills, Bouchaib Abdelhadi and Faisal Zedan, are all from distinctly unique cultural and religious backgrounds, a fact that they were open about throughout their performance. Despite their differences, they come together to make incredible music.
Whitworth senior Marianne Sfeir attended the event and was enthusiastic about the message and the music that the ensemble had to offer to Whitworth students and the world. Due to her half-Arab identity, Sfeir said the music reminded her of back home.
"Given the political conflicts in the Middle East, the common pleasure of music to unite religions in important for the Middle East," Sfeir said.
The event was put on by the Associated Students of Whitworth University (ASWU) cultural events coordinator, senior Kaysee-Li Tomkins.
"The goal of the event was to destigmatize diversity by showing students how we are all diverse," Tomkins said. She also lauded the ensemble for their ability to express religion through music, stating that people often overlook religion as something that makes us diverse.
"Everyone is diverse," Tomkins said. "From race and religions to hair color and eye color." Tomkins hopes the event helped students to expand their horizons on what it means to be diverse, as well as give them an opportunity to listen to good music.
Not only was their message inspiring, the Qadim Ensemble also provided an exciting performance. The band was very involved with the audience, encouraging them to clap, sing and even dance along to the music. They played numerous exotic Middle Eastern instruments including a Riqq, which is similar to a tambourine, an Oud, the predecessor of guitars, and several reed flutes known as Ney, each with distinctive regional identities.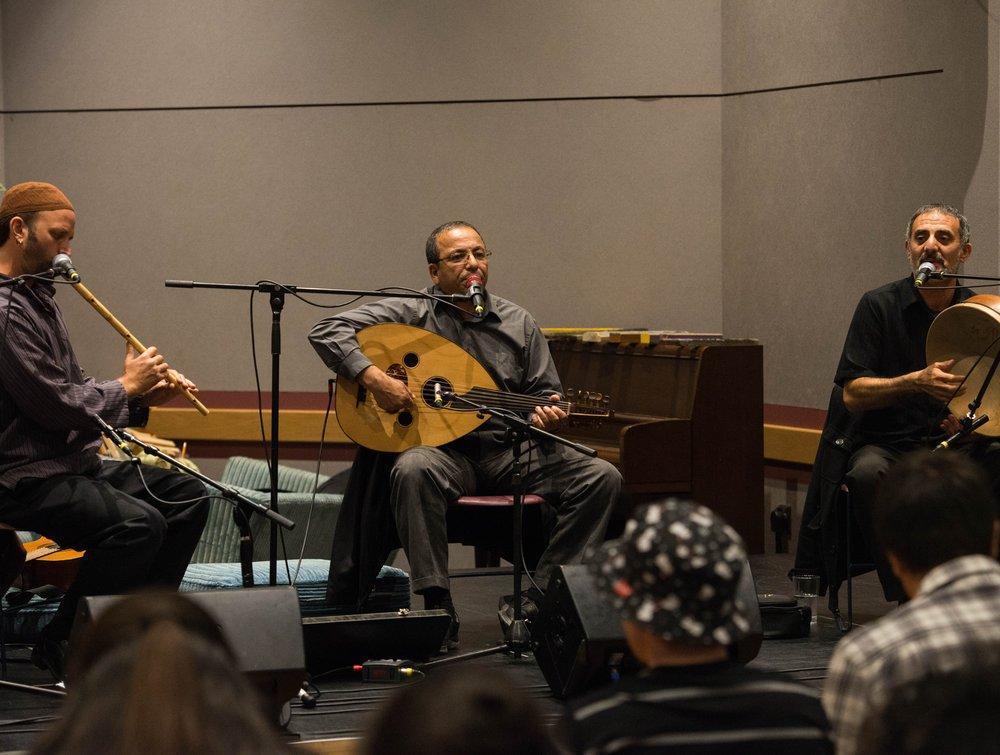 In Arabic, Hebrew, Farsi and Turkish, the word Qadim means "ancient," but it is also commonly taken to mean "moving forward", Sills said. The ensemble embodied this meaning in their artful of ancient music and instrument, making music that connects the past with their goal of moving forward into the future, as well as providing a picture of global unity through the increasingly divided world of the Middle East.