by Kailee Carneau
Last Tuesday marked the opening day for the 2016 senior exhibition, "The Space Between." Located in the Bryan Oliver gallery inside of the Lied Arts Center, "The Space Between" exhibit is a compilation of works from Whitworth senior visual art students.
The show features a wide variety of projects, including a wire installation, graphic designs, screen prints, paintings, photographs and even an artist book. Before graduating seniors are asked to come up with a final project that reflects both their time at Whitworth and their chosen field of study.
Senior art and psychology major Christina Dobbins prepared a four-panel mixed media work, a painted photograph of a bustling city on canvas. Using a photograph and a gel medium, Dobbins transferred the black and white photo to the canvases and then painted over selected parts of the image with oil paint.
"I am from the San Francisco area, California, so I came up with the idea from some pictures I took of street life when I was home," Dobbins said. "I really like the busyness of cities, and the diversity of people in them, and so that's where I got the idea."
Dobbins' work is neither fully a photograph nor fully a painting, but rather it is a unique combination.
Senior Britney Baker chose to share both her love for photography and for her older sister. For her project, she displayed a series of photographs that she took of her sister and her husband titled, "The Story of Them."
"The pictures on the wall is a storyline of my sister and the few big moments that have happened in her life so far, her getting engaged, her newborn pictures and having her first child."
Additionally, Baker put together a book of photographs she has taken that the viewer is invited to flip through to experience her style of photography.
"The book is a compilation of all the things I have been recently working on," Baker said. "I wanted the book to be a product I would be able to show to clients in the future."
Senior Jeff Skaggs' work "Aging Process" is made of six similar but slightly different labels on aging bottles of wine, to show the evolution of his knowledge and skills as a graphic design major and his aging process.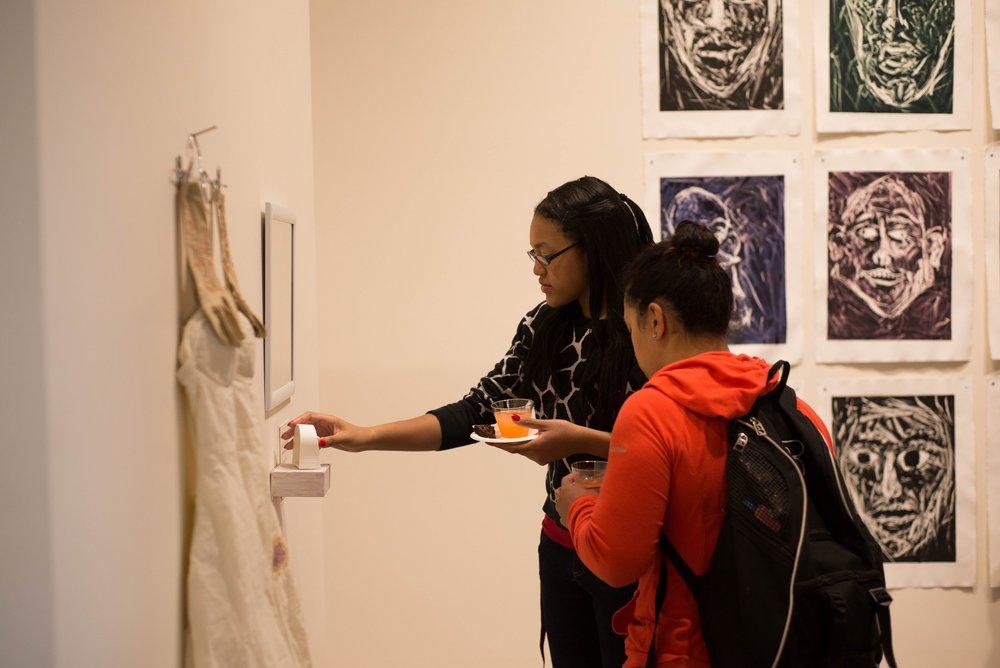 "My work…is my reflection on the change throughout my collegiate career, a change as a person, and now I am getting ready to enter the workforce and what we would classify as the 'real world,'" Skaggs said. "It's a change and a progression, so it's an aging process, and that's why I labeled it that."
The faculty in the art department work to equip and discuss with their students the reality of life after college, but not without presenting some healthy challenges for them along the way.
Dobbins' challenge has been juggling a psychology and art major, and trying to navigate life after Whitworth.
"I'm a psychology and art major, so it has been interesting trying to balance the two, and figuring out what I want to do," Dobbins said. "We have some really good professors, that are always willing to help talk through things and come up with ideas, so that's been really helpful."
Growing as an artist and a person at Whitworth has proven to be sometimes difficult for Baker.
"It's definitely been a bumpy road at times, I have learned a lot about myself," Baker said. "[The professors] really push you to do your best and they push you sometimes when you don't want to be pushed, but they do anyways, and I am better artist because of that."
Skaggs has been challenged to grow his knowledge in areas beyond his major and. "I have felt really happy here at Whitworth," Skaggs said. "I am really thankful that I didn't just spend all my time dedicated in one specific area, because then I feel like I wouldn't have had the knowledge and skills to apply other areas into my work."
The artwork of these seniors and their classmates will be on display in the Bryan Oliver Gallery from now until May 21.
Contact Kailee at kcarneau17@my.whitworth.edu