OI Parker was light-handed in serving up his newest rom-com, going down smoothly but lacking that bittersweet punch we craved.
By Hannah Rainford | Staff Writer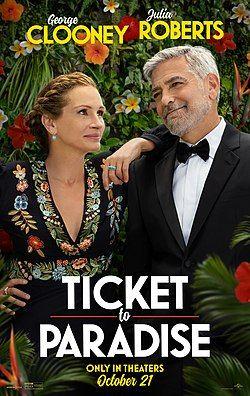 Taking another dip into romantic comedy, Julia Roberts and George Clooney are reunited in the Bali-set film "Ticket to Paradise." All the delicious, spitefully adoring tension that builds throughout their early-2000's "Oceans" trilogy is recaptured in the newest work of the writer and director who gave us "The Best Exotic Marigold Hotel" and "Mamma Mia! Here We Go Again," OI Parker. 
When Lily (Kaitlyn Dever), an aspiring lawyer flees the brick and maple constraints of her illustrious university for the beaches of Bali, she's searching for no more than a little R&R prior to the start of law school. Instead, she finds the earthy, harmonious love of a local seaweed farmer, and bravely determines to break through societal expectations and definitions of success by agreeing to a shotgun wedding.  
Although she typically prefers to "keep her ex a time zone away at all times," Lily's mother, Georgia (Roberts), deems this a severe enough occasion to break even her own rules. She joins forces with her former husband, David (Clooney), setting off on a plane destined to crash their daughter's wedding, piloted by her very own fresh-faced, French boyfriend.
Upon landing, any differentiations between class and education are serenely swept away by swaying palm trees and the fragrant Balinese breeze, rendering our divorcees just as captivated by the mystical, somehow statusless, wonderland they've encountered as their daughter was.
All the awkward familial love between Georgia, David and Lily quickly establishes them as peripheral players, melting seamlessly into the film's beachy backdrop and serving mainly to add occasional dialogue. The skeletal plot components of "Ticket To Paradise" are saved by a goofy, nostalgic round of beer pong between the long-separated lovers and fiancés, which rests on the seasoned rapport of Roberts and Clooney, rather than any impressive script elements.
Parker's work features stunning scenery, magically bathed in an almost constant golden-hour glimmer, leaving us to assume our blissfully aloof characters were lounging in locally-sourced hammocks. These centralize around a number of wide-angle panoramas and shots enchanting enough to make you start Google searching "all-inclusive vacation Bali" in a dark theater, despite the fact that it was actually filmed in Australia. This fits, though, as the piece isn't looking to illuminate real-world concepts, but simply offer a surface-level comfort.
After resisting their parental urges, having been convinced (or confused) by breathtaking island surroundings, Georgia and David laughingly wade through the wedding festivities, and set off for home, waving a tearful goodbye to their newlywed daughter. The film's final snapshot, however, features the duo leaping from their passenger boat, leaving viewers to imagine the ensuing reunion romance for themselves. The movie seems to end as soon as it began, making the conclusion feel slightly deflating. A spirited, divorce-undoing and amorous rekindling is what the trailers teased and we came to see, especially when we all always want more George Clooney.  
While "Ticket To Paradise" lacks the heart-tugging, relatable angst of the nineties rom-coms we know and love, anyone looking for a slightly numbing ninety minutes of watching Roberts and Clooney's decades-old friendship, backlit by beautiful beachscapes, may feel this film completes them. Parker's latest release plays somewhat lackluster, but it's an undoubtedly heartwarming disappointment at that. Besides, a little Hallmark-y coziness isn't always a bad thing, either.