by Karlin Andersen
News Editor
At the end of Chapel service last Thursday, an estimated over 200 students, staff and faculty sat in silence behind locked doors and closed windows as messages broadcasted across campus from phones, emails and Blue Light poles. The lockdown drill allowed security and facilities to test a large group of peoples' response to an emergency in a controlled setting.
"I think the drills are a huge step forward to prepare students," Chris Eichorst, director of facilities, said.
After last semester's drill a survey was sent to students, staff and faculty asked for feedback and comments on where participants were during the time of the drill and how individuals responded.
Over 500 people responded to the survey, and of those who answered the question, 32 percent said they were notified of the drill through the RAVE text messages closely followed by the Blue Light audio broadcasts.
Despite the effectiveness of the RAVE system, Eichorst says the university does not solely rely on the alert system and acknowledges the delays between cellphone carriers.
"RAVE is probably not our primary means of notifications; obviously it is if you're off campus, or if you're not in a building with an IP clock," Eichorst said. "Because of that, that's why we put the IP clocks and use the Blue Light, because they are a lot more reliable and we can count on them."
Last Thursday's drill involved coordination and planning to choose a time that would test the emergency system and the Whitworth community under new circumstances in order to combat "drill fatigue" a worry Eichorst's department has that students and staff have become unresponsive to drills.
"Training creates good habits; it creates a response and a reaction that you don't have to create or think of," Eichorst said. "So that's what we're after, is so people get used to it."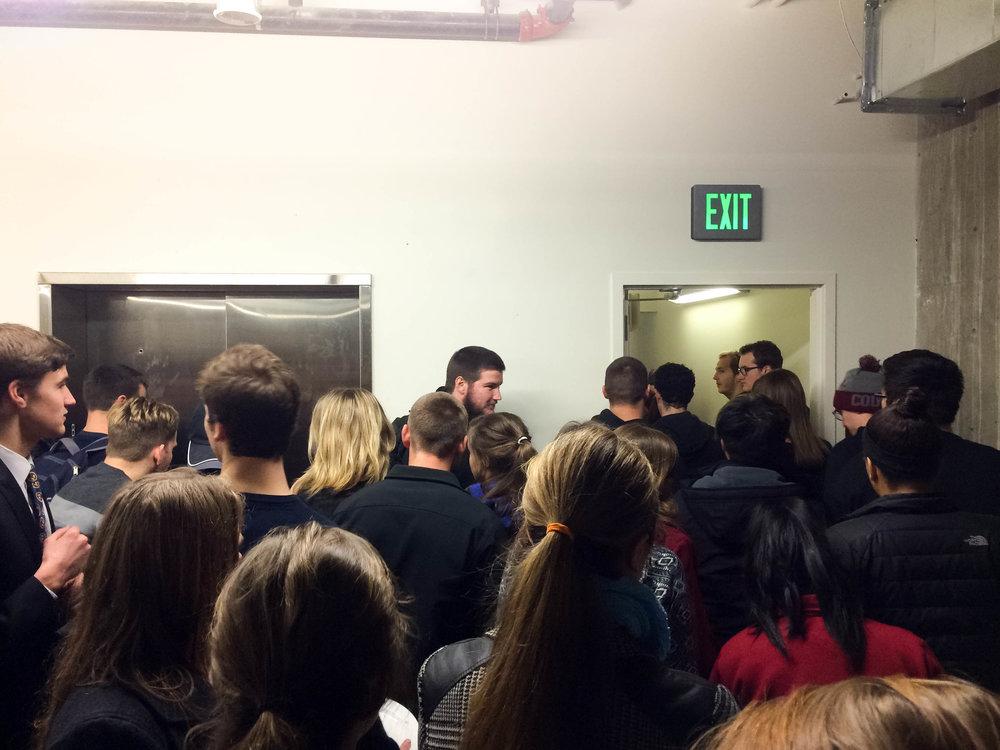 In early November, Eichorst and the university's emergency response team carried out a table top scenario in which a disaster struck campus. Labeled "Ice Storm II" after the immense ice storm of 1996, the exercise played through how facilities, security and other departments would respond to power outages, the need to feed students and possible student relocation.
Ten days later, half of campus lost power, students, staff and faculty were fed for days by Sodexo and multiple dorms were rehoused due to the windstorm of Nov. 17.
"We used all the tools we had," Eichorst said, adding that University Communications and President Beck Taylor also helped communicate to students and staff through social media, a medium Eichorst hopes to utilize more in the future.
While emergency decisions were made in the following days, ASWU President Justin Botejue believes students were left out of the conversation as neither he nor ASWU Executive Vice President Chase Weholt were contacted.
"They did not have any direct student consultation with policies moving forward and we recognize it was a time of an emergency, but ASWU would definitely like to stress the importance of having the student voice in any crisis," Botejue said.
A survey has been sent via email and Pirate Port for students, staff and faculty to give feedback on last week's lockdown drill.
Contact Karlin Andersen at kandersen18@my.whitworth.edu