Abebaye Asrat Bekele | Staff Writer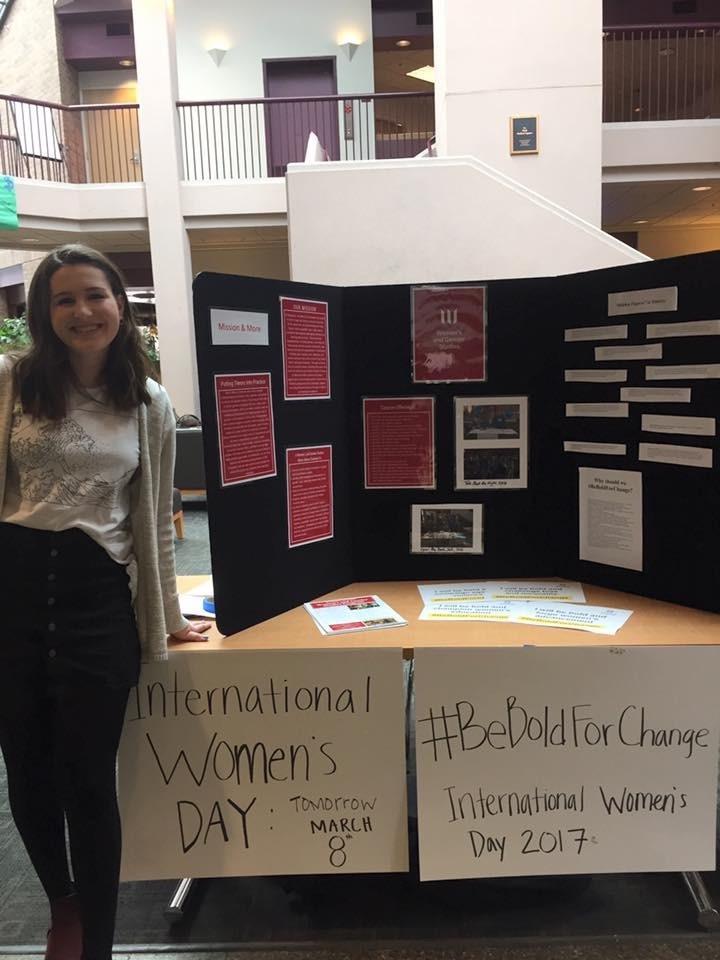 The 2017 International Women's Day was celebrated March 8 around the world with the theme "be bold for change."
Some students celebrated International Women's Day a day early, on March 7.
Sophomore Meghan Foulk was one of the organizers of the event.
"We are doing it a day early so people are aware," Foulk said.
Junior Claire Symons is an assistant for the Women and Gender Studies Department.
"We wanted to do it (celebration) today (march 8) but it just didn't work out logistically," Symons said.
Folk and Symons had a booth in Lied Square with posters about women in history, the women and gender studies minor and trivia questions about women in history.
"We are doing trivia about women, inspired by the Hidden Figures movie," Foulk said. "We have a few different hidden figures of women throughout history."
This event was organized by the Women and Gender Studies Department with the women's and gender studies student committee.
"This is our first time doing like a booth in the HUB but we hope to do it every single year," Symons said. "We are trying to expand our outreach on campus."
"We are basically celebrating international Women's day with the hope of drawing awareness for women's issues around the world but specifically in America," Symons said.
Freshman Nandia Shirchindorj participated in the events that were organized.
"I think it was clever," Shirchindronj said. "I was exiting the dining area and it looked colorful from afar so I went and asked."
Both Foulk and Symons hope students gain more knowledge about women in history.
"I hope students gain more of an appreciation for the contributions that women have made in all aspects of our world and our country throughout history," Symons said.
The organizers hoped to create awareness among Whitworth students about women throughout history
The event was held to celebrate women around the world. It also aimed at bringing to center the accomplishments of women and the sacrifices made by women.
Contact Abebaye Asrat Bekele at abekele20@my.whitworth.edu.