by Chris Reichert | Staff Writer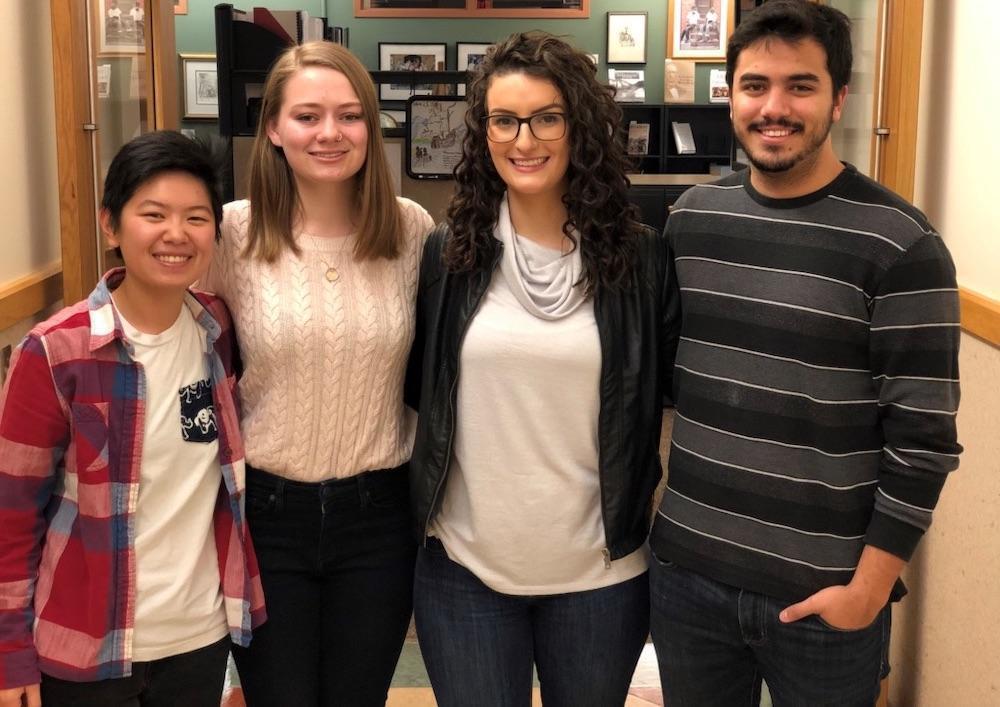 After a year of relative inactivity, the history club has been re-chartered and has returned to serve history students and promote the study of history at Whitworth and among the community in general.
Club vice president, senior Kallie Sherwood describes the club as tool for both socialization and outreach.
"[History Club is] a club of mostly people in the history department, getting together to put on fun activities and stuff we're interested in, but also trying to broaden that interest to people throughout campus," Sherwood said. "We're trying to show that history is really fun and get more people involved in the history department, and also have a place where history majors and minors can get together."
However, the new club leadership team also believes the club should serve to help students prepare for their futures and develop professionally.
"You don't get a lot of that in our field, as compared to people in, like, the business department," Sherwood said.
While the history club is not new on campus, it lost several active seniors to graduation and study-abroad opportunities and consequently lost its chartered status. Despite only minimal involvement in the club her first two years on campus, new club treasurer senior Cheree Lapierre still felt the absence of the club.
"Last year it kind of faded away and I made a bunch of friends in the history department and I was like, 'guys, what happened to all of the events?'" she said.
However, the new faculty advisor for the history club, Dr. Elise Leal, notes that while the club was without leadership, it still maintained a following.
"Interest in the club never really died…functionally, students were still getting together and doing things socially," she said.
This social aspect of the history club is responsible for much of the efforts to re-charter.
"This is my senior year and I hadn't had a lot of opportunities to be involved in the department," Sherwood said, "and so I wanted to take this last opportunity in my last year to get as much out of my department as possible, part of that being the relationships there, and also…trying to set the department up for success for the future, since there's so many of us seniors leaving."
Leal echoed this sentiment. "For many of our current seniors, coming in as freshmen and sophomores it was history club that really helped them feel acclimated to the department and get to know other students in the department," she said.
With the revitalization of the history club, Leal sees leadership's new goal as that of "continuation and enhancement."
"The community piece I think is so vital," she said, "and I think it's something, as an outsider coming into Whitworth and now as the new person, community is not something that Whitworth talks about, it's something Whitworth does. That seems to be a value that our students really take to heart and so I totally envision that social community aspect continuing for the club."
Nevertheless, she shares Sherwood's hopes that students can utilize the history club as a resource, "to add something that will equip them to be better historians, better professionals, especially after they graduate," she said.
"The enhancement piece for us will be…giving students space to practice different skills, whether that be learning how to do a good resume, how to apply for graduate school applications, how to give a really good, professional conference presentation," Leal said.
The leadership team hopes to begin hosting events in the spring to restore and strengthen the history community on campus.
"We want to promote a history community that's open to everyone, so we have fun events like trivia where we bring in anybody from any major," Lapierre said, although she too has plans for skill building events, such as a grad school night to inform students about the next phase of education and answer their questions. The club already sponsored a Chicago Style citation workshop on Wednesday, Nov. 28.
In addition to professional skill building, Sherwood would like to see the history club go on to partner with other organizations both on and off campus.
"Even [with] smaller clubs on campus, or cultural events that ASWU or the office of diversity put on, I think there's opportunities to partner there…Spokane is a really interesting place and has a lot of culture and a lot of history," she said.
Opportunities could include documentaries shown for extra credit in core classes, history tutoring offered through the Dornsife center, combined meetings with Westminster Round, the primary club of the English department, as well as reaching out to the music department for events such as a jazz history night.
This communal, interdisciplinary approach is exactly what the history club is all about, Leal agrees.
"We have a really good track record in this department about giving students a lot of practical skills in the history field, in museums, archives, that sort of thing," she said, "so we'd love to see the history club be yet another place where we can organize events that will expose students to all of the multiple uses for history."
She suggested that trips to museums and working with local archives would be a great extension of the club, "helping to preserve the stories of the community, while also getting a sense of all of the different opportunities you can access professionally with the major," she said.
For now, the history club is working on adding members of all majors. "We just want people to know that we exist. We're a small department and most of the students are seniors, so a lot of them are going to be gone next year," Lapierre said. And if students come for the club activities, it's hoped they might even be convinced to sign up for some classes they might not normally take.
"Give history a chance," Sherwood said. "Most people's exposure to history is some stuffy high school class, and our history classes here taught by our faculty are super engaging and very interesting. Give them a chance, get to know the faculty and take a history class, come to a history club event…there's a lot you can do with history."
Students wishing to know more about the history club can contact Kallie Sherwood at ksherwood20@my.whitworth.edu or Dr. Elise Leal at eleal@whitworth.edu.