by Ezekiel Pagaduan|Staff Writer
Five Whitworth students from the Whitworth Investment Group won first place in the Chartered Financial Analysis [CFA] Research Institute Challenge annual competition was held Feb. 9 at Eastern Washington University. After winning the local-level competition, the team is now headed toward the regional competition.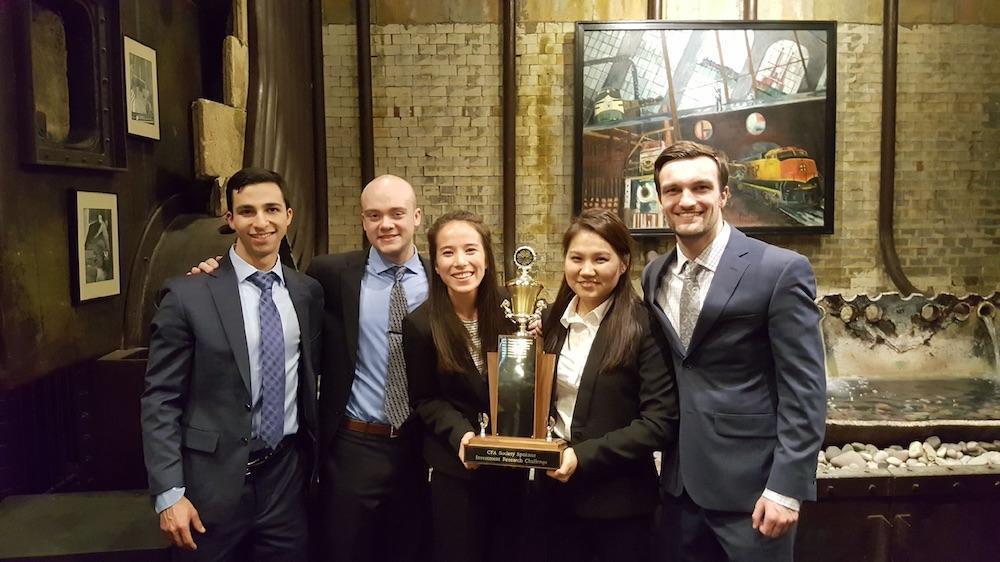 The CFA research team from Whitworth competed against Eastern Washington University, Washington State University, Gonzaga University, University of Idaho, Whitman University and Montana State University.
The CFA Research Institute holds an annual global competition that provides university students with hands-on mentoring and intensive training in financial analysis. Students work in teams to research and analyze a publicly traded company — sometimes even meeting face-to-face with company management. Each team writes a research report on their assigned company with a buy, sell or hold recommendation and may be asked to present and defend their analysis to a panel of industry professionals.
"It's been a great experiences for them and they have spent a thousand hours doing research and the commitment to the process," said Duff Bergquist, finance professor. "We have competed in it six or seven years from now and we have won the last four years."
The CFA local competition is a two-part contest.
"In the local CFA research challenge, Whitworth was one of eight schools competing. All of these schools are tasked with researching and providing an investment recommendation on the same publicly-traded company: Red Lion Hotels. The scoring for the competition is divided into two parts, a written report and a presentation. Whitworth's team produced a 30-page report on Red Lion and then showcased their research through a presentation in front of a panel of CFA charter holders and analysts," senior Nathaniel Segarra said.
After the local-level competition, the winners will proceed to the regional competition which will be held March 18.
"The top school goes to the regional competition in Boston, where the top 55 teams from North and South America compete," senior Marika Witt said.
The team is comprised of people with different majors and backgrounds.
"I was worried about being the only one on the team who was not a finance major, but it really satisfying to see how I could apply my math and econ skills to make our evaluation unique," Witt said "Even though the process got really challenging for all of us at times, I learned a lot through my experience. It was incredibly rewarding at the end."
The team conducted research throughout Jan Term. Conducting the research as a team was hard because she was in Mongolia the entire Jan Term but we still managed to do it. We had to be in constant contact with each other so I was on the phone a lot, senior Tserenlkham Tsogbadrakh said.
"It was really special for me because I am an international student that faced a lot of challenges but, it was an adventure for me and has given me the chance to meet friends," Tsogbadrakh said.
If victorious at the CFA Americas Regional Competition the team will represent the country in Malaysia.
The international competition will have two representatives from America, one from Europe and one from Asia.