by Cambria Pilger| Staff Writer
Students across the country participated in a national walkout in support of gun control on March 14. The demonstration took place at Whitworth University as well as many other high schools and colleges in the United States. Whitworth attendees gathered at the campanile at 10 a.m. for 17 minutes, each minute to honor a different victim of the recent Parkland shooting in Florida.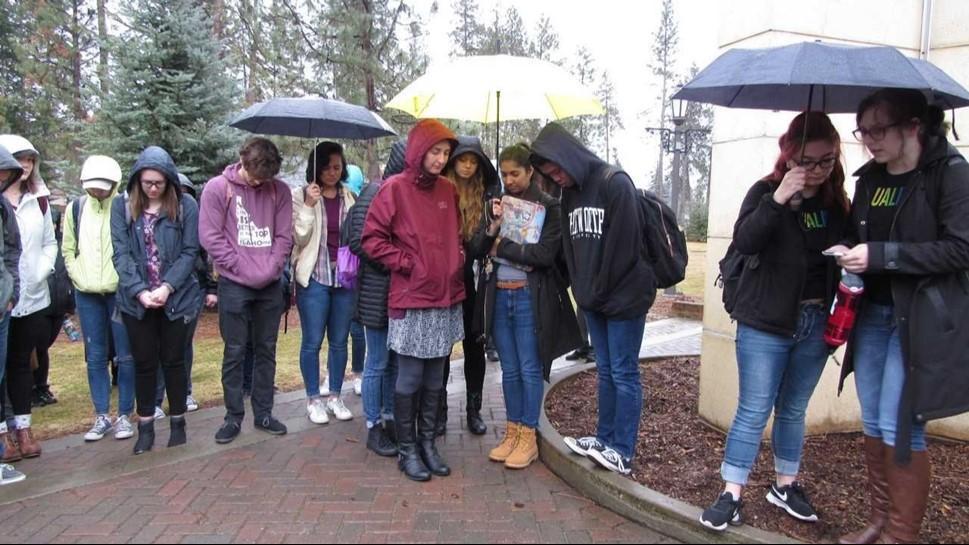 After the students, faculty, and staff met at the campanile sophomore Darian Kagawa-Burke spoke in remembrance of the many recent shootings across the country. Kagawa-Burke was one of the students leading the demonstration at Whitworth.
Around 10:07 a.m. the participants took a moment of silence to remember those who have been affected by shootings and those who continue to be affected.
Sophomore Kirsten Speer, another student who organized the event, shared statistics about the mass shootings that have taken place this year and last year. She encouraged the participants to start open discussion in town halls, classes, or residence halls and to reach out to legislators or congressman to voice their opinions.
"If you want change, you can't be idle," Speer said.
The national walkout was an attempt "to protest Congress' inaction…in response to the gun violence plaguing our schools and neighborhoods," according to the #ENOUGH National School Walkout website.
Speer and Kagawa-Burke organized the demonstration at Whitworth University after hearing about the national event. They created a Facebook event and invited students, faculty, and staff to participate, Speer said.
"I think the biggest message is just that we can all come together as one and stand in solidarity for something so important, no matter what your political beliefs are," Speer said.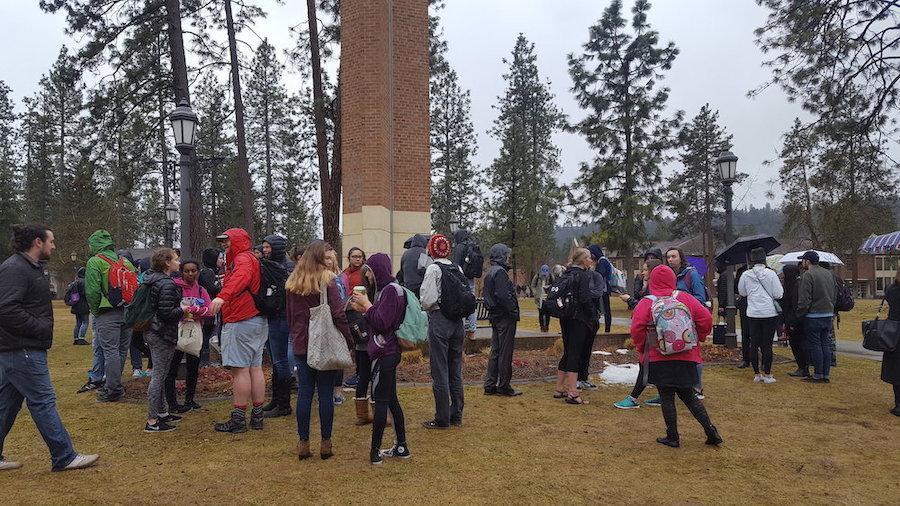 There has been both positive and negative feedback in response to the walkout, Speer said.
Alina Sunoo, one of the students at the demonstration, said she has not heard many responses either negatively or positively but rather neutral reactions to her involvement.
Senior Madison Artis said that some of his co-workers thought his participation was great while others found it "laughable."
"Others questioned the motivation of participating in the walkout as they did not realize it was purposely planned for one month after the Florida shooting," Artis said.
Looking back in history, all the people that have been looked up to for advocating rights participated in events like this, and that is why it was important to get involved, Sunoo said. The number of students that participated exceeded expectations, but she wished even more people had showed up.
"Part of this act of expression is an act of protest; it's an act of dissonance," journalism professor Erica Salkin said. Salkin went to the demonstration to witness and be a part of the students' involvement.
What made this walkout stand out from others is the inclusion and influence of social media, Salkin said. Students are using social media to continue the narrative of the demonstration and give it more voice, she said.
Speer said she hoped the walkout sent the message that students, faculty, and staff can come together, disagree with one another, work together, and make change.
"Whether you agree or disagree on gun control, then it's still something that we can stand together for," Speer said.
Just participating in the demonstration isn't enough, Salkin said. If there is no follow-up to the protests, others may dismiss it as "novel".
"It is important, both in the country and at Whitworth, for the lives of those lost to be remembered and honored, but a walkout without action thereafter will likely be forgotten," Artis said.
Speer encourages others to have difficult talks with one another and to stand in solidarity, regardless of personal beliefs, about important issues like gun control.