by Rachel Wilson | Staff Writer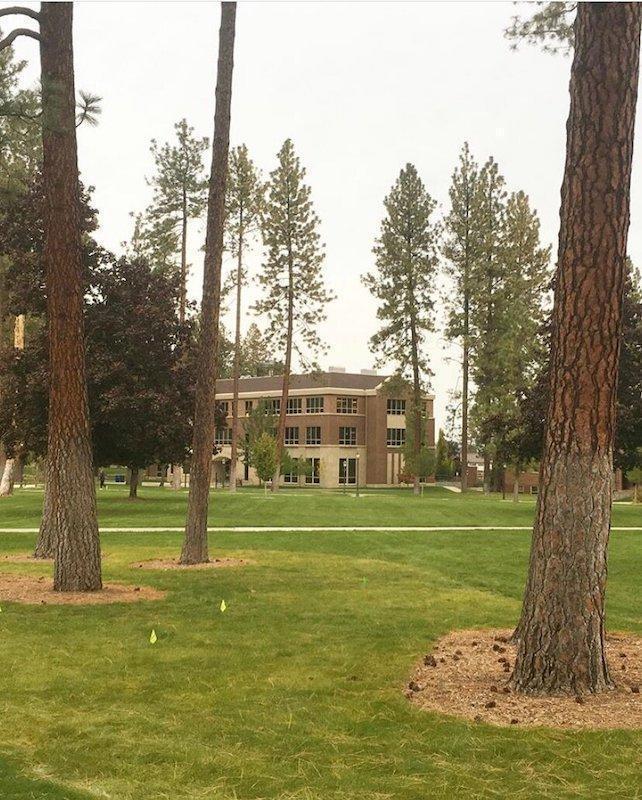 The campus landscape has recently undergone noticeable changes. Not only are  new buildings being erected, but new trees and plants have appeared. New and enlarged patches of arborist chips are now outside Warren Hall and the Eric Johnston Science Building and new trees, shrubs and boulders dot campus. 
Subtractions to the flora landscape have been made as well. In the process of construction for a new campus bookstore and the Athletic Leadership Center, dozens of mature pine trees were removed.
In March 2018, Whitworth was recognized by the Arbor Day Foundation – a nonprofit education and conservation organization dedicated to tree planting – as a Tree Campus USA.
With more than 300 colleges and universities in the program, the Tree Campus USA program honors colleges and universities for "effective campus forest management and for engaging staff and students in conservation goals," according to a Whitworth news release from March 2019.
Whitworth's Tree Care Plan states "at Whitworth we recognize that our trees are not only highly valuable assets but in fact they are truly living treasures that enhance the well-being of students, faculty, staff and the greater Spokane community."
The creation of the Tree Plan is a part of Whitworth's new status as a Tree Campus USA. The plan outlines the policies and procedures in place regarding tree planting, maintenance and removal.
Part of the Tree Care Plan is that for every tree uprooted and removed in a Whitworth construction project, two more are planted to replace it. The expense for this replanting is figured into the budget of each construction project.
The Whitworth Grounds Instagram page addressed some of this replanting work being done outside of Warren Hall on Instagram.
"We're planting many of the Beeksma Family Theology Center replacement trees in nearby understory pockets as you may have noticed in the Loop," Whitworth Grounds posted on Instagram.
The account assured their followers that the new trees and plants aren't to discourage hammockers.
"In fact, we tried to leave some open spots between mature pines just for that," the Instagram post stated.
Caleb McIlraith, Whitworth groundskeeper and arborist, spoke of Whitworth Grounds' desire to consider students' use of the space while preserving the trees and plants on campus.
According to McIlraith, hammocks aren't dangerous for mature pines.
"I would always encourage people to hang hammocks and use protective straps," he said.
Also, the areas in the Loop that are the frequent hot spots for volleyball and spikeball will be left clear.
And as for the newly expanded patches of wood chips around trees, the material provides many benefits for trees.
According to the Tree Care Plan, "Organic mulch in the form of wood chips provides numerous benefits," and these include fighting erosion, minimizing risk of physical damage to trees, stimulating root development, and providing soil-enhancing nutrients, plus many more.
For students who reside and learn on a campus dominated by nature, McIlraith suggests ways to keep nature in mind. He suggests joining the grounds crew.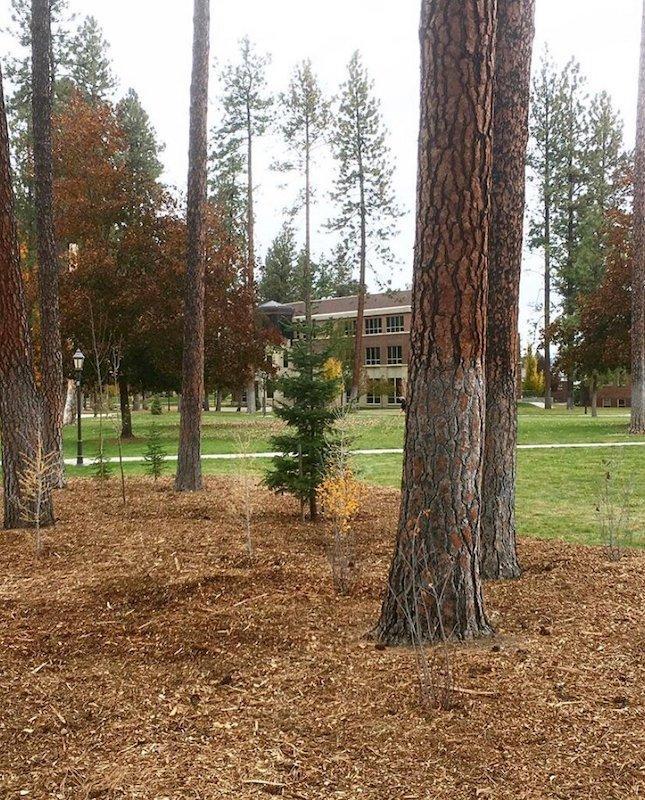 "We employ a ton of people every summer and you get to see the Whitworth world with brand new eyes," said McIlraith.
He also suggests being mindful of nature and our relationship to it.
"I always want to remind myself to ask the question, what was this plant meant to be? How was it meant to live? How is it meant to grow?" he said.
McIlraith suggests guided nature walks, and learning and practicing plant identification as ways of connecting to and understanding the natural world we live in.
To learn more about the Whitworth Grounds, check out their Instagram page @whitworthgrounds. To learn more about Tree Campus USA,  visit arborday.org/TreeCampusUSA.