Nara Shin | News Writer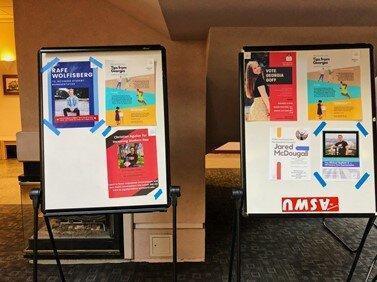 In order to fill 12 empty voting seats within and reinforce student representation on ASWU, fall elections were held from October 5-10.
On October 11, the election results rolled in. Senators include freshman Emma John for Arend, freshman McClain Chandler for Baldwin Jenkins, freshman Xavier Nila for Duvall, freshman Issac Price for Warren. 
Off-campus zone representatives include senior Christine Chen, junior Jamie Copeland, junior Munya Fashu-Kanu, and junior Michael Bedford.
Other newly elected ASWU members include sophomore Michael Lie for Global Engagement Rep, sophomore Victoria Reese-Viloudaki for WhitFLEX rep, freshman Christian Aguilar for Incoming Student Rep, freshman Georgia Goff for Incoming Student Rep.
The positions of WhitFLEX representative and incoming student representatives are new to ASWU.
The role of the WhitFLEX representative is to speak for students who are learning remotely this year, according to Hannah Higgins, Executive Vice President of ASWU.
"[Because remote students are still] also a part of our community, we want to honor them even though they only present virtually on campus."
The WhitFLEX representative will interact with remote students and will complete training and their role completely virtually.
Following Whitworth's decision that students can't go into other halls freely, ASWU decided to eliminate the position of zone reps, a role that included representing multiple residence halls on campus. To still have accurate student representation, the incoming student representative position has been added.
This role will also help to increase incoming students' level of involvement and their voice on campus. ISRs will hold office hours to communicate with first-year students and plan events to make incoming students feel welcome in the Whitworth community.
One of the candidates for the incoming student representatives position, freshman Georgia Goff, has a dream to "improve the lives of [people] around" her if she were to serve. 
"[I] will take pride in serving the students of Whitworth and providing them with a voice that is heard, understood, and valued to bring some positivity to campus," Goff said.
The position of Global Engagement Representative is another that will be filled this election cycle. Sophomore Michael Lie is a candidate for Global Engagement Representative. He hopes that if elected as GER this year, he will learn skills that would help his future dream as a software developer to understand and take care of various people.
"I want to develop my leadership skills including conflict resolution, cultural intelligence, and professional advancement," Lie said.
For more questions for the ASWU election and fundamental roles of each position, visit https://www.whitworthaswu.com/ or contact Higgins: hhiggins22@my.whitworth.edu.