Annika Bjornson | Staff Writer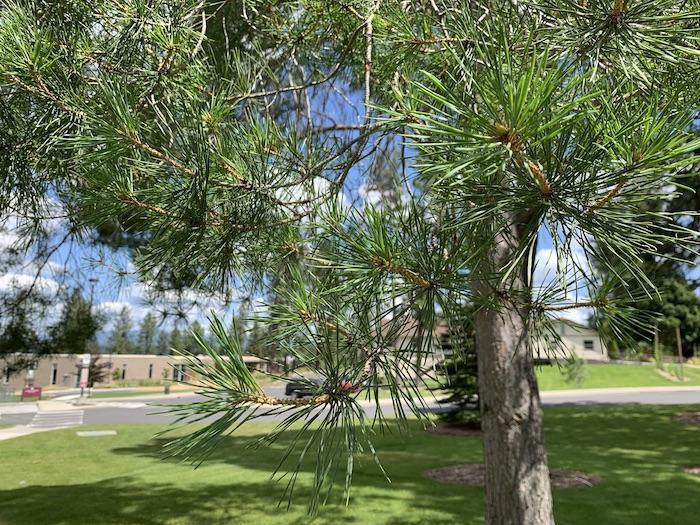 With the recent release of the 2020 Master Plan for Whitworth's campus, upcoming development projects are expected to fell about 20 trees. This decision comes on the heels of last spring, when Whitworth was engaged in conversations about such construction projects that could impact the famous ponderosa pines around campus. 
For the Pines was a student-led movement which occurred before campus emptied due to the coronavirus pandemic. The group was made up of students who were concerned about how the university's plans for new parking spaces would result in further tree removal. 
Currently, three upcoming projects are expected to result in the loss of 20 trees. The road to connect the new Facilities Services building to campus — created to give the department more direct access and better response time for incidents — is expected to fell 15 trees. A connection driveway between the HUB's parking lot and Hawthorne's will require the removal of four more trees. Finally, the new grounds greenhouse will take out one.  
Chris Eichorst, assistant vice president for facilities services, noted that the new Health Science building and its associated parking lot will actually add, rather than subtract, trees. This site, the old site of Facilities Services, will not encroach upon the Back 40 and plans exist to add landscaping there. 
Eichorst highlights the importance of the interconnectedness of the ongoing projects with the current state of campus.
"We don't want to lose our identity with our wonderful ponderosas that we have and make sure that we preserve that as much as possible, but also make decisions that make sense for the longer term," Eichorst said.
Groups like For the Pines, Kipos, and Whit Worms are now housed under a new group called the Environmental Action Committee. Some of their main goals include creating a staff position to represent sustainability, forming a conservation area in the Back 40 and increasing student representation. ASWU Sustainability Coordinator John Haberlin is a part of this organization.
"Natural resources right now are just not considered as the most important thing when it comes to development," Haberlin said.
Whitworth is recognized by the Arbor Day Foundation as a Tree Campus Higher Ed. Since the hire of Whitworth's campus arborist Caleb McIlraith, 261 trees have been planted on campus. In those same three years, 136 trees have been removed for the construction of the Beeksma Center, the WALT, the Pines Café and the Grounds and Trades Shop.
The campus has a 2:1 policy, which states that for every tree that is removed two more must be planted.
Eichorst notes that there is always a net gain of trees as a result of construction.
"For all those trees that were removed, our plan would be to pay for that out of the project…We realize that two young trees don't equal a very mature Ponderosa, but that's an attempt to make sure we're not losing out. Over time, those will become big trees," he said.
Haberlin is less convinced by the replacement policy.
"When we're looking at our natural resources on campus, we have 200 to 300-year-old trees," Haberlin said. "When it comes to carbon sequestration, when it comes to noise cancellation from outside sources… it just doesn't equate." 
When a tree is removed, usable pine timber is sold to local mills to become lumber. Any leftover wood becomes firewood, while brush is chipped and used as wood chip mulch. When replacing these trees, McIlraith considers how to increase biodiversity and replace native species.
"What motivates me and my role is thinking of myself as a caretaker and someone who has been entrusted with the responsibilities of stewardship," McIlraith said. "We try to frame it in terms of creation care."
For those who wish to learn more about trees on campus, McIlraith has recently developed the Whitworth Arboretum Guide using Google Maps with the help of many people around campus. This tour details 106 trees representing 93 different species on campus and tracks the user's location as they walk. Each tree on the map has an icon on the map's interface, which provides information such as the name, year planted, cultural information and pictures from different seasons. Those interested can also interact with the tour using brochures at the HUB info desk. 
"There's a lot of potential for really good education of the community at Whitworth or the wider community just as to what our natural resources are and hopefully motivate us to protect them," McIlraith said.
Students who would like to know more about advocating for natural resources on campus can email John Haberlin at jhaberlin21@my.whitworth.edu. Haberlin, McIlraith, and Eichorst all recommend reading the Master Plan and looking over the maps to understand the direction of campus development.