by Emma Maple | Staff Writer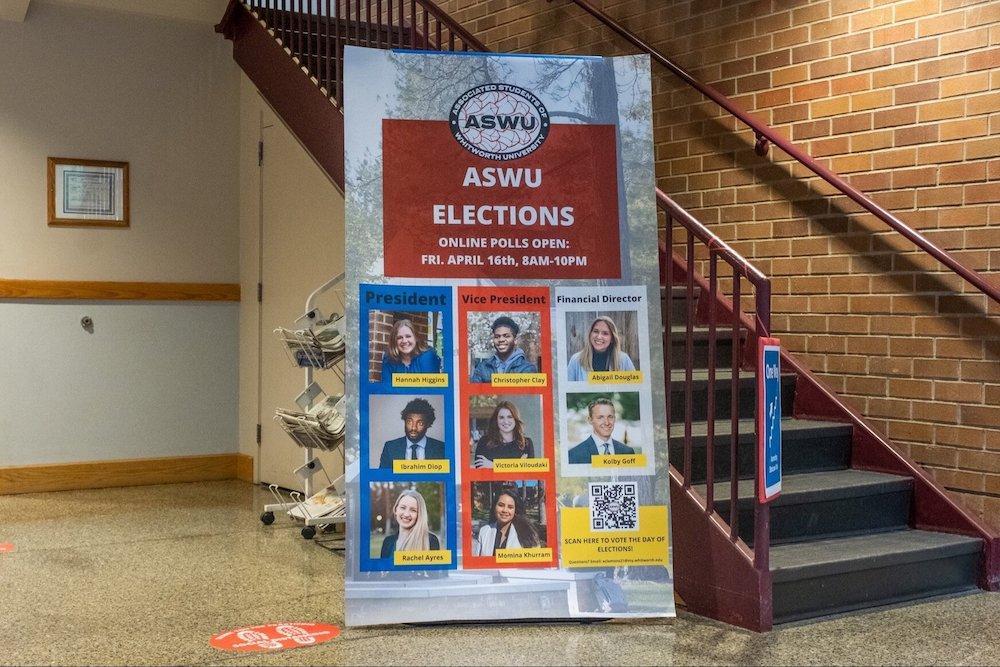 ASWU election results came in after voting closed on 10 PM Friday night, revealing that a run-off would take place between ASWU presidential candidates Rachel Ayres, '22, and Hannah Higgins, '22.
The third presidential candidate, Ibrahim Diop, '22, will not be part of the run-offs.
Ayres said that she "honestly expected" the run-offs due to the fact there were three presidential candidates who each seemed to have large bases of support. Higgins also said, "I had anticipated it would be split…We had three very strong candidates, and Rachel and I are very similar."
Ayres is a communications major with a minor in theology. She decided to run because quite a few people came up to her and said she should consider running for president due to her skill set.
Ayres has worked in various departments and committees on campus. She said, "I have a really diverse wealth of knowledge and cool connections, [as well as] leadership and communication skills that have been refined over my three years." She said these experiences, coupled with the passion of "truly want[ing] every person to feel known and heard" would influence her success as ASWU president.
Ayres has a new event planned for the upcoming campaign. Tuesday morning and evening she will hold 15-minute "Meet-and-Greet" sessions where she will meet with students so they can chat and get to know each other. She said, "I know I make better decisions when I know people. And so that is my hope."
Higgins is a psychology major with an English writing minor. She decided to run because, from her vantage point of ASWU Vice President during the 2020-21 academic year, she "got frustrated with representation at Whitworth. I saw things I couldn't fix in the Vice President role, and I could go to the presidential role to do that."
Higgins is going to focus her run-off campaign on her concrete plans if she gets elected. One idea she's excited about is working with administration to write up a plan mandating that at least one representative student must be present at all administrative meetings. She said that this initiative won't be possible for all cases – for examples, ones dealing with Title IX and IV or staff meetings where students don't need to be there. However, Higgins maintained, "If they're talking about change on campus, I feel that students need to be in that room."
Current ASWU President Parker Daniels said he thinks the most important hat the ASWU president can wear is that of a "mediator – [someone who] acts as that connect between students and administration, being able to find that middle ground."
Daniels also said, "I don't think there's one right person [for ASWU presidency]. Everyone has their own strengths that they can carry on to this position."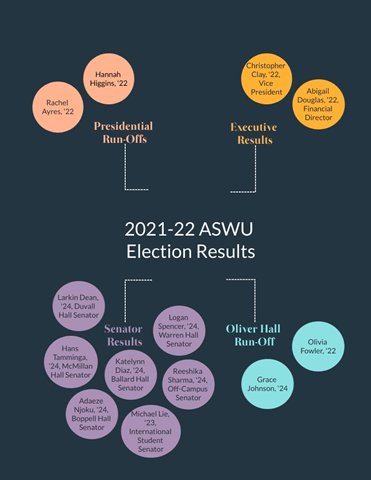 Other election results revealed that ASWU's 2021-22 Vice President will be Christopher Clay, '22. Clay hopes that through this position he can "create more spaces of vulnerability and inclusivity…in a manner they need, not that we assume."
ASWU's Financial Director position will be filled by Abigail Douglas, '22.
Most of the senator positions were also filled. Katelynn Diaz, '24, was elected Ballard's new senator. Adaeze Njoku,'24, will be the senator in Boppell. Larkin Dean, '24, won for Duvall. McMillan's senator will be Hans Tamminga, '24. Logan Spencer, '24, will be the new senator for Warren. Reeshika Sharma, '24, won for off-campus senator. The international student senator position will be filled by Michael Lie, '23.
The only run-off among the senator positions was for Oliver Hall senator between Olivia Fowler, '22, and Grace Johnson, '24.
There were no official candidates for neighborhood/theme house senator, but Director of Student Activities Jason Chapman said that a few students were written in. ASWU is currently in the process of validating those candidates.
To win ASWU elections, a candidate must get at least 40% of the vote. Run-off campaigning ends at 11:59 p.m. on Tuesday, April 20. Voting will take place on Wednesday.