by Autumn Kelley
Whitworth's Ethics Bowl team won the national Intercollegiate Ethics Bowl competition in Washington, D.C., bringing home their second national win in five years.The competition was a one-day affair, on Sunday, Feb. 21. The team arrived one day early to have a few final practice sessions.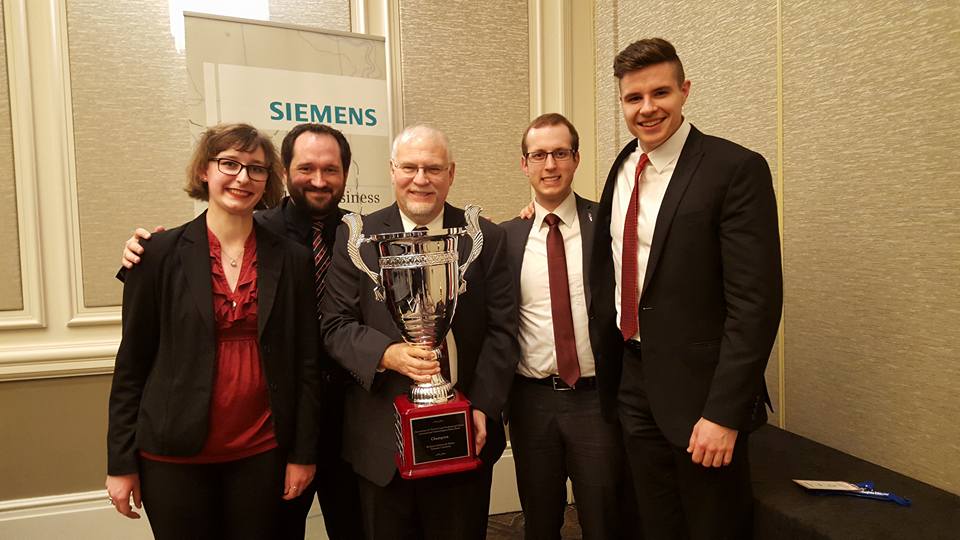 The Whitworth Ethics Bowl team argued well, displaying clear reasoning, excellent public speaking and respect for their opponents, communications professor and co-coach Mike Ingram said. At the tournament this year, the team won all three preliminary rounds and all three elimination rounds.
"Nationals was a fantastic experience for our bowlers," Ingram said. "They represented Whitworth well."
In the Intercollegiate Ethics Bowl (IEB), each team receives a set of cases prior to the competition that raise issues in practical and professional ethics and prepares an analysis of each case, according to the Association for Practical and Professional Ethics (APPE). The competition is designed to showcase students' knowledge of applied ethics, their communication and teamwork skills, and their ability to synthesize information on important issues and articulate effective responses.
Despite the debate-like nature of an Ethics Bowl tournament, the objective between the two competing teams is to present the truth, discussing the most ethical and just solutions for each case.
Between regional and national competitions, Whitworth University's Ethics Bowl team competed against over 125 colleges and universities. Ingram co-coaches the Ethics Bowl team with philosophy professor Keith Wyma.
"We compete against schools public and private, large and small," Ingram said. "We finished ahead of Army, Navy, Northwestern University, Indiana University, and we beat North Carolina-Chapel Hill directly in the third round."
The combination of an ethicist (Wyma) and rhetorician (Ingram) as co-coaches yields a team that consistently ranks successfully at the national level. The team is trained to compete with excellent analytical and presentation skills. Some of the team members are also on Whitworth's Forensics team, where techniques in debate are further enriched.
Whitworth's Ethics Bowl team consists of five members: juniors Kaitlin Barnes and James Eccles and seniors TJ Westre, Ellie Probus and Brennan Neal. To prepare for competition, the team practiced together 10 hours per week for three weeks, including extensive individual study.
"The Ethics Bowl program develops within students a tremendously valuable and versatile skill set," Wyma said.
This was Whitworth's seventh trip to nationals in the past eight years. During the years of competition, Whitworth has finished as a quarter finalist, tied for fifth; semifinalist, tied for third; taken second in 2015 and taken first place in 2012 and 2016.
As a national championship team, each of the members demonstrates academic prestige with an emphasis in philosophical and ethical reasoning.
"Almost always, we have three or four philosophy majors," Ingram said. "And often, the non-majors are minors, because they are interested in ethics and related concepts."
One of the team's strengths, however, is its interdisciplinary nature. The coaches said that various majors are represented, allowing for a wide range of valuable skills.
"We've had majors who have also been in communication studies, English, psychology, international studies, history, French, Spanish and chemistry," Ingram said.
To clarify, ethics is "theory informing practice," Wyma explained. That means learned and internalized theory melds into practice to guide a person's actions. Students who study ethics and hone their skills through competitive tournaments are equipped with a greater level of discernment when faced with some of today's most debated issues.
"Our students consistently demonstrate that a Whitworth liberal arts education prepares them well to engage in thoughtful discourse with peers from around the nation," Ingram said.
In the Intercollegiate Ethics Bowl tournaments, school are not categorized by size or stature. Whitworth engaged with students from larger universities, whose philosophy programs are much broader and have more sub-specialties. As a smaller, private university, Whitworth faced secular public schools and elite institutions before winning nationals.
"For us to go and to be able to compete, it shows that our students are very capable of excellent thinking, research, and analysis and applying the ideas that they've learned in their study to real-world situations," Ingram said.
Contact Autumn Kelley at akelley19@my.whitworth.edu