by Robert Giffin
Dr. Julia Stronks delivered her fourth and final Lindaman Chair Lecture on Thursday, Oct. 2. The lecture argued that the Christian community should be aggressive in supporting the LGBT community. Stronks has been a professor of political science at Whitworth for 20 years.
The Lindaman Chair is a position that changes every four years among members of the Whitworth faculty. This was Stronks' fourth year as the Lindaman Chair and as such the position will change next year. While the Lindaman Chair experience gave her "great opportunities" to work on faith and public policy, she is eager to return to the classroom, she said.
"Being the Lindaman Chair has allowed me to travel and develop that public aspect of my career," Stronks said.
According to Stronks, she dedicated seven years of her life learning about different attitudes which Christians take towards the LGBT community.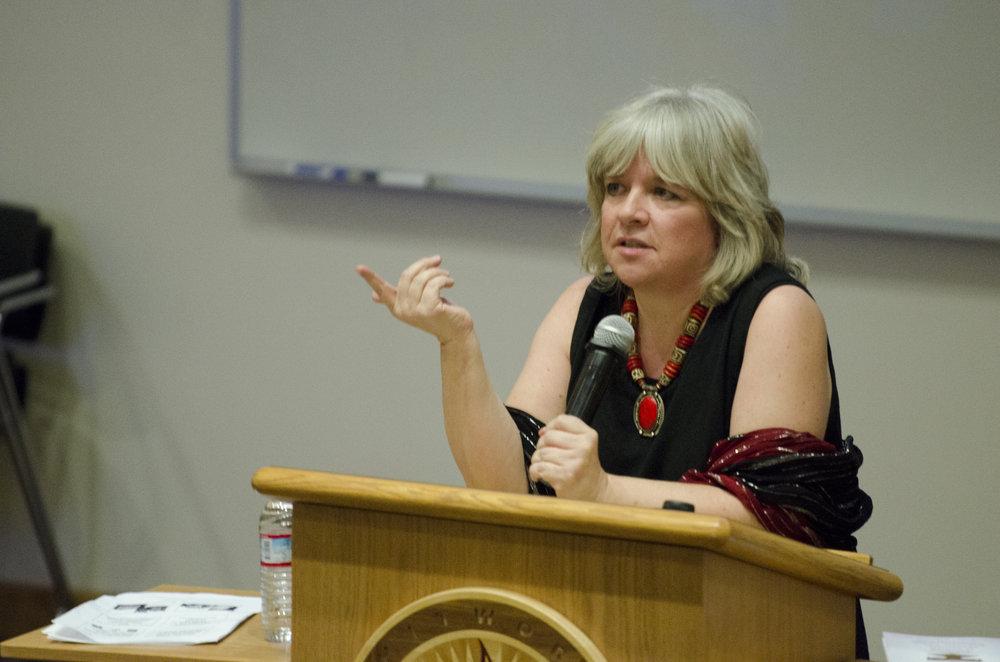 Being a political science professor at a private Christian university requires a special blend of both passion for major social issues and a strong faith background. Throughout the lecture Stronks expressed her own faith journey and what she believes a biblical view of government looks like.
"A biblical view of government means justice for everybody, not just people like you," Stronks said.
After her last lecture on the Christian view of LGBT, Stronks received criticism because of her belief that Christians should support the LGBT community.
Freshman Sonia Klouse enjoyed the lecture and thinks Whitworth should make more of an effort to include lectures which center on controversial issues, she said.
"It challenged our perspectives, and it is always a good thing for the student body to come and learn together," she said.
An aspect of Whitworth's mission is preparing its students to "Honor God, follow Christ, and serve humanity" through an education of Mind and Heart, according to the university's website. The lecture by Julia Stronks succeeded in achieving this level of excellence, according to Klouse.
"Through addressing controversial issues we gain an education of Mind and Heart," Klouse said. "The mind encompasses the social aspect, while the Heart consists of compassion for others."
Contact Robert Giffin at rgiffin18@my.whitworth.edu