by Shelby Harding
The Whitworth University Forensics team, also known as the Debate and Speech team, finished first in every division at the Steve Hunt Classic, at Lewis & Clark College in Portland, Ore., Oct. 11-13.
The forensics team took first place in debate out of 46 schools from 13 states, and took home 43 awards. They ranked higher than Boise State University and Oregon State University, as well as the University of Mississippi and University of Texas at Tyler. Whitworth placed second in speech and second in the combined overall sweepstakes.
Mike Ingram, professor of communication studies and coach of the forensics team, said he was confident about the 2013 team.
"Last year's team was amazing, but this year we are a lot stronger," Ingram said. "We have a lot of returning students and great new students as well."
The forensics team has 20 students this year. Seventeen of them competed in the last tournament.
The event was the first time Whitworth's forensics team finished in the top spot in all three divisions.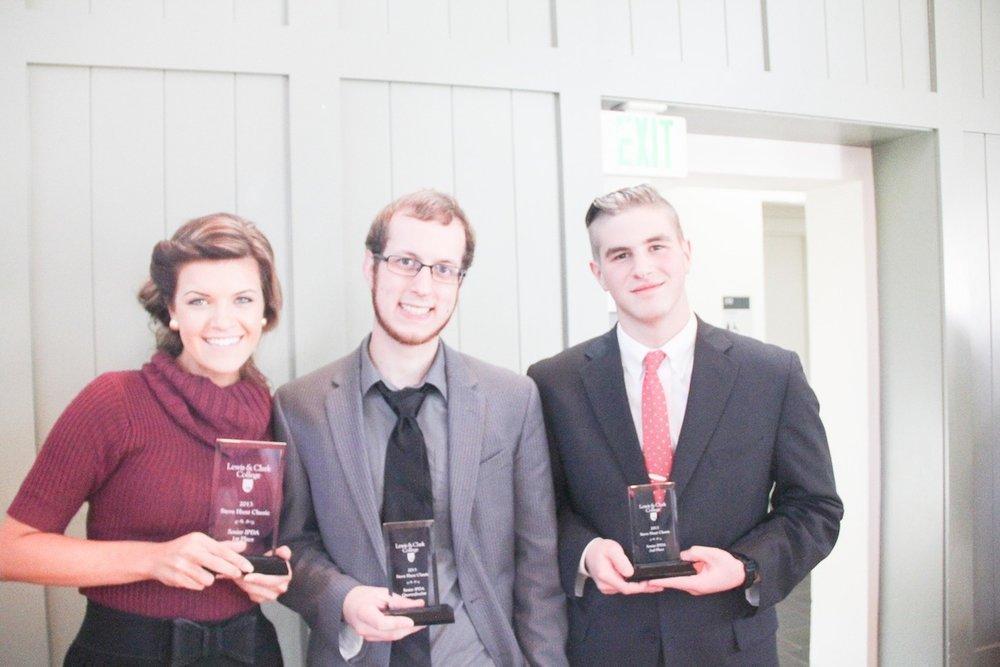 Whitworth's forensics team had two students close out the novice level with sophomore Norann Beidas taking first place and junior Rebecca Korf taking second place. In the junior division, sophomore Lilly Davis went undefeated and took first place, and junior Sarah Sauter placed second. Whitworth swept the finals in the senior division, with junior Sam Director taking first place and junior Stephanie Saracco taking second.
Ingram said he was thrilled with the results.
"We had never done that before," Ingram said. "It was a significant milestone."
There was a lot of intense competition, Director said.
"We had a lot of first-year competitors that did really well and it was an overall success," Director said.
This year's team has a lot of experience from the previous year, and it's carrying on into this year, he said.
The success of the first tournament came down to the team's combined successes, Lilly Davis said. "I am incredibly blessed to be a part of this amazing group of people and phenomenal coaching," Davis said.
Davis won her first elimination round of her university debate career at the competition. Davis joined the Whitworth team her freshman year, she said.
"The upperclassmen on the team made the team feel like a family," Davis said. She competed in seven tournaments her freshman year.
Students compete in a one-on-one format with several rounds to determine overall winners. There are six preliminary rounds, and competitors are randomly matched up in the first two rounds. The last four rounds are "power matches." Students compete with other students who have the same win-loss record from the first two rounds. From there, it follows a NCAA basketball style elimination — the top 16 students compete, which leads to the final eight in the quarterfinals, four students in the semifinals and then two students in the overall final, Ingram said.
Each round has a different topic or theme, ranging from political issues, such as the U.S. involvement in Syria, to scientific topics, such as fossil fuels. Students have 30 minutes to prepare for their debate and have access to laptops and other devices for research, as well as access to their coaches for help. Debate team members should have a good background knowledge on these topics and an ability to find information quickly, Ingram said.
"For debate, we are looking for curious students who want to learn new things and like to argue," Ingram said. "A student that is interested in learning about science, philosophy and politics and learning quickly and being comfortable with taking a stand is the kind of student we look for."
The forensics team takes a lot of dedication, Davis said.
"Forensics does take a large time commitment, but the payoff of the skills I have been able to refine is worth it," Davis said.
The next tournament for the forensics team will take place Nov. 1-2 at Lower Columbia College in Longview, Wash.
Contact Shelby Harding at sharding15@my.whitworth.edu