by Shelby Harding
President Beck Taylor introduced a new endowed professorship in a surprise announcement in the Robinson Teaching Theatre last Wednesday. The Sue Chandler Professorship in Education will grant Whitworth $1.5 million to use toward salary, research and sabbatical costs for professors awarded the professorship.
The $1.5 million was donated by Scott and Sue Chandler, both Whitworth alumni and co-chairs of the fundraising board at Whitworth. It will be merged with the current endowment and will be used over several years for selected professors, who will be recognized with the honor of the professorship, said Taylor.
"This is what can happen when we own a culture of philanthropy," Taylor said.
The dean of education and provost decide the recipient of the professorship.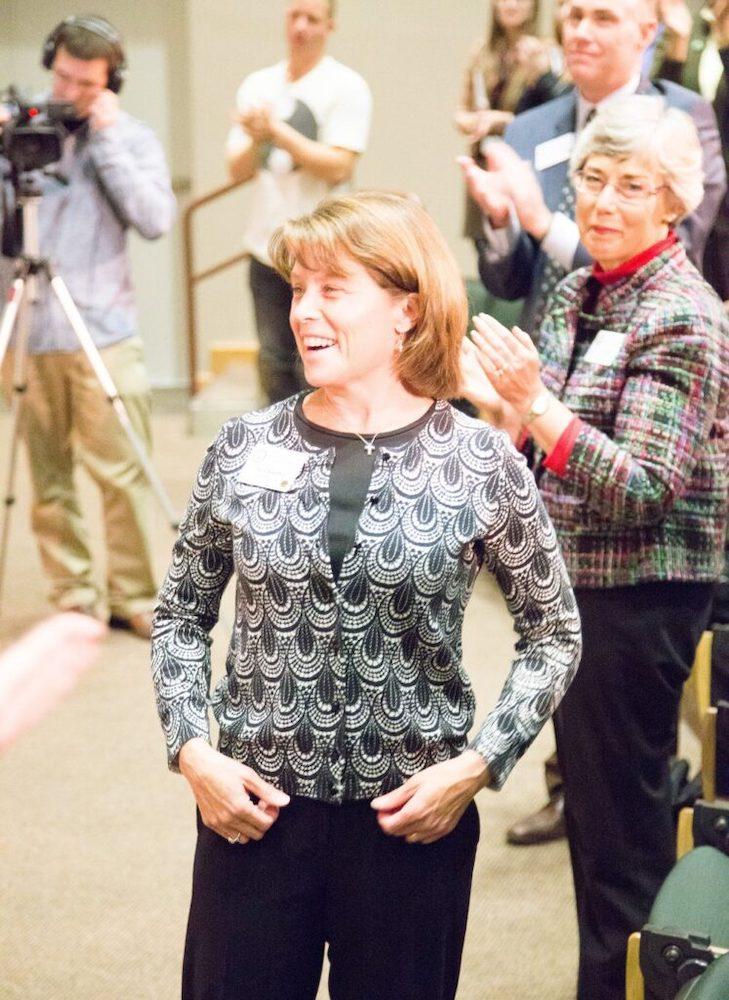 News of the professorship came at just the right time, Taylor said. After the discovery of the budget gap and possible difficulties filling vacant faculty positions, it was welcome news.
"It really put some wind in our sails," Taylor said. This professorship marks the halfway point to the 2012 goal of having 10 endowed professorships, Taylor said.
Scott Chandler collaborated with Taylor in creating the professorship to celebrate and commemorate his wife Sue Chandler's accomplishments as an educator, Scott Chandler said.
Taylor said he worked with Scott Chandler for two years to create the professorship. Both Taylor and Chandler wanted to surprise Sue Chandler. She did not know about the professorship until the announcement. Her excitement was apparent as she accepted the honor in front of the audience of board members, faculty and students.
The ideal recipient of the professorship would be someone that would realize that students are more than just numbers, test and exam scores, Sue Chandler said.
Receiving a professorship would be an incredible honor, and it is important to take the time to choose the best candidates to receive it, Taylor said.
Sue Chandler earned her degree in elementary education and physical education in 1985. She discovered her passion for education her sophomore year at Whitworth, Sue Chandler said.
Sue Chandler started teaching at a preschool, then her church, and then as a substitute teacher. She joined the Littleton Colorado Public School Board in 2005.
A plaque honoring the Sue Chandler Professorship in Education will be in McEachran Hall.
Contact Shelby Harding at sharding15@my.whitworth.edu