By Grace Uppendahl | News Staff Writer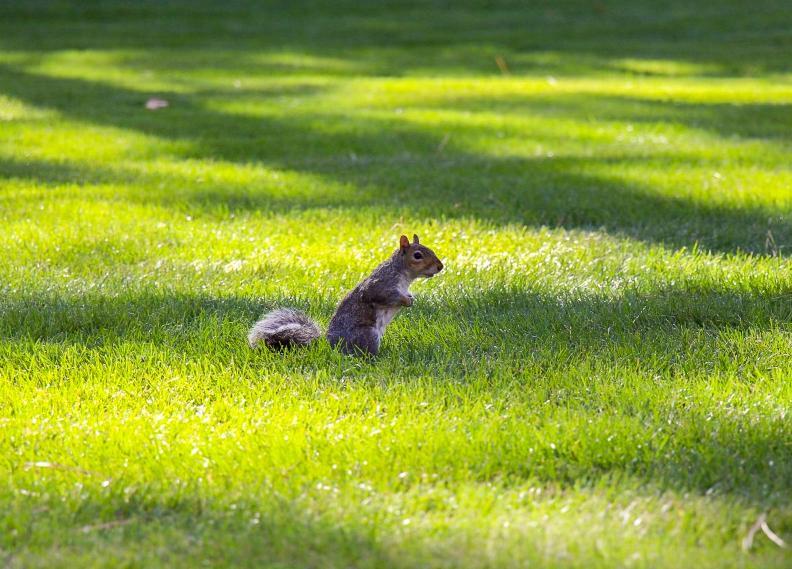 A recent rumor spreading across campus introduced the gruesome idea that this year has seen an increase in squirrel deaths around Whitworth.
The Whitworthian asked and interviewed close to 30 people, and although no one had seen a dead squirrel, several people mentioned hearing about the rumor, which seems to have been circulating since at least October of 2021.
Brandon Pyle, Manager of Grounds Keeping, said that he and his team have found about six deceased squirrels on campus in the 2021-2022 school year so far. "I can't say that I think it has happened more often this year though," Pyle said. According to him, since it is winter, we will be seeing fewer squirrels for a couple more months.
The Whitworth campus has always been home to a large squirrel population. Students encounter them all around campus and can occasionally spot them climbing up buildings or rifling through trash cans. Squirrels are so common that they are the unofficial mascots on campus, which is why this rumor generates such concern.
When asked how these squirrels might have died, Pyle answered, "Cars, by far, are the most common [cause of squirrel deaths]." He also said, "Outside of that…I think they just fall out of trees sometimes."
When squirrels are found, they are usually by the road. "That's where we'll find [squirrels] often, off on the side of the street of the main loop road," Pyle said.
As for how or why this rumor might have started, Pyle said he thought that there was an "awareness" that comes with "rejoining the world" as students return to campus life after being off campus for so long.
Pyle said that he thinks understaffing might have also contributed to the spread of the rumor. Due to staffing shortages, Pyle's team may not have been picking up the carcasses as quickly as in previous years.
Pyle said, "Our department has been pretty understaffed for the last 18 months…I suppose with less people wandering around and more focused on other work, it is in the realm of possibility to me that some of [the dead squirrels] are staying on the ground longer than they would have before, which would then maybe add to the total number [of dead squirrel spottings]."
Fortunately, Grant Casady, Chair of Biology and Director of Environment Studies, said that Whitworth's environment makes a great home for squirrels.
"There's a lot of extra food and habitat for [squirrels] here," Casady said. He also says that since squirrels are omnivores, they will eat anything. With a large group of young adults, there is always something on the ground they can eat.
Still, losing squirrels in large numbers would have a significant impact on our campus culture. In the words of Brandon Pyle, "We do not have a shortage of squirrels…it doesn't mean we should care less about them dying."