by Katie Shaw
Whitworth launched a program called the Student Success Team last year, which aims to keep students supported and on the road to success. Anyone at Whitworth can now, through the student concern form, participate in this program.
"Many universities bring students in and then we don't give them the tools to actually survive or thrive," Student Success Advocate Landon Crecelius said. "When Virginia Tech shootings took place research was later done showing there were a lot of warning signs that led up to that tragic event and that with early intervention, a lot of petty tragedy could have been prevented."
He said the purpose of the SST is to make sure students don't slip through the cracks. The student concern form is a new avenue for support among students.
The student concern form is available on the Whitworth website for anyone to submit concerns such as anxieties about classmates.
Whether the issue is a change in mood, a family problem, or a more serious matter such as potential depression, that submitting a student concern form can alert someone on the SST who can help about troubled people on and off campus, Crecelius said.
The level of concern can be indicated on the form, ranging from moderate to high to urgent, and the submitter simply explains what he or she has seen. It is a way to let the SST know about an observation of a fellow Pirate in need, Crecelius said.
"I'm hoping that people that need help will get help sooner, that we'll be able to intervene," said Nicole Boymook, assistant dean of off-campus students and student success.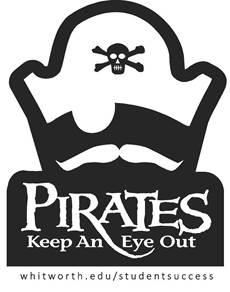 Sometimes the SST will refer students to counselors. Assistance can also come in the form of student success coaches, who are Whitworth students themselves.
"Sometimes students just need someone to check in with them, help them be accountable," Crecelius said.
He said that one of the best sources of help for people comes from their peers, who have experienced the same struggles.
"We are psychological, social, biological beings," senior and coach Alanna Feltner said. "And that means that how you treat yourself physically, and how you are emotionally, and how you interact with people is all related to your health and your success and those are all interrelated. My job is just to kind of walk with people and unwind that overall success."
When problems aren't as serious, the SST often contacts the resident director or resident assistant of the student. Members of the SST can talk to the student themselves, look further into the issue, or simply send an email to check in.
Each week, the team meets to discuss the various students they are concerned with, and what would be the best way to help each individual.
The SST wants to provides the support and resources necessary for a strong Whitworth community, Crecelius said.
"We're all Pirates, and how do we keep an eye out for one another?" Boymook said. "How do we maintain that close-knit family feel?"
Contact Katie Shaw at kshaw17@my.whitworth.edu