by Katie Shaw
The Whitworth forensics team won the last tournament of its regular season out of 13 colleges and universities at Oregon State University on Feb. 22 and 23. They closed out both the impromptu event, meaning all six finalists were Whitworth students, and debate, meaning Whitworth students were the top three.
"All 19 students won at least one award and that shows the strength of the breadth and depth of our team," Director of Forensics Mike Ingram said. The team won first place in nine events.
The tournament begins with individual events, such as impromptu, in which competitors are given their choice of two quotes to speak on for five to seven minutes; and extemporaneous, in which the prompts are usually political issues. Students have 30 minutes to prepare before giving a seven-minute speech.
Other individual events include persuasion and informative speeches. Both events last for 10 minutes and are prepared ahead of time, sophomore Alex Hoffmann said.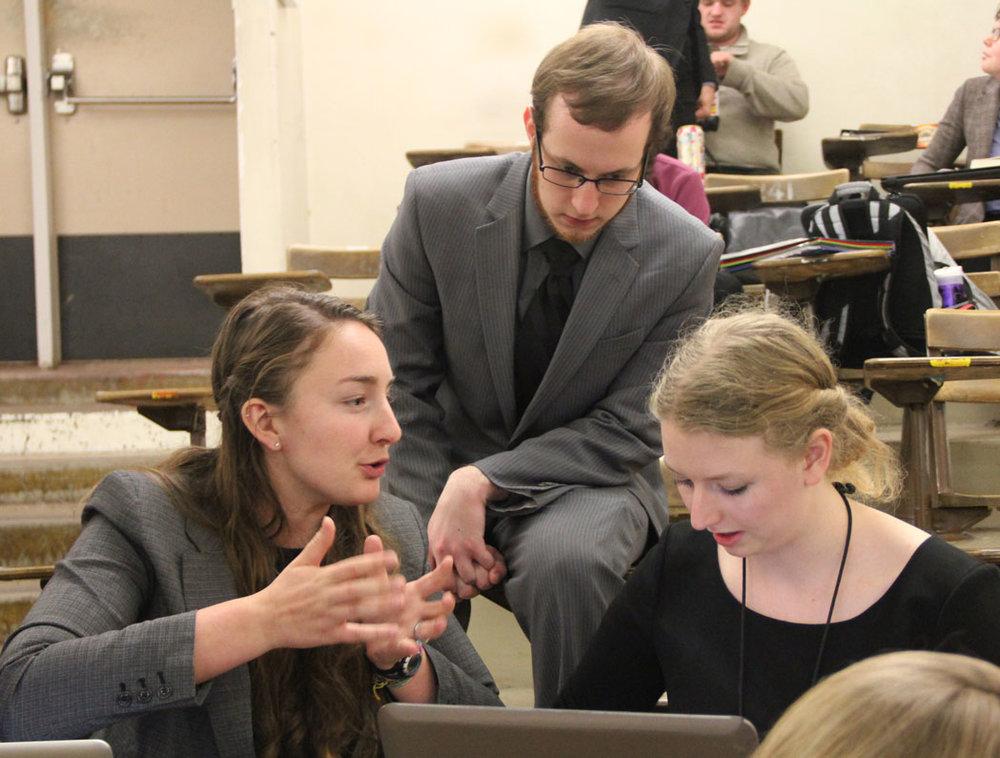 "The top six impromptu speakers were all from Whitworth, and that has never been done," Hoffmann said. He took second place in persuasion and fifth in impromptu.
In events like dramatic interpretation and poetry, competitors select pieces of prose or poetry to recite in compelling or interesting ways. In another event, programmed oral interpretation (POI), speakers use multiple pieces of prose or poetry to make a persuasive statement, Hoffmann said.
"Its [POI's] point is to be dramatic, but have a compelling argument within it," Hoffmann said.
Junior Stephanie Saracco, who won POI at the tournament, gave a speech about post traumatic stress disorder in which she tied many different pieces of writing about PTSD together, Hoffmann said.
Those individual events occurred Saturday morning between rounds of debate, Hoffmann said. There were three debate rounds on Saturday and two on Sunday, and then elimination rounds on Sunday evening. In the tournament, competitors had to win at least three debates to get to the finals, Hoffmann said.
Whitworth closed out the debate event as well as the impromptu one; Hoffmann, junior Sam Director and junior Sarah Sauter were the three finalists in debate.
Competitors in debate are paired with their opponents, the pair draws a slip of paper with five possible speaking topics. They each take turns eliminating topics from the list until they are left with one, which they will debate, Hoffmann said. They have 30 minutes to prepare for the debate.
"As a coach, I really enjoy the style of debate that we do," Ingram said. "It is a one-on-one style of debate and the topic changes every round. What I really love is watching the students help each other prepare for the debates. It's really powerful to watch our team work."
Ingram meets with each of his students one-on-one once a week, as well as in a group setting once a week.
A liberal arts education is very useful in the debate setting, Ingram said. Since students are educated so broadly, they can pull information from different classes out of a variety of subjects.
"What I love about [debate] is the topic changes every time," Hoffmann said. "A lot of people ask, when I say I went on a debate trip, 'What did you debate?' and I say, 'Well, I had seven rounds of debate, and each one is different.' So that's really kind of fun, that way it never gets old."
On March 7, the team will travel to Riverside, Calif., for Christian Nationals, and on April 2 at 7 p.m., three members of the forensics team will be debating with three Irish national champions in Robinson Teaching Theater.