by Shelby Harding
Whitworth University had a $2.5 million revenue shortfall this year, resulting in a budget gap of approximately $2.2 million, President Beck Taylor said last week. The target set for incoming first-year students of 620-640 students was not met, according to the 10-Day Report.
While the initial revenue shortfall was $2.5 million, the actual budget gap stands at $2.2 million because of decreased costs that come as a result of having fewer students than expected. Books for continuing studies and a decrease in food volume for Sodexo expenses helped bring down the budget gap to $2.2 million.
"It is certainly disappointing. We were aiming for 620-640 new freshmen for this year and did not reach that," said Greg Orwig, vice president of admissions and financial aid.
The shortfall of incoming students was the main issue which contributed to the budget deficit, Taylor said. The class of 2017 has 593 students compared with the 2012 incoming class of 631 students.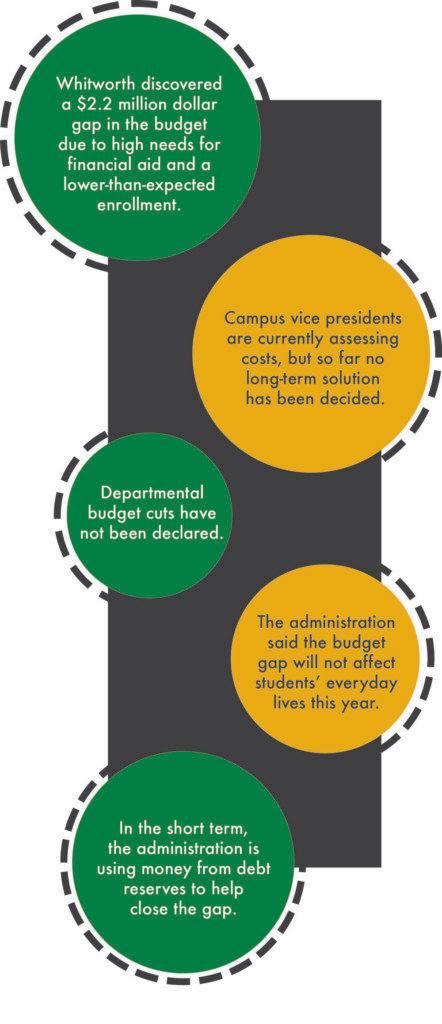 "We should not see noticeable changes, but these are one-time savings [being used this year], and next year is going to be tighter," Taylor said.
Long-term plans for closing the gap have not been declared. Taylor said he is awaiting reports from Whitworth vice presidents.
"I am busy working with department chairs and other academic leaders in the College of Arts and Sciences," said Noelle Wiersma, dean of the College of Arts and Sciences. "Our goal is to identify savings, yet make sure students have the classes and equipment they need to have strong learning experiences. This is something we do all the time, we're just doing it extra thoughtfully and creatively."
Faculty positions are safe, though, Taylor said.
"We have no plans for reduction. We may not fill open positions this year," Taylor said.
The class of 2017 is the third largest incoming class in Whitworth's history and the second-most diverse, Taylor said. But 2013's incoming undergraduate class is one of the most expensive, as 78 percent of the class needed financial aid coming into Whitworth, compared with 73 percent with the 2012 incoming class.
"We will be paying for the lower enrollment next year," Taylor said.
The need for financial aid increased by more than $1,800, on average, and thus, financial aid scholarships increased significantly this year. Whitworth overspent approximately $320,000 on financial aid, Taylor said.
"We can't meet 100 percent of the financial need — the need level of students is higher, our commitment goes up and it's difficult to anticipate just how many students will need financial aid," Orwig said.
The focus of the admissions office was to help as many students as possible, he said. The new admissions and business model can partially be to blame, a model which focused on targeting potential Whitworth students who have a "high desire" to attend Whitworth.
"We are going to be using resources on those who are statistically more likely to go to Whitworth," Taylor said. "I am hoping that this new model will create a more predictable model of incoming students."
Whitworth sent admission letters to about 2,600 students who applied, and of those, 23 percent officially enrolled at Whitworth, Orwig said.
"We just don't know what 23 percent are going to enroll, and unexpectedly those who came had higher financial need," Orwig said. "Hitting the enrollment number on the dot is a very difficult and complicated thing to do in a volatile environment."
Whitworth anticipated the remaining $1,367,482 of lost revenue could be attributed to a full 2017 freshman class, a shortage of 20 transfer students, a 5.4 percent shortage of graduate students and a 9.8 percent drop in Continuing Studies students.
Whitworth has a considerable debt reserve specifically for times like this, Taylor said.
"We have around $1.2 million in our debt reserves," Taylor said.
Whitworth will use around $600,000 of the debt reserves to cover part of the current deficit. To make up the rest of the shortfall, small cuts to activities advised by various vice presidents of the university and energy savings will be made for the following years, Taylor said.
"Pray for a light winter, a good year in fundraising and good student retention. Be good stewards of resources," Taylor said.
The current faculty are being asked to increase productivity and move people around to improve efficiency, Taylor said.
"We have the same amount of people working in student finance as we did 15 years ago and they serve twice as many people now," Taylor said. This kind of efficiency and productivity can help alleviate the deficit.
The idea of growth in universities has changed recently. In the past two years, the admissions office at Whitworth has stopped trying to grow as fast as possible, and now focuses on keeping a stable number of roughly 2,300 full-time matriculated day students.
"But there is an embedded cost in that," Taylor said. "We are rethinking how to do business — and most plans are built on continued growth. That's not what we want."
Whitworth is not in uncharted territory, Taylor said. The current shortage of students is the second that Taylor has experienced in the three years he has served as president.
"This news will not change your experience or put us off our mission," Taylor said. "This is a part of higher education."
Contact Shelby Harding at sharding15@my.whitworth.edu