by Emma Maple | Staff Writer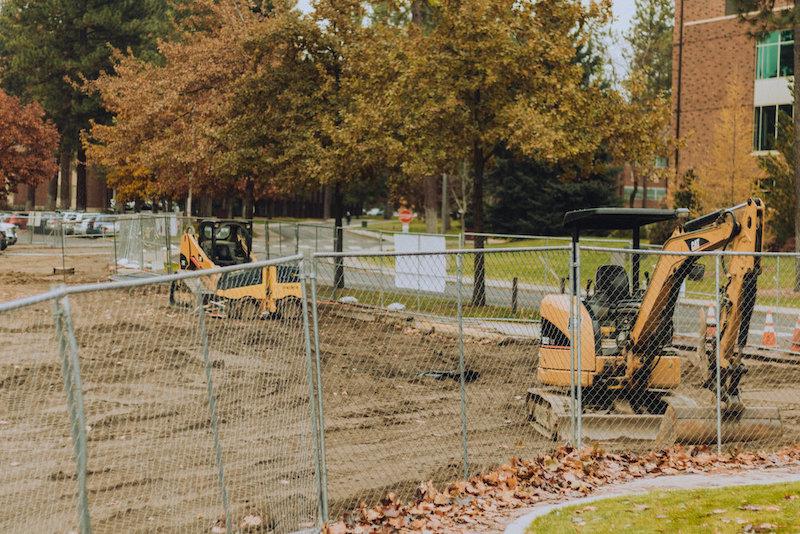 When I think of Whitworth, the picture that fills my head doesn't generally include graduate students.
To prove my point, Whitworth's population is made up of around 87% undergraduate students, while its graduate students only number around 390. But the fact that Whitworth is an undergraduate liberal arts university doesn't mean it's only focusing on the growth of this portion of its students. Whitworth is committed to the success of all its students.
Whitworth's two current construction ventures are demonstrating this commitment.
Due to the COVID-19 pandemic, colleges around the country are currently facing increased financial pressure, sometimes resulting in the dissolution of some important programs, according to College Post. But Whitworth isn't letting the pandemic stop them.
The end of construction will bring with it two buildings, the first being the Pines Café. Many students are excited for it to be finished—after all, it gives us more places to eat. To me, its current location seemed like an odd place. The Pines Café is going to hold dining and the bookstore, two important parts of student's lives, so it seemed like it should be placed somewhere more central to Whitworth. But it is not aimed solely at undergrad students like me. Larry Probus, Vice President of Finance and Administration, said , We have a large number of evening students that have classes in Hawthorne Hall, and they feel like they have no place to go other than Jack-in-the-Box across the street there."
The Pines café is also aimed at increasing community participation. Probus said, "That location is what we call the Whitworth front door. It's where people enter, so we wanted to [give people] an attractive first impression." With the bookstore housed here, it will "emphasize the availability of buying spirit gear to the community."
The new health science building also has Whitworth's core goals in mind. Probus says that the idea of this building started a few years ago, when Whitworth wanted to expand their graduate programs. They did a study of the area and "health sciences was identified as the area that had the both the greatest promise and largest demand." Gregor Thuswaldner, Provost and Executive Vice President of Academic Affairs, said that Whitworth decided to launch two new doctoral programs: one in occupational therapy (OT) and one in physical therapy (PT).
New programs create the need for additional classroom space, so the university decided to construct a new building. This building, being constructed behind Robinson, is going to house both graduate programs and some undergraduate programs.
The new construction that we're seeing is really born from a commitment to Whitworth's core values and from paying attention to the needs of the community, as well as all of Whitworth's students. Thuswaldner says the health science building was planned "because the graduate health science programs are in line with Whitworth's ethos. In our mission statement we say that we want to graduate students who go out and serve humanity. And that's graduates will do when they are in PT and OT: they will help people get better." The café will also be dedicated to graduate students, who tend to take night classes at Hawthorne, and to the community.
The truth is it's wrong of me to think of Whitworth as only an undergraduate college. Whitworth realizes how important their graduate students are, too – and Whitworth is paying attention to them.
The new construction has demonstrated that Whitworth has everyone's best interests in mind.