Senior captains ready for one last ride
by Andrew Goodwin
Over the last few years, four Whitworth seniors have impressed fans with clutch three-point shooting, acrobatic finishes and stout defense.
In the process of winning three straight Northwest Conference Titles, Drew Sears, Kenny Love, Derek Isaak, and Christian Jurlina also grew to be close friends.
Now it is time for one last ride with a single goal in mind: winning a national championship.
"Starting in their recruitment, they saw an opportunity to do something that hasn't been done here before," head coach Matt Logie said. "They've backed that talk up with their habits and commitment since day one. "
Sears, Jurlina and Love are the last men standing from an initial class of eight in the fall of 2013. The three of them, joined the next year by Isaak, bonded over their time in the Whitworth program and the growth they achieved together.
As freshmen, Jurlina and Love played major minutes off the bench, and Jurlina finished among the team leaders in scoring. Sears had a tougher initial transition and had to wait his turn as a freshman.
"I got my butt kicked every day in practice by the guys ahead of me," he said.
Sears said the butt-kicking toughened him up, though. Now, he appreciates the way then-juniors Adam Wilks and Taylor Farnsworth challenged him in practice because it gave him a chance to see the player he wanted to become. The Bucs saw that player when Sears led the conference in blocks last season with over two per game.
Jurlina said the most demanding transition was in practice. In his home country, Australia, teams practice two or three times per week, so moving to everyday practices proved to be difficult. He said the investment from teammates and coaches helped him push through and he strives to pay it forward and invest in the underclassmen as a senior.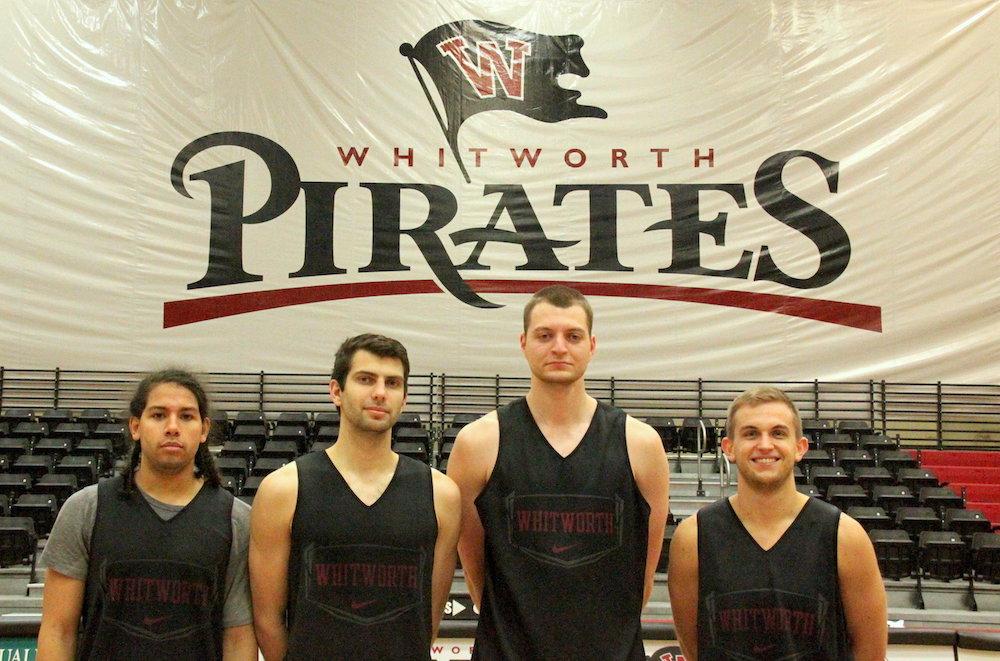 "As a junior and senior, I made it my mission to get to know everyone on the team," Jurlina said. "I want to connect on a deeper level than basketball."
Connection was part of what Isaak looked for when he transferred from Northwest Nazarene University to Whitworth in 2014. Northwest Nazarene was a difficult place to build relationships due to the season-to-season turnover, Isaak said.
As he entered Whitworth as a sophomore transfer, Isaak said the changes were difficult, but he felt welcomed into the Pirate program and culture. In his final season at Whitworth Isaak says he is solidly in a role he enjoys.
"I'm a glue guy," Isaak said. "I do whatever the team needs to play better."
If Isaak is the glue guy, Jurlina is the sweet-shooting wing and Sears is the defensive anchor then Kenny Love is the Pirates' go-to guy.
Earlier in November, D3Hoops chose Love as an honorable mention preseason All-American, which is not the first time he received national recognition. After his sophomore season, the National Association of Basketball Coaches named Love a third-team All-American.
"[Love] makes people around him better and of the same token, is one of our best scorers," Logie said.
Love enjoys the bond he has with the other three seniors, who all live together off-campus. The four took on the role of team leaders and invite the younger players over to watch NBA games and eat together.
Logie said their growth and leadership are great examples of what he expects from players in his program. He said the seniors set the tone in practice and almost serve as assistant coaches.
"As much as we expect them to be dynamic athletes, we also see a leadership component and a passing of the torch to the younger classmates," Logie said.
While the torches Logie talked about were figurative, there is one illustrious object the seniors would like to pass down to the next generation of Pirates: the national championship trophy.
"To [win a championship] and bring it to Whitworth would mean the world to us," Jurlina said.