by Andrew Goodwin
After nearly losing her life to a brain injury in high school, Callie Harwood is still excited to be back out on the basketball court.
Harwood, a third-year forward, plays with permanent tubing in her head after an emergency surgery for a ruptured brain abscess her during junior year of high school.
"My nurse told me when I got to the hospital that it was life or death," Harwood said. "That's when I realized how serious it was."
Harwood said doctors discovered the abscess thanks to an MRI, but after she was rushed to the hospital the abscess ruptured. The rupture forced Harwood to undergo multiple surgeries, and after those were successful she missed the second half of her junior basketball season.
Missing that season was nerve-wracking, Harwood said, because she knew collegiate coaches pay special attention to a player's third year. Head coach Helen Higgs, though, stuck with her, which Harwood said was one of the reasons she ended up at Whitworth.
"It meant more to me that [Higgs] still wanted me and was still there for me," Harwood said.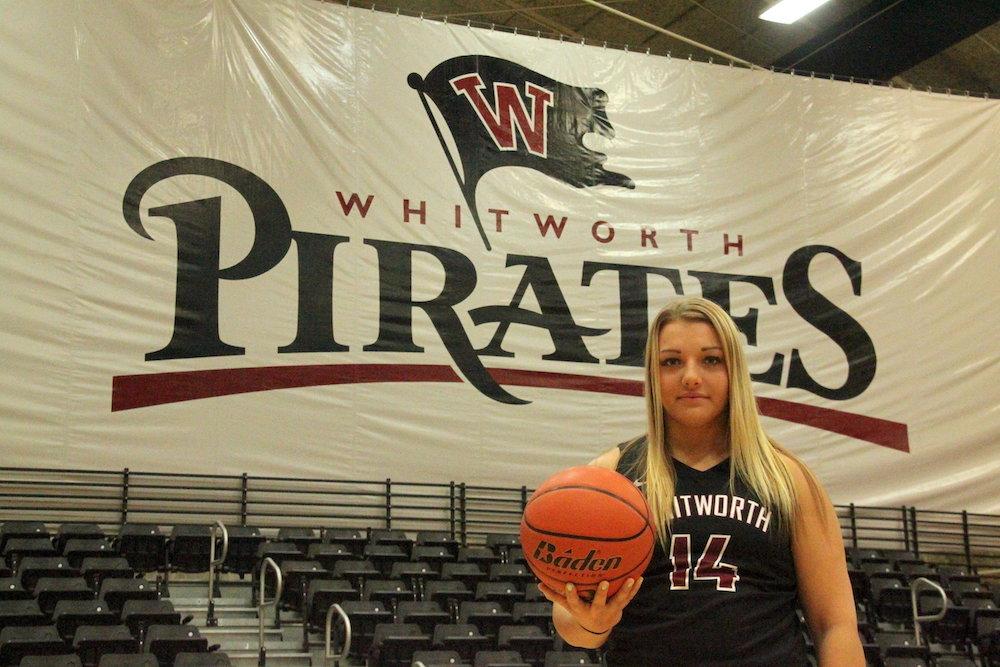 Coach Higgs said she was simply concerned about Harwood's well-being and does not talk to her much about it today, because Higgs believes the injury does not define Harwood.
When asked what does define Harwood, Higgs had a quick answer: her fire.
"She's one of our most passionate players on the court, which we all feed off," junior guard Grace Douglas said.
Higgs and Harwood's teammates also said they appreciate her outspoken nature.
"Callie is definitely a communicator. You can hear her everywhere she goes," junior Erika Kuehn said.
In addition to her passion and communication, the Pirates return their third leading scorer and rebounder in Harwood. After graduating All-American guard KC McConnell and All-Conference Honorable Mention forward Faith Emerson, Harwood will be looked upon to replace some of their production.
Coming into the season the Pirates will look for Harwood to foul less on defense and become a force on the boards, Higgs said. In their exhibition against Whitworth alumni, Harwood pulled down 15 rebounds and picked up only two fouls.
"You don't replace someone like KC with one person," Higgs cautioned, "[Callie's] a player that we can get a little more out of though."
Harwood agrees. During the pre-season the team worked with U-District, a Spokane organization that does agility training. She credited her cleaner defense partially to her work improving agility and footwork.
Her teammates noticed the change in practice. Kuehn said Harwood's body control is improved this season, and Douglas said she is becoming "craftier" with her strength in order to stay in games.
Considering those improvements, it is no coincidence Harwood played 27 minutes against the alumni, eight more than she averaged last season. In the matchup, Harwood also put up 25 points while shooting 60 percent from the field.
The performance impressed Higgs, who referenced the alumni game several times while talking about Harwood.
If it is a preview into her season, her teammates, coaches and fans are in for a treat as the Bucs chase a return to the NCAA tournament.
agoodwin18@my.whitworth.edu