by Henry Miller | Staff Writer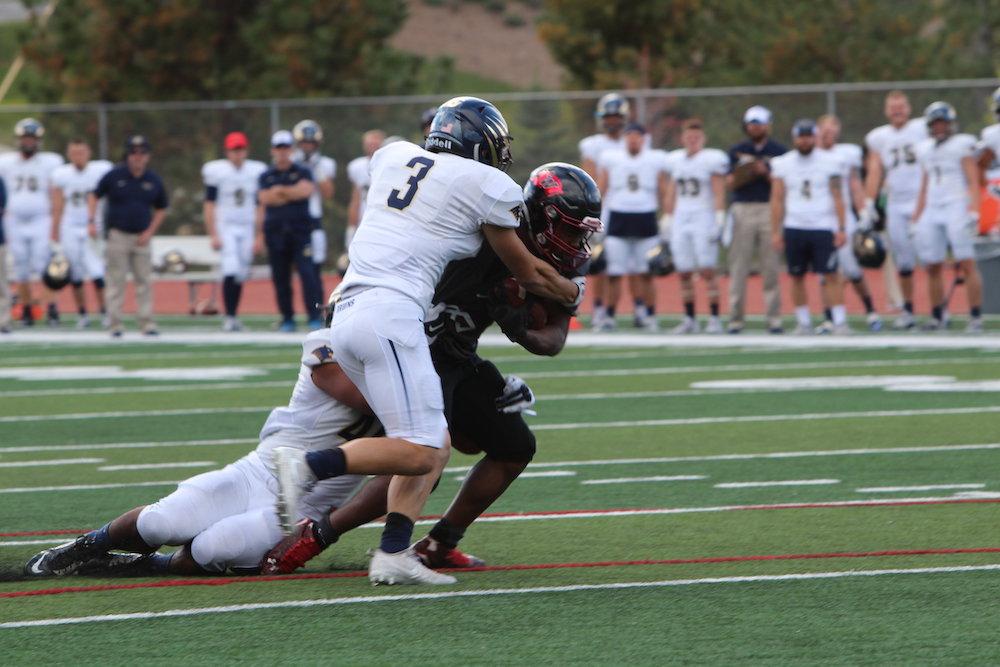 The Pirates moved to 3-2 overall and 0-2 in conference play after Saturday's loss to George Fox. The Pirates were held scoreless by the Bruins in the first half to compliment the Bruins 20-point first half.
The Whitworth defense struggled to contain a talented run game and extremely mobile quarterback. The Bruins rushed for almost 300 yards, and three touchdowns. The Bruin's passing game proved difficult to contain as well, as the Pirates allowed an average of 12.4 yards per pass. George Fox receiver Brad Lander had a field day with the Pirate defense catching two touchdowns and collecting 163 yards receiving.
"We knew one of the keys to the game for us was, we needed to contain that quarterback, and we needed to not give up those big pass plays," said Whitworth defensive coordinator Adam Richbart. For the most part the Bruins were able to do both of those.
After the half, the Pirates emerged with a new energy. They scored 17 points in the third quarter and forced several three and outs on defense. Coach Rod Sandberg attributed this "spark" to running back Mason Elms, '19. A comeback seemed imminent.
Unfortunately, George Fox brought the same energy they had used to dominate the last half.
"There were a lot of plays that we did not make and I need to focus on that and get my players to play better and execute better," Sandberg said. "I really like our team coming out of halftime, but unfortunately we fumbled the kickoff."
The officials drew fan disapproval after they called a blocked field goal back for an illegal forward pass, and then again in the third quarter after a pass interference was left uncalled. "We can't control that, they're trying to do the best job they can," Coach Sandberg said.
Midway through the third quarter, quarterback Ian Kolstee, '18, was replaced by Leif Erickson, '19, after an apparent leg injury. Kolstee didn't appear to be in serious condition, but will see an athletic trainer for further evaluation.
The Pirates travel to Tacoma to face off against Pacific Lutheran University (1-1 in conference play) this coming Saturday, Oct 14.