Anesu Mujenge | Staff Writer
The Whitworth Pirates took on the Whitman Blues in a mid-week thriller to climb further up the Northwest Conference log with a 1-0 victory at the Whitworth Soccer Field. With eighteen points on the table, the Pirates have produced a consistent run of form with six wins in their last seven games whilst remaining undefeated at home this season.
An effervescent opening was marked by quick interplay and relentless defending. Outstanding team chemistry amongst the Pirates was on display off the onset. Baumgartner, 21, was at her usual prowess leading the back line, with passing combinations out of the defensive third into the offensive third coming into fruition. Unlike the women's last game against Pacific Lutheran, the Pirates were sturdy on the ball with great possession play. The Blues were up for the tactical challenge as zonal pressing on the Pirates followed.
Quintessentially, the Pirates reciprocated with intensity along the flanks and in the 25th minute, right winger Arielle Van Peursem, '17, exploded past several defenders into the final third and cut in towards the goal, shooting the ball narrowly wide off the near post. This inspired an onslaught of Pirate attacks. Five minutes before halftime, the Pirates were rewarded for their offensive industry with a spectacular 20 yard goal from forward Michelle Whan, '18, assisted by Courtney Potter, '19, and Sarah Cool,'21.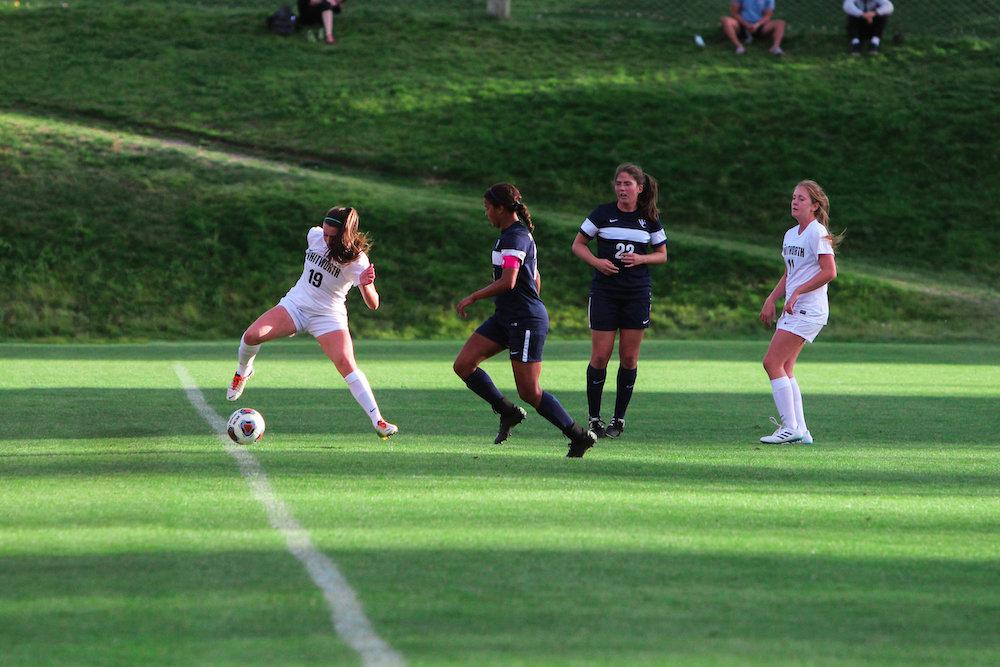 The Pirates opened the second half with the one goal advantage, but would not rest on this lead. Five minutes into the second half, Leah Corra's,'18, header at goal, narrowly skimmed over the crossbar following exceptional build up play and a cross from Van Peursem. The usual suspects were at it again with another shot on goal from McKenzie Hemp, '18, in the 75th minute. The Blue's goalkeeper was kept busy as Annie Clark, '20, tested Blue's keeper with a fierce strike following great pressing play from the Pirates.
As the game reached its dying embers, the intensity increased and so did the foul count, but the Pirate defense kept their composure to secure their fifth clean sheet this season.
The Pirates built on this consistent run of form with a 3-2 away victory against Linfield this Saturday to extend their lead in the Northwest conference.
The Pirates seek to propel this momentum into the weekend away with clashes against Willamette and Lewis & Clark in Oregon.