by Anesu Mujenge | Staff Writer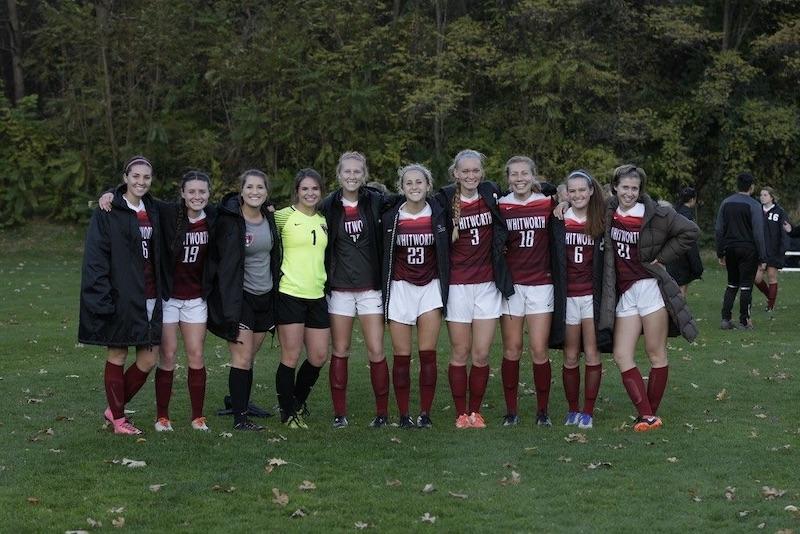 The Whitworth women's soccer team capped the season off with an impressive 12-6-2 record. The Pirates enjoyed a consistent season, once going eight games unbeaten. The Pirates finished in joint second with Puget Sound on 35 points, as Pacific Lutheran University advanced to the playoffs and won the conference with 40 points. Key to the stability displayed this season was the leadership of the seniors. Jenna Rogers, Sienna Tanner, Diana DeWald, Kara Need, Michelle Whan, McKenzie Hemp, Courtney Potter, Kathryn Bischoff and Leah Corra all played in their final season for the Pirates.
In the defensive third, goalkeeper Sienna Tanner was integral to the defensive discipline that characterized the Pirate's season. The Pirates achieved eight clean sheets, with Tanner producing some exceptional performances. In addition to her outstanding saves, Tanner was courageous, composed, and had the ball control of a midfield player. Despite Tanner's pivotal role in this year's season, she admits that it has not always been easy to get game time in such a competitive environment. In between the 2014 and 2015 seasons, Tanner played just seven games.
"That humbled me and make me work harder," Tanner said.
Her hard work proved fruitful. In her junior year, Tanner played 1,448 minutes of play and made 63 saves. Tanner gave athletes struggling to get game time some advice, saying, "You will play, you will get through it, and then you're going to look back and think, 'wow, I am totally different now. I am a better person.'"
Tanner's favorite memories on the team, varied from joking and bonding on the bench with fellow substitutes, to taking part in freshman traditions that involved walking around in giant Tetris costumes.
"It's more than just soccer. It's relationships, it's growing as a person," Tanner said.
Leading the attack was Leah Corra, who was NCAA Northwest Conference third leading goal scorer, and named to the 2017 All-Northwest Conference second team Corra enjoyed an active start to her Pirates career, playing 31 games between the 2014 and 2015 seasons. Corra was undoubtedly promising, and in her junior year, she played 20 games and finished as the second top goal scorer for the Pirates. Corra is a technically gifted poacher who makes little waste of the goal scoring opportunities at her disposal. She consistently punishes defenses in the conference for any lapse of concentration or apathetic defending.
One of Corra's favorite memories this season was fellow senior McKenzie Hemp's reaction to Corra's goal in a crucial game against Pacific Lutheran College. "I remember her looking me in the eye, and just screaming as loud as she could," Corra said. "To just celebrate in those few short moments with the entire team is what it's all about. I love them so much."
Team chemistry and morale among the Pirates were on display this season. The Pirate seniors have harnessed a sense of comradery, and welcomed new additions to the team with a seamless transition. The service the seniors have offered to the team is appreciated by fellow Pirates who look forward to seeing what the future holds for these individuals.