by Nicole Oh | Staff Writer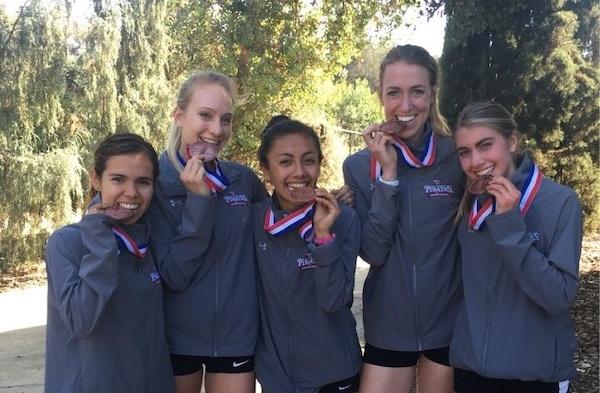 Last weekend the Whitworth women's cross country team earned themselves a spot in the Division III national cross country championship meet. The Pirates took second place at the regional meet in Claremont, California running the six-kilometer race against all schools in the West region including Claremont-Mudd-Scripps, who won the meet with 58 points. The Pirates came in second with 109 points, with Linfield close behind in third with 129 points.
Senior Kayla Leland finished in third place with a time of 21:41. Senior Bailey Scott was second for the Pirates, finishing in 20th place with a time of 22:42. Freshman Krystal Roberts finished in 22:54 with senior Thais Pedro-Trujillo finishing in 23:00, and junior Marissa Mount rounded out the scoring for the team in 23:08. Senior Sara Dawes and freshman Hailey Cleavenger also competed for the team as well.
"We got off to a conservative start that forced to work hard in the middle of the race and pick people off, but our girls are really good at that and thrive on competition," Mount, a NWC honors recipient, said. The Pirates had all five scorers cross the line in the top 33 out of 138 competitors in the race. With the second place finish "the course played a huge factor in the race there were lots of turns and elevation change, something our team has been working on all season to dominate any course," Mount said.
Looking ahead the team will travel to Elsah, Illinois on Nov. 18 to get the chance to compete at the national level. The Pirates have a goal of placing in the top 15 schools and represent Whitworth the best of their ability. The meet will start at noon Eastern time at North Farms Facility. Fans can watch the championship race online by live stream with a Flotrack Pro subscription.