by Nicole Oh | Staff Writer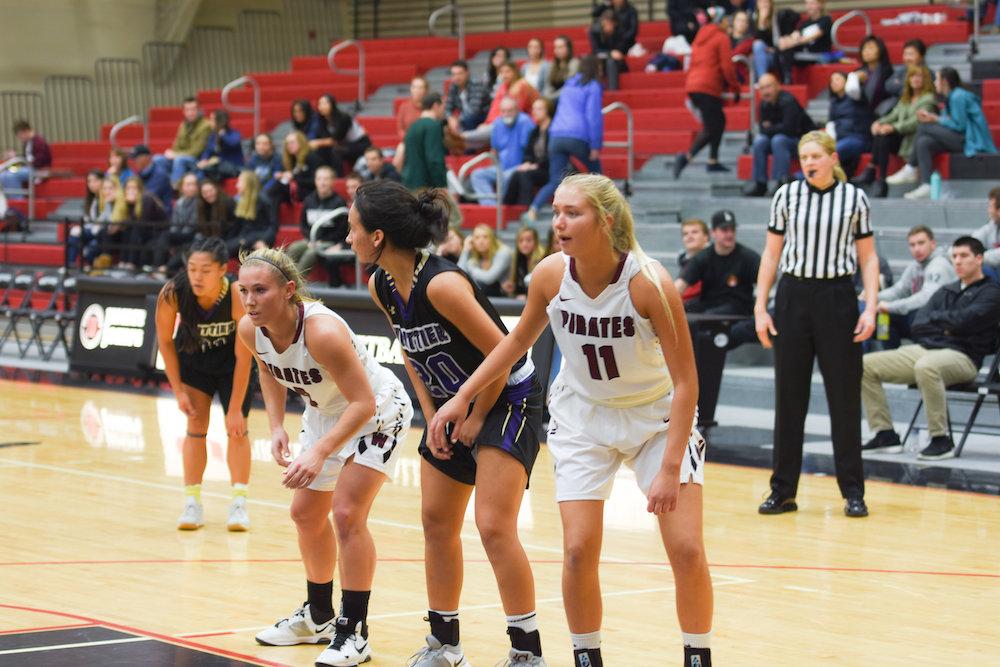 This weekend the Whitworth women's basketball team traveled to Tacoma to take on University of Puget Sound and Parkland to take on Pacific Lutheran University. The Pirates fell to the Puget Sound Loggers on Friday, Dec. 1 with a final score of 67-58 and won 76-54 on Saturday against Pacific Lutheran University. 
This year the Pirates are lead by head coach Helen Higgs, assistant coach Alecia Wilson and graduate assistant Jessica Kramer. This will be Higgs' 24th season at Whitworth, the university's longest serving women's basketball coach. Throughout her coaching career Higgs has been recognized as Northwest Conference Coach of the Year three times after winning two conference championships and three conference tournaments. Higgs loves coaching because of "The relationships and being able to watch the athletes grow and mature in various aspects of life is one of the reasons I love coaching."
After a overall record last season of 10-15, this year the team is off to a 3-2 start with the goal of "winning conference as always, also for the girls the culture and team aspect is important while still working hard, enjoying the ride and not having the losses overshadow the overall journey," Higgs said.
Players to look out for this season are junior Madison Moffat and senior Grace Douglas, two players who were All-Conference last year. Returning seniors Chloe Quinnett and Erika Kuehn also look to make an impact this season.
Higgs said the team is "fun to watch go up and down the court, we have lots of styles and they shoot the ball well."
Another standout is Camy Aguinaldo, a freshman point guard from Hawaii who has played basketball since she was three years old. So far this season Aguinaldo leads the Northwest Conference with 7.7 assists, currently averaging 14 points and 6.5 rebounds per game.
"My favorite memory is our team retreat to Deer Park, it was nice to everyone connect as a family. Every night we would watch the sunset, sit on the dock and bond," Aguinaldo said. Her goals for the season include the team "doing better than last year, we are off to a good start and we would like to make a postseason game such as March Madness."
"Basketball is a very intense fast paced game and we would love to have students come and watch" Aguinaldo said.
You can see the team in action Dec. 8 and 9 at the Holiday Classic in the fieldhouse. Conference games will also continue throughout the months of January and February.