by Andrew Goodwin | Sports Editor
In college athletics, recruiting may be one of a coach's most difficult and important jobs.
It involves discovering talented athletes, convincing them to go to a school, and ensuring that anywhere from enough 18-year-olds end up on campus every year.
At a Division III school like Whitworth the challenges can be even more significant. While Division I and II schools offer athletic scholarships, Division III schools, such as Whitworth, cannot.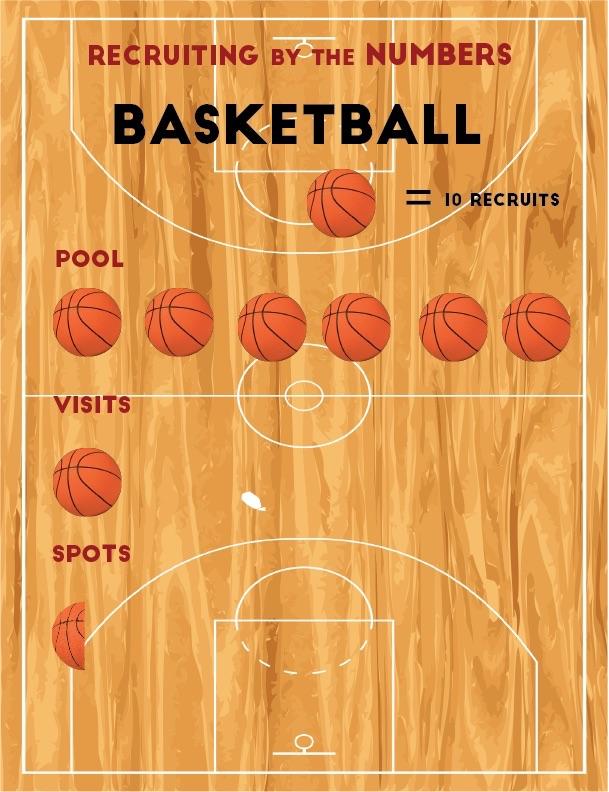 "We recruit harder than scholarship schools because we have to," baseball head coach Dan Ramsay said. "I can't dangle money in front of a recruit's face. I can't entice them that way."
Though coaches all work differently and the process is complicated, recruiting can be broken down into several steps. It begins in a recruit's junior year of high school and continues until they officially begin practice.
Step 1: Fill the Pool
The first step in the process for Whitworth coaches can begin as early as two years prior to recruits becoming student-athletes.
In order to recruit student-athletes, coaches need to find them. This involves creating a "pool" of potential Whitworthians. Coaches say these athletes come from a variety of sources; recruiting services, high school or club coaches and players themselves contacting Whitworth's coaches. Most, if not all, of those athletes go in the initial pool of potential recruits.
"We make it a point to follow up with every single player who contacts us," women's soccer coach Bryan Olson said. "We don't want to see anyone down the road playing for UPS who says we never called them back."
The size of the pool depends on the size of the team. The football team, which consists of over 100 student-athletes, has a 1,000 recruit pool, head coach Rod Sandberg said. Smaller teams, like soccer or baseball, usually begin with a pool of 120-250 recruits to be whittled down to smaller recruiting classes.
Step 2: Evaluate
The process of whittling classes down takes place over about a year before the recruits visit campus during their senior year of high school.
Evaluation varies by team, but most coaches evaluate recruits based on three characteristics: academics, talent and character.
Sidebar Preview: An athlete's perspective on recruiting
Michelle Silva | Staff Writer
Editor's Note: The Whitworthian sports section is taking March and April to explore athletic recruiting at Whitworth. We asked Whitworth softball player and Whitworthian feature writer Michelle Silva to talk to a teammate about her recruiting process to preview our next piece on the topic, which will come from the athlete's side of the recruiting equation.
For senior softball player Shannon Wessel the recruiting process took four years. Wessel was encouraged to play college softball when a senior on her high school team committed to a university in New York, she said. The four years of recruiting involved a lot of traveling, college research and campus tours.
Only two percent of student-athletes end up playing at the collegiate level. The recruiting process is a unique experience for every athlete. It can be exciting and overwhelming all at the same time.
"I knew I didn't want my high school games to be my last ones," Wessel said.
To begin the process, Wessel joined a club softball team named the Nevada Lightning. The team competed in several showcase tournaments and camps where college coaches came to recruit players. Wessel's club team had a recruiting coordinator travel with them who aided her team to contact college coaches.
The Lightning team members had weekly 'homework' assignments assigned by their recruiting coordinator. Wessel's tasks included looking into potential colleges that she thought could be a good fit. She then gathered the specific school's contact information to call the coaches.
Wessel said that it's important to "make yourself stand out in some way, do research so you know what you're talking about."
Wessel learned that phone calls are more personal and can give an athlete the chance to connect at a personal level, because college coaches are barraged with emails every day. One phone call could set one apart from other athletes.
After Wessel called Whitworth softball's assistant coach, Randy Clark, he flew to Las Vegas to watch her in action. Coach Clark was instantly impressed by Wessel's athletic abilities, Clark said.
"What stood out was her aggression and quickness. That combo is very nice to have the way we like to play," Clark said.
Physical abilities aren't the only traits that coaches look for when recruiting. It's also important to maintain a positive attitude. That's another aspect that Clark paid attention to while scouting Wessel.
Clark said Wessel had a  "great and identifiable concern for others with a humble spirit throughout."
Although the interest was there, she was still hesitant to commit right away.
"It was really hard to make the decision because I knew it would be the place that I'd spend four years at," said Wessel.  
That's why there's a lot of value in going on official school visits, Wessel said. She knew that she was willing to commit to Whitworth when she stepped foot on campus.
Between the friendliness of the coaches, the hospitality of the students and the well-kept Diana Marks softball field, Wessel felt confidence in her final choice, she said. After all the years of hardwork and patience, it was the campus visit that sold her, said Wessel.
"It's scary to not know where you're going to end up," said Wessel. She stressed the importance of going on campus visits to have a true vision of what a potential school is like in person.
It all started with a phone call for Wessel. She does not regret her decision of coming to Whitworth, she said. After her graduation this spring she plans to pursue a masters in teaching program this coming summer at Whitworth. She hopes to provide a good experience to other prospective students and to make others feel like it's the right fit just like it was for her.
"The first factor for us is academics," Ramsay said. "If they don't fit the academic profile of Whitworth, we don't recruit them."
Focusing on academics is important to Whitworth coaches for a variety of reasons. First among them, recruits have to be accepted to Whitworth as students before they can participate in athletics.
Good students also receive larger financial aid packages, which can be the difference between a recruit affording Whitworth or being forced to go elsewhere, men's soccer coach Morgan Cathey said.
Reasons for recruiting good students can be personal as well.
"Myself and [pitching coach] CJ Perry are alumni," Ramsay said. "Every kid who leaves here with a Whitworth name on his degree represents us too."
After discovering an athlete's academic track record, coaches evaluate their talent and character. Talent, they say, is the easier of the two.
"If you take ten college coaches, have them watch the same game, and tell them to pick the best three players they'll usually pick the same three guys," Cathey said. "To find great character, and young men who will fit Whitworth is much more difficult."
One aspect of recruiting every coach is firm in is not settling for two of their three categories. Recruits either qualify by being in all three categories or Whitworth coaches don't recruit them.
Step 3: Recruit, Recruit, Recruit
Once coaches decide which athletes are good fits for their teams, it's time to get them on campus. This is where the more publicized process of recruiting begins. Coaches build relationships with students and sell their teams and the University.
Cathey said this is the easiest part of the process for him, because he doesn't see the process as selling. The process turns into transferring enthusiasm from coach to recruit, he said.
"I know I am at a place here where young men are going to be valued on and off the field," Cathey said.
Cathey noted that a current recruit who has scholarship offers from Division I and II universities is now coming to Whitworth because of the University's commitment to community on and off the field.
Community is a key selling point for the women's basketball team as well, along with academics and athletic excellence. Those three selling points can set Whitworth apart from other schools, head coach Helen Higgs said.
Current student-athletes can be the physical embodiment of their coaches selling points. If student-athletes in their program enjoy their time at Whitworth, they will tell others to join the team, Olson said.
Olson listed freshman defender Shirley Chandler as one of his team's best recruiters. He estimated that six or seven former classmates of Chandler's from Monroe High School have visited Whitworth due to her enthusiasm about the women's soccer team.
"I didn't know there were so many people in Monroe, Washington," Olson said. "We've met, I think, every single girl from her high school because Shirley is having a great experience and is telling everyone she can about it."
Selling points can only take coaches so far though. The most important step, they say, is to get recruits on an official visit to Whitworth. On those visits, players meet any assistant coaches they haven't talked to yet and stay the night with current players in residence halls.
"The number one recruiters in our program are our players," Sandberg said. "I can talk to [recruits] until I'm blue in the face, but when they hang out with our players they see if it's true or not."
Visits serve two purposes. They show off the campus and facilities to recruits, as well as current student-athletes, coaches said.
The baseball team encourages students to visit twice, once as an unofficial visit during the summer, and a second time during the fall as an official visitor, Ramsay said. Baseball coaches lead a tour of the facilities in the summer, while school-year visits consist of more time spent in the Whitworth community.
"We sell the people," Sandberg said. "The people here are special."
Regardless of the team they're being recruited for, coaches say getting recruits on campus matters the most in recruiting at Whitworth. Often, it finalizes the recruit's decision to be a Pirate, because they decide Whitworth is better than the recruit's other options, Cathey said.
Step 4: Fill the Spots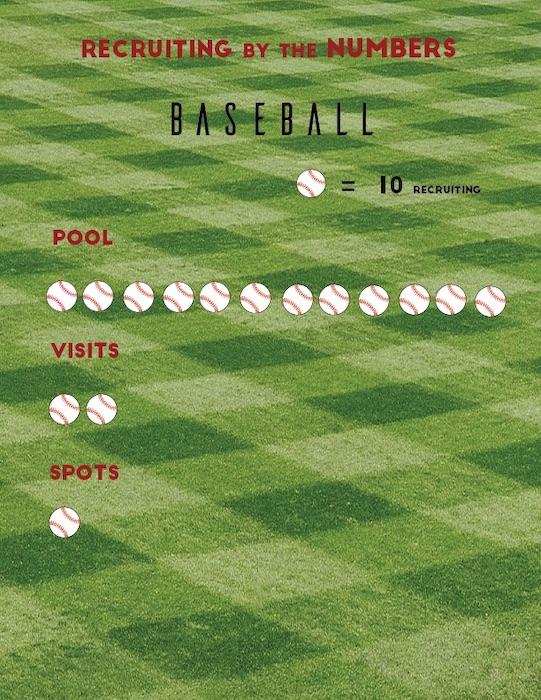 Each coach enters a recruiting season with the number of recruits at each position they need to be successful. Women's soccer loses five players to graduation in May at positions all over the field. Olson filled their gaps in the roster with four committed recruits.
The small number of spots can leave coaches with tough decisions though, since most don't want to add too many players.
"We never want to saturate a position with players," Cathey said. "It's not fair to people."
Coaches have different strategies to fill the holes of graduating seniors without oversaturating. Men's soccer recruits three or four players per position in each class, and the first to commit to filling the spot earns the place, while the rest are told the spot is full, Cathey said. Women's soccer uses a similar technique, Olson said.
Coaches agreed that the best way to fill spots is through communication. Recruits have to know what spot they are filling, and where they will sit on the depth chart, Ramsay said.
From there, the decision is up to recruits, and in the end the process is in their hands. Some recruits choose to become Pirates, while others do not, and coaches simply have to keep working.
Step 5: Repeat
Once the current crop of Pirates is locked in to coming to Whitworth, the process begins anew with the next group. Coaches begin evaluating, recruiting, and filling spots for the next class the second the current recruiting cycle is over. Often as soon as one step in the process is over for a cycle, coaches begin it for the next one.