by Craig Russell | Staff Writer
This weekend, the Whitworth swim team was at King County Aquatic Center in Federal Way for the North Western Conference Championship. The meet lasted from Friday to Sunday.
Whitworth took first with 665 points followed by Whitman at 489, and Linfield at 460.5.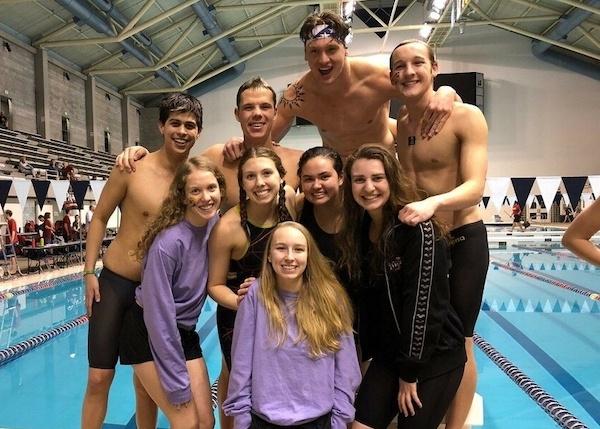 On day one the Pirates won three events. Ryan Grady, '21, won the 500 yard free by over a second. The Pirates next victory was much closer with Owen Lempert, '20, taking first in the 50 yard free by just a tenth of a second. The last race of the day was the 400 yard medley, swam by Patrick Wilber, '18, Jake Davies, '21, Eben Schumann, '19 and Lempert. This team won by nearly six seconds, putting the men's score at 188 for the day. Molly Vagt, '21, took second in the 500 yard free. The women ended in fourth with 122 points.
On day two the men's team of Wilber, Davies, Schumann and Lempert also won the 200 yard medley, this time by just five one-hundredths of a second. Grady and Byron Rossmiller, '20, took first and second in the 400 yard individual medley. Wilber, Rossmiller and Schumann took first, third and fifth in the 100 yard backstroke. This brought the men's score up to 465, and grew their lead to over 100 points. Hannah Galbraith took second in the 100 yard backstroke. Vagt took fourth in the 200 yard free and Jamie Siegler, '21, took fourth in the 100 yard breaststroke. The women moved back to fifth, with 268 points.
Sunday, Whitworth pushed to expand their lead. Wilber and Rossmiller lead the 200 yard backstroke, taking first and second place with a time of 1:46.63 and 1:47.22. Both broke the previous meet and conference record of 1:47.92, set by Wesley Walton of Whitworth in 2016. Hannah Galbraith, '20, took fist in the 200 yard backstroke. Siegler took second in the 200 yard backstroke, behind the lead swimmer, Miranda Williams of Whitman, by only two tenths of a second.
Wilber and Rossmiller both qualified for nationals in March.
"I feel as though the team performed excellently," Wilber said. The team has been working hard all season and it was nice to see it pay off, he said.
Up next, the Pirates head to the Puget Sound Finale, the final team meet of the season, on Feb 17.