by Katelyn McLean | Sports Editor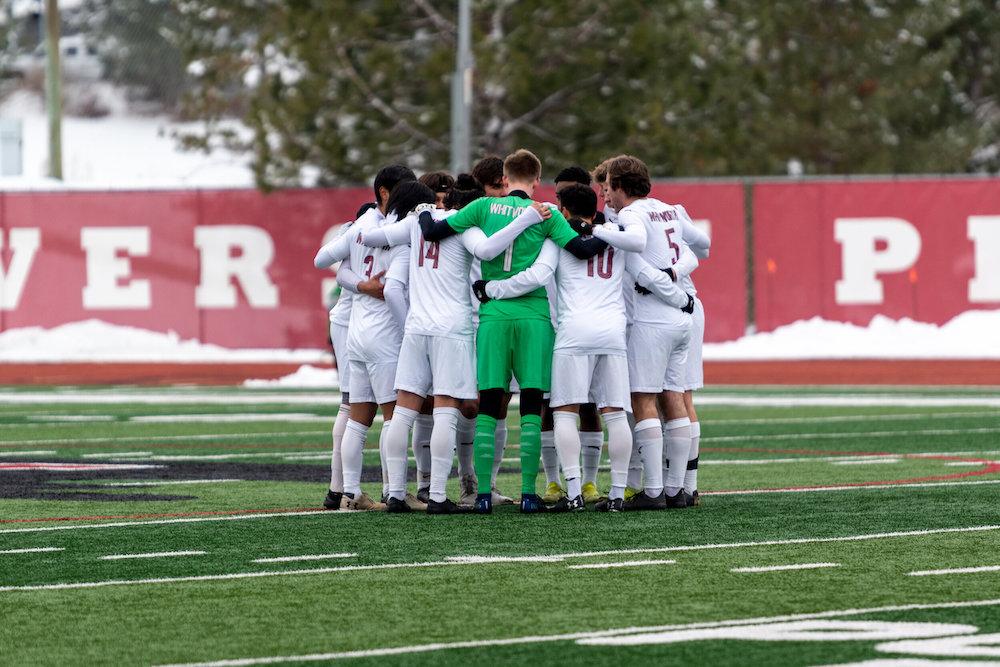 Whitworth soccer returned to the Pine Bowl this weekend to open their season against Pacific Lutheran, bouncing back from a 0-1 loss on Saturday to beat Pacific Lutheran 1-0 on Sunday.
This was the first time the men's soccer team had played since Nov. 9, 2019.
"It feels amazing, like we didn't get the result we wanted, but it's just the best feeling ever just to be with the guys again," senior midfielder Ethan Kem said.
For Kem, the return to the field was long awaited, after breaking his leg midway through the 2019 season.
"I'm a senior now so just to be the leader on the sideline, just to keep the guys engaged, and just do my part…I may not get as many minutes anymore but just play my role as best I can," Kem said.
Head coach Jeremy Payne said the team's objective was to come out energized, but not too energized to the point of making mistakes.
"We want to have really great enthusiasm and personality but combined with discipline and structure," Payne said.
Although the first game wasn't the outcome the Pirates were hoping for, they felt prepared and were grateful to be on the field again.
"We've all been working really hard to get back out here. We've been out here for almost three months now getting ready for this. We've all been prepared. I don't think there was a time when we were all doubting ourselves or anything like that," sophomore goalkeeper Jamison Gunhus said.
Gunhus recorded five saves over both games for Whitworth and allowed one goal.
Propelling Whitworth to a win on Sunday was freshman forward Dominic Guzman, who scored the lone goal for the Pirates in minute 16 off an assist from sophomore midfielder Jaime Rodriguez.
 "I was one on one with the keeper. It was a great service, you know. I was in the right place at the right time able to finish it off – celebrating with my teammates, greatest feeling in the world," Guzman said.
Whitworth soccer will take the field again on Feb. 27 and 28 in the Pine Bowl against Whitman.