Katelyn McLean | Sports Editor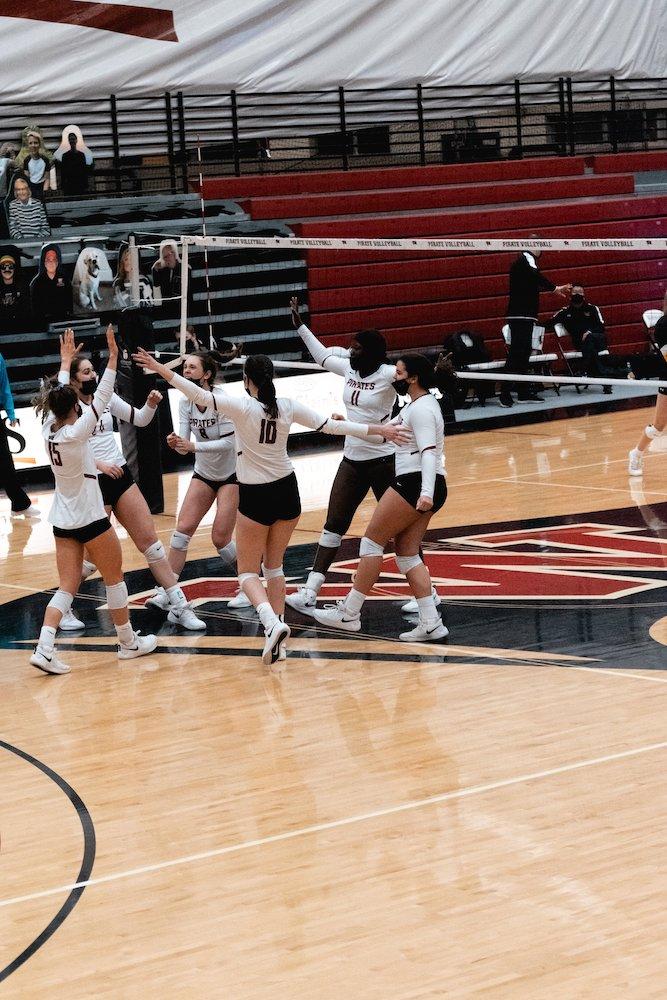 Whitworth volleyball beat Pacific Lutheran in back-to-back games on Friday and Saturday, winning 3-2 and 3-1 in their first time back in the Fieldhouse since November 2019.
"It's so nice to be home and have a home game, and even with the pictures of the fans it's just nice and a good home feeling," sophomore right side Abby Wolverton said.
Wolverton's 14 kills in Friday's game helped seal a victory for the Pirates, along with 22 kills and 16 digs from junior outside hitter Maddie Lee, and a career high 35 assists from junior setter Saylor Anderson.
"Just being at home was awesome, the environment here is incredible. Our team really emphasizes putting energy out, just because we don't have any fans due to COVID and all that, so, just the love and support that I get from my teammates makes me want to do my best for them, and they really just push me to be my best," Lee said.
After losing the first and fourth sets, Whitworth rallied to win 16-14 in the fifth set to seal the victory.
"Anytime we were struggling, it was just us kind of making mental errors, not being disciplined, not communicating as well or just kind of getting hesitant so we just talked a lot about our mindset, believing in ourselves, going out there and playing with confidence," head coach Kati Bodecker said.
New faces in the lineup may have been a contributing factor to some of the errors. The Pirates are coming into this season with several new freshmen, as well as some junior transfers, and without last season's starting libero, Kiana Vandaele, who took the season off to focus on the time demands of her studies in nursing.
"Especially at the beginning, that was an adjustment in trying to fill that role for sure," Bodecker said.
The Pirates' victory on Saturday was led by 17 kills and 14 digs by Lee, along with 11 kills by junior middle blocker Akon A'leu.
Whitworth returns to the Fieldhouse on Friday, Feb. 26th at 6pm and Saturday, Feb. 27th at 5pm against Whitman.