Katelyn McLean | Sports Editor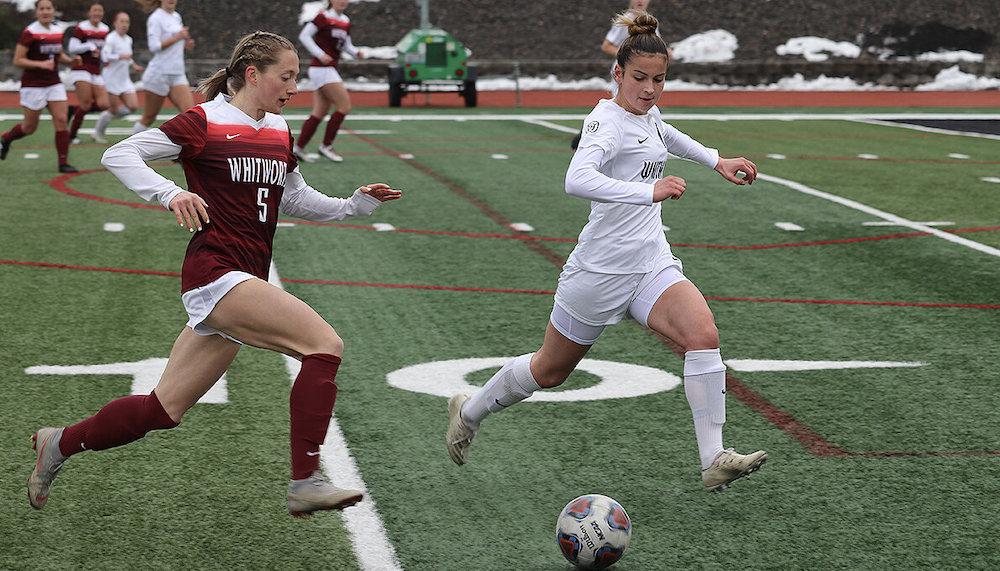 Whitworth women's soccer pulled off two close-game wins against Puget Sound over the weekend, winning 2-1 in overtime on Saturday, and 3-2 on Sunday. 
These were the Pirates' last home games of the shortened 2021 season due to COVID-19, and the back-to-back wins were a perfect ending.
"I don't know if Whitworth has ever been up two times in the season in women's soccer. A great weekend for the ladies. Our senior player on the field scored a couple goals as well over the weekend," head coach Bryan Olson said.
Senior midfielder Jadyn Baumgartner scored both goals for the Pirates in Saturday's game, one in minute 24 off an assist by freshman defender Hailey Ovenell and the other to seal the victory for the Pirates in overtime.
"Incredible. Words can't summarize the unique impact that she's made on our team, on all the lives within it, and on our coaches as well. Who she chooses to be is encouraging to me and to those others in her life," Olson said.
Saturday's game was all Baumgartner, but Sunday's game saw new faces making big plays on the field. Whitworth's three goals were all scored by different players.
Freshman midfielder Angel Denke scored in the 19 minute off an assist from sophomore midfielder Savannah Acpal. In minute 40, sophomore Kaitlin Speer scored from an assist by junior forward Ireland Eaton. To seal the victory for Whitworth, sophomore Maggie Ames scored the final goal for Whitworth from an assist by sophomore midfielder Laura Pierson.
"So wonderful to see people ready when called upon. That's what we ask of everyone – the best of which they're able and to be ready when the opportunity comes, and we certainly saw that today," Olson said.
Despite not having any more games at home, Whitworth soccer plays five more away games before the end of their season.
The pirates will travel to Pacific Lutheran on Sat. March 13 and Sun. March 14 at 11:00am. Both games will be available to livestream.