Katelyn McLean | Sports Editor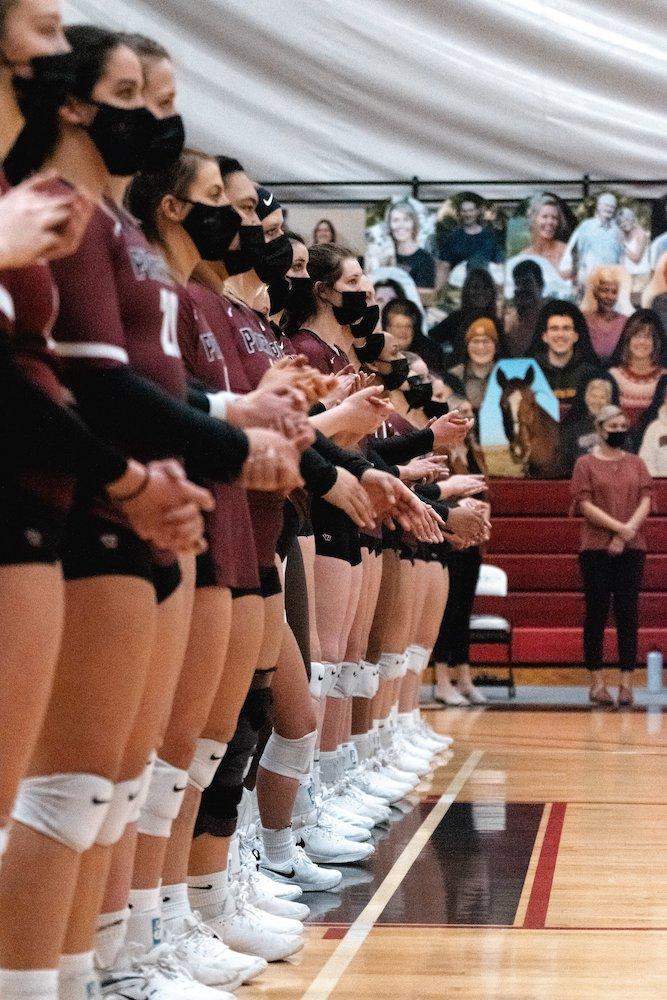 Whitworth volleyball came out on top in a three-game series against Puget Sound, winning the first two games and losing the last one.
The Bucs won 3-0 on Friday night and then played Saturday morning, a makeup from a Feb. 13 cancellation, winning that game 3-2. Saturday night was tougher for the Bucs after playing a long match earlier in the day, and they lost 3-1.
"It definitely was hard on the body, of course, but I would say more mentally challenging than physically – going through an entire game warm up and getting ready to play a game and then going to five sets and then having to do it all over again," junior outside hitter Maddie Lee said.
Lee emerged as one of the key players able to keep Whitworth in game three with 16 kills and six digs, alternating between hitting and tipping at the net to catch the defense off-guard.
"Just to keep the defense on their toes – keep them honest – because if they're always expecting you to hit, they're going to stay deep and then that opens up the tip game. So just to try and keep them honest, try to be crafty. Try to get kills where I can," Lee said.
Lee remained a consistent presence for Whitworth with 30 kills and 14 digs in the three-game weekend.
This weekend also allowed a few new players to get some solid playing time for Whitworth. Freshman outside hitter Jaye Hodge got her first start in Friday's game, recording five kills and two digs, and freshman outside hitter Grace Cooper recorded nine kills, thirteen digs and three blocks in Saturday morning's game.
Despite falling to Puget Sound on Saturday night, the Pirates will return to the Fieldhouse next season with the same roster, as there are no graduating seniors.
The Bucs will finish out their season on Wednesday, March 24 to make up two games at Whitman at 4pm and 7pm. Both games will be available to livestream on whitworthpirates.com.