by Katelyn McLean | Sports Editor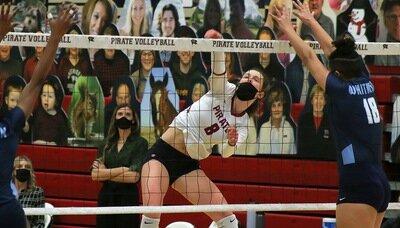 Whitworth volleyball continued their success, coming from behind twice to beat Whitman 3-2 on Friday and 3-1 on Saturday.
After losing the first two sets on Friday, Whitworth came out dominant in set three, beating the Blues 25-15.
"I think they just realized they need to pick up their intensity. I think it wasn't a skill issue. It was just kind of a mindset and them just choosing to show up and compete and compete at a really high level," head coach Kati Bodecker said.
Friday's performance was led by a 15 kill, 5 block performance by junior middle blocker Akon A'leu, as well as an 18 kill, 13 dig performance by junior outside hitter Maddie Lee.
Going into Saturday's game, the Bucs hoped to find their intensity sooner.
"I want them to carry over that feeling of when they're playing well and competing hard and playing together because that's when we're at our best, when we're just going out there and playing with urgency," Bodecker said.
After losing the first set 22-25 on Saturday, the Bucs came out energized and won the next three sets 25-12, 25-13, and 25-13.
 Sophomore outside hitter Abby Wolverton had 19 kills and 2 blocks in the victory for Whitworth.
"I think we passed amazing tonight and had amazing sets, so it was really easy to be able to put the ball away," Wolverton said.
The team finished the game with 54 total kills and a .388 hitting percentage, a Whitworth record for a four-set match.
From doing handstands and pretending to pass out, the bench played a huge role in helping the team create energy.
"Without our bench, I don't think we could get as far as we do. That energy is just so motivating and helpful every single night," Wolverton said.
 Up in the fourth set, Whitworth gave freshman players the chance to play.
"You have a lot of girls behind the scenes that might not be on the court getting the recognition or reward, but they're working just as hard in practice. So to see them get a chance to come out and demonstrate what they're capable of and then to have their teammates' support cheering them on is pretty amazing," Bodecker said.
Volleyball heads to Pacific Lutheran Friday, March 5, and Saturday, March 6, at 6pm.