Katelyn McLean | Sports Editor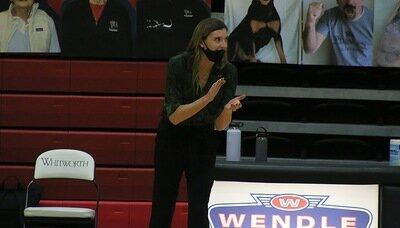 In her eighth season as Whitworth University's head volleyball coach, Kati Bodecker recorded her 100th win on Wednesday, March 24.
Bodecker finished the season with 101 wins after the Pirates swept the Whitman Blues in a Wednesday doubleheader on March 24. The games were played to make up for a pair of canceled games from Feb. 5.
"Reflecting back, I think it's just significant of one – the time that I've been here. Eight years has gone by pretty fast," Bodecker said. "And two – I think it represents the quality athletes that I've had the privilege of coaching."
Bodecker was hired at Whitworth in 2013 after six seasons coaching at the high school level. After a third-place Northwest Conference finish in her first year, the Pirates have won four NWC titles and two runner-up titles going into this season according to Whitworthpirates.com.
"I think personally it's easy to be successful at Whitworth," Bodecker said. "I think we have so much support institutionally wide, from the top down – from our president, through faculty members, the support from our student body, the support from fellow coaches and of course our athletic director Tim [Demant]. I feel like I've been given everything I need to be successful." 
Bodecker has built a strong program at Whitworth. According to Whitworthpirates.com, the volleyball team was 130-57 under Bodecker going into this season and added ten more wins and only two losses in Bodecker's eighth season. She has also coached three NWC Players of the Year – Maddye Dinsmore (2014), Jessica Schmautz (2018) and Emiko Kahler (2019), according to Whitworthpirates.com.  
Bodecker's most memorable moment of her Whitworth coaching career came during her second season at Whitworth and her first NWC championship season.  
"I specifically remember that year losing our first two road conference games against UPS and PLU, so we started out the season 0-2 and knowing that we don't have a conference tournament, early losses like that are hard to overcome," Bodecker said. "We knew that we'd be forced to basically win out the rest of our season if we wanted to be in a position to win, and we ended up doing that. We won 14 games in a row, finished the season fourteen and two, and got that first automatic bid since I've been coaching here, which was really exciting." 
Getting the 100th win in a season marked by difficulty and uncertainty adds significance.
"The word resiliency obviously has been thrown around multiple times this year and our team very much demonstrated hat," Bodecker said. "I think the word sacrifice comes to mind. They had to sacrifice a lot of their personal desires in terms of how they spent their time. They couldn't be with their family or their friends to try to protect the team. So for those reasons… knowing we were making those sacrifices together kind of forced this very unique bond." 
Moving forward, Bodecker wants to continue to build on the program's tradition of excellence.
"We've been successful. We won our conference and we've gone to the tournament. But we want to work past that," Bodecker said. "We want to win first a game in the tournament, but my goal would be: We want to win our region and push to make it into the Elite Eight, a final four. Ultimately, I want to win a national championship. I don't think that's too lofty. I think that we very much attract the right kind of athletes to Whitworth and we can continue working towards that."
Whitworth volleyball won't graduate any of its current team and is set to continue this season's successes come fall of 2021.