Katelyn McLean | Sports Editor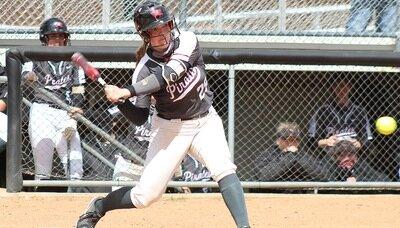 Whitworth softball played their first series at home last weekend, losing both games on Saturday but rallying to take both games of the Northwest Conference doubleheader on Sunday, 7-2 and 8-6.
The team was originally scheduled to play its first home series on March 27 and 28 against Lewis and Clark, but the games were cancelled due to COVID-19 protocol.
"We take a lot of pride in our field, and so the week before, we had a full cleanup day where we were there for probably two hours on the field cleaning the sheds, making everything look tight. So, I think to put a word to it – just pure joy to be able to show how cool our field is," catcher Maddy Thomas said.
Not only did the softball team get to enjoy being back at Diana Marks Field, this was also the first weekend that fans were allowed back into athletic venues.
"Just a great opportunity for us to enjoy being student athletes at Whitworth, I think that's a big deal for them. Being able to stay in classes… but to be able to start to have fans back at the venue, it just made it feel like it was just real softball for both teams," head coach Bob Castle said.
The Pirates fell to Pacific Lutheran 12-10 and 8-3 on Saturday but came out ready to dominate in Sunday's doubleheader.
"We just tried to focus on having more of an elite mindset – really what it takes to play as a team and less of an individual – and how big of a deal that will be moving forward if we can play together as a team," Castle said.
Sunday's offensive efforts for Whitworth were led by a two-run home run by Thomas in the first inning of game one. She also had two hits and one run-batted-in in the second game.
"I knew that I was definitely going to need to step up personally, however that needed to happen, whether muscling a ball over shortstop or hitting one out. I just knew I had to do it for the team and really back up my pitchers," Thomas said.
The softball team has a lot of new faces on the roster and no seniors in terms of eligibility. Freshman pitcher Corinne Vasiloff pitched a complete game for the Pirates in game one on Sunday, allowing seven hits and four runs in seven innings.
"To be able to share that with her and then be with her on every single pitch behind the plate, that was huge for her and her confidence," Thomas said.
The Pirates take on Linfield at home on April 17 at noon and 2pm, and April 18 at 11am and 1pm at Diana Marks Field.