The Whitworth men's and women's basketball teams took the court Saturday at the Whitworth Fieldhouse for the opening night doubleheader.
Led by head coach Helen Higgs, the Whitworth women kicked off the night against nonconference opponent Eastern Oregon University. The Pirates started off slow defensively against the high-powered Eastern Oregon offense. Eastern Oregon scored 31 points in the first half shooting 54.5 percent from the field.
"The first half we were trying to figure out how to attack their defense in the most effective way. At halftime we talked about what adjustments we needed to make to our shooting percentage and on defense we needed to work on taking the ball away," Higgs said.
Standout junior guard KC McConnell carried the Pirate offense in the second half, helping the Pirates construct their late comeback. McConnell led the team in scoring with 22 points.
"After ending the first half on a high note we really brought the energy to the game in the second half," McConnell said.
In the second half, the Whitworth offense overcame a 10-point deficit to eventually take a 13-point lead with 4:20 left in the game. The Pirate defense was able to hold on to the lead for a Whitworth win, 67-55.
In the second game of Whitworth's basketball home opener, the men's team dominated D'Youville University in a high-scoring 103-49 win. In the first half of play, Whitworth was strong on both sides of the ball scoring 54 points and holding D'Youville to 13 points. Going into half, sophomore forward Christian Jurlina put on a shooting clinic, scoring 20 points with three three-pointers.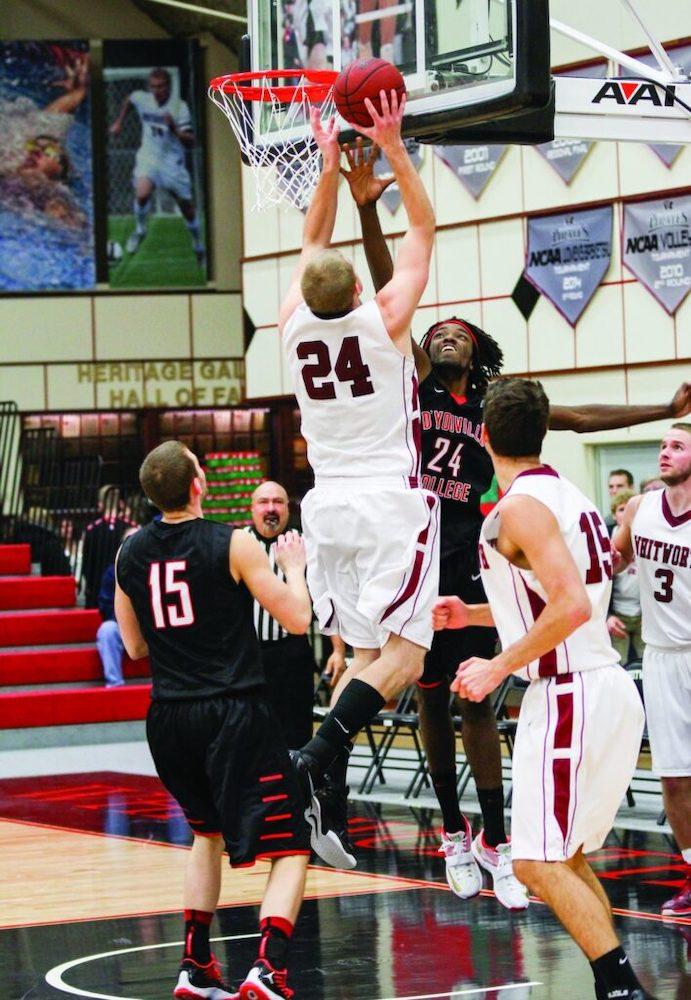 Whitworth continued to prove dominance over its New York opponents in the second half. Newcomer and junior guard Matt Staudacher had his first start at home for the Pirates. Staudacher, a transfer student from Canada's NCAA DII Simon Fraser University scored eight points and dished out four assists.
"It has been a wonderful experience so far with this program," Staudacher said. "Ever since I walked on campus I have had nonstop support from the fans, coaching staff and most importantly, my teammates."
At the end of regulation play, Whitworth put D'Youville away with a final score of 103-49.
"I'm excited about the effort so far from this team this season. I felt like we moved the basketball around really well tonight," Head Coach Matt Logie said. "We have to continue to grow defensively. We have to work on our principles and understanding of the defense we run."
The men's and women's teams both play Thursday, Nov. 20, at home against Rutgers-Newark.