by James Silberman
The Whitworth volleyball team won its second-straight game of conference play with to improve to a 5-3 record (10-9 overall) as they handed Linfield their ninth consecutive loss (25-9, 25-20, 25-19).
"We had to focus on playing our game," senior middle hitter Kristine Kardell said. "We just had to make sure we didn't play down to their level."
A kill from Kardell followed by a pair of Linfield errors began the match, giving the Pirates an early 3-0 lead, and the rout began. Leading 8-4, Whitworth exploded with an 11-1 run, aided by two kills and two blocks from senior middle hitter Briauna Stadeli to take a 19-5 lead. The Pirates closed out the first set with a kill from junior outside hitter Tori LaBrie to win 25-9, tying their largest margin of victory this season.
"We came out with a lot of fire and energy," head coach Kati Bodecker said. "Even though they hadn't won a game yet, we knew they were capable of winning one."
Assistant coach Jamie Pancho credited the fast start to good preparation.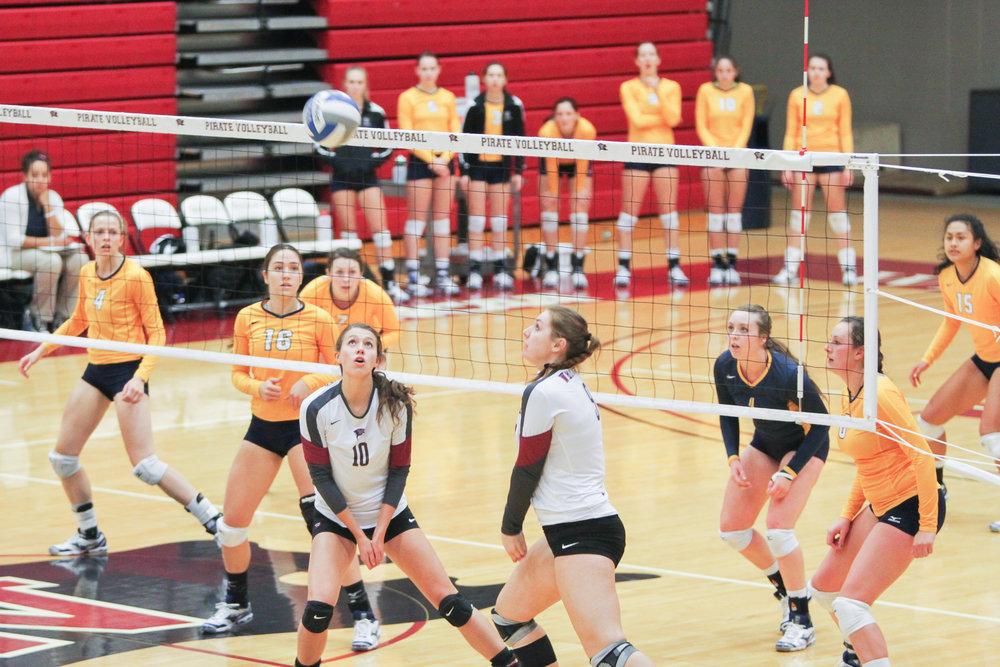 "Slow starts have plagued us, so we set some goals for the girls to focus on," Pancho said. "Of the first seven points, we wanted to win five."
Whitworth looked as if they would win the second set like they did the first, after a kill from LaBrie put the Pirates ahead 17-7. But Linfield wouldn't go down easily as they scored 10 of the next 14 bringing them within four at 21-17. However, that was as close as the Wildcats would get as the Pirates won the set 25-20.
After leading for the entire first two sets, the Pirates fell behind for the first time, to begin the third 3-0. But a few points later, after a kill from senior outside hitter Jalana White tied the game at five, an ace from senior setter Anna Buck gave the Pirates the lead for good. Later in the set at 24-19, a kill from freshman middle hitter Haley Vick gave the Pirates the victory.
Kardell had game-highs with 11 kills and three blocks. White added 10 kills, five digs and an ace, while LaBrie had eight kills and two blocks.
Moving forward, the Pirates find themselves in third place in the Northwest Conference behind nationally ranked Pacific Lutheran and Puget Sound.
"We're in a good spot right now," Bodecker said. "We believe we can compete with anyone and we've proved that."
Kardell also wants to be in the top of the standings.
"All it takes is an upset of PLU or UPS to take first place," Kardell said. "We just have to keep getting better every match. We have a really talented team, we just need the consistency."
The Pirates will begin the second half of conference play at Willamette and Lewis & Clark on Oct. 18-19.
Contact James Silberman at jsilberman17@my.whitworth.edu