by Jordanne Perry
The Whitworth men's and women's cross country teams competed at the Runner's Soul/Erik Anderson Invite at Plantes Ferry Park last Saturday. The Pirate women took sixth place and the men took 15th place in the overall team standings.
The Whitworth women's team finished as the top team in the Northwest Conference for the second straight meet.
"I think it was hard coming from one big meet to another big meet with a short amount of time to recover but a lot of our girls still had strong races," junior women's captain Christina Williams said.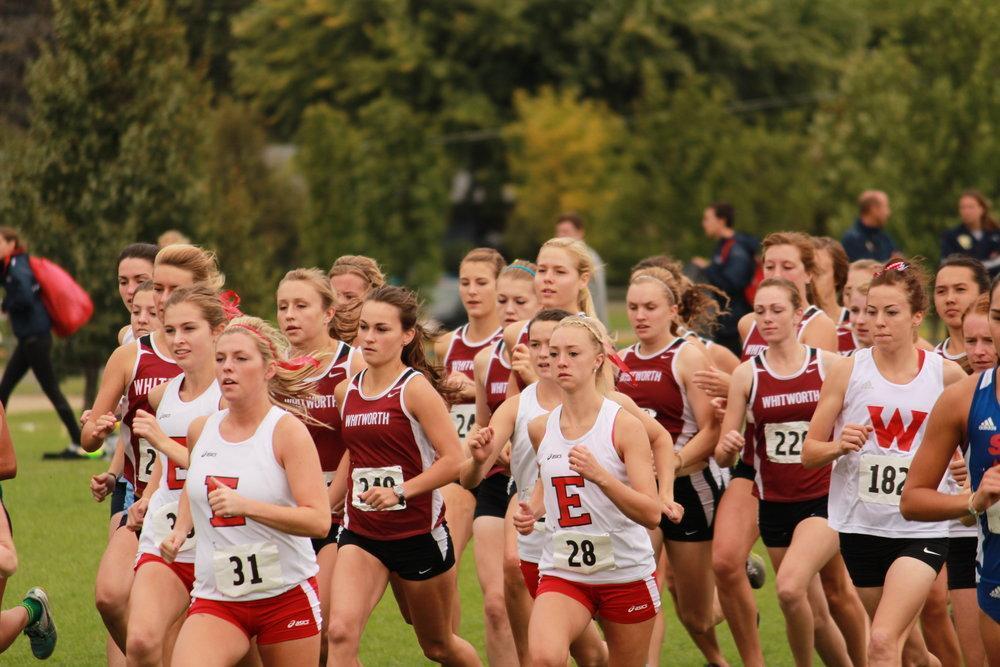 Williams was the first of the Pirate women to cross the finish line and led all NCAA Division III women runners with a time of 22:53.38, which put her in 26th place overall.
"Christina Williams ran great and had an awesome race," said Toby Schwarz, cross country head coach. "By leading the pack, she set a great pace which pulled the other girls along."
Sophomore Kellyn Roiko took 39th place overall with a time of 23:07.73, and sophomore Amanda Blankenship followed close behind and finished in 41st place with a time of 23:09.75.
"The women were great. They've been running lights out all year from training camp to the meet yesterday," Schwarz said. "We have 23 women runners and all 23 ran yesterday which is unheard of. You usually have people who are sick or injured but our girls did great."
In the Northwest Conference team standings, the Pirate men fell short of beating Whitman College but beat Pacific Lutheran University.
Sophomore Chris MacMurray led the Pirates, and crossed the finish line first with a time of 27:11.05, putting him in 60th place in the overall men's standings.
"The men had a difficult race," Schwarz said. "We only ran six out of our eight guys and during the race one of our guys, Taylor Steele, was stepped on and had to be taken out of the race. The five who did run did well."
With back-to-back big meets, injuries and sickness, the men's team had a difficult race but are taking this meet as a learning experience and hope to do well in the meets ahead, senior captain Matt Edwards said.
"We didn't perform as well as we wanted to," Edwards said. "I don't like relying on excuses for poor performances. We should be able to run well regardless of the outside situations but it was just a really bad race. Yesterday was bad but today we are taking it as a learning experience and moving forward. I'm optimistic about our future races."
Junior Trent Dudley finished second for the Pirates with a time of 27:24.74, which put him in 70th place overall.
"Our biggest challenge will be bouncing back from this weekend," Dudley said. "We just need to work on running more as a team and stay focused on that."
The Whitworth men's and women's cross country teams compete on Oct. 5 at the Charles Bowles Invitational, hosted by Willamette.'
Contact Jordanne Perry at jperry16@my.whitworth.edu