by Tyler Jezierski
The Pirates approached the game against visiting La Verne looking to improve upon their undefeated record, but the Bucs fell to the Leopards 25-20.
The Leopards' offense was dominant over the Pirates' defense in the first half. La Verne's senior tight end Gustavo Viramontes took a 7-yard pass from senior quarterback Brian Duboski to put the Leopards up 7-0. Soon after, senior kicker Alex Millar made a 25-yard field goal, making the score 10-0. In the second quarter, sophomore running back Travis Sparks-Jackson took a 4-yard run for a touchdown at 12:07 improving the score to 17-0. At halftime, La Verne had amassed 260 yards of total offense, while Whitworth trailed, amassing only 66 yards.
Whitworth was able to bounce back after a tough first half, when senior running back DJ Tripoli scored on a 6-yard run, to close the gap to 17-7.
La Verne struck first in the fourth quarter after Duboski passed the ball for a 56-yard score to junior wide receiver John Lilly giving the Leopards a 23-7 lead after a missed PAT.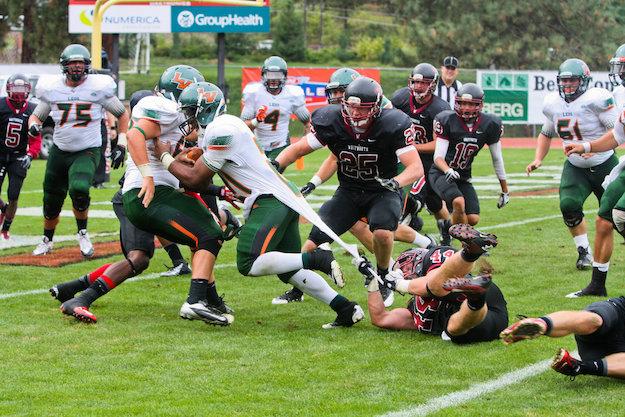 The Pirates responded with a booming fourth quarter. Junior quarterback Bryan Peterson scored on a 20-yard run, bringing the score to 23-13. The Bucs' two-point conversion attempt failed as junior safety Carvante Hill and took the ball all the way back for two points.
Peterson was able run for 18 yards to score another touchdown, shortening La Verne's lead to 25-20. The Pirates were unable to score on the last drive and the Leopards came away with a win.
Junior wide receiver Drew Clausen said that the offense needs to establish the run game more in the future.
"We need to get the [offensive line] on the same page," Clausen said. "We started running well in the second half but we need the receivers to help Peterson out since he was spending a lot of time in the back."
Whitworth's defense posted notable performances, which helped keep the game within reach. Senior defensive lineman Jacob Kriegbaum ended the game with five tackles, and senior defensive end Aaron Cochran finished with 10. In addition, senior defensive back Casey Monahan pulled in an interception.
The Pirate offense was led by Peterson's 354 passing yards and two touchdown runs. Clausen and senior tight end Wade Meyer combined for 272 receiving yards. Tripoli led the rushing attack with 74 yards and a touchdown.
There are goals to improve on and film that needs to be watched, Head Coach John Tully said.
"This was a good team that was talented and they worked hard for the win," Tully said. "We will be ready to get a win for next week."
The Whitworth Pirates will be facing Chapman University in Orange, Calif. on Saturday, Sept. 28.
Contact Tyler Jezierski at tjezierski14@my.whitworth.edu