by Connor Soudani
Sports Editor
Mike Sando has been writing about sports as a journalist since the 1990s, most recently with ESPN.com. His experience as a sports writer stretches back to his time at Whitworth University, though Sando's desire to be a journalist began even earlier.
"I pretty much knew from high school that I wanted to be a sportswriter," Sando said. "At the time, newspapers were where to go."
As part of a 10th-grade career-research project, Sando spoke to professional journalists in his home town of Sacramento, California. Sando said the advice the writers gave him was the best he has ever received.
"They said, 'Just take classes and enjoy what you're doing,'" Sando said. "I think that's so important for whatever job you do, too. If you can love it, then you'll be impassioned."
Aside from the advice given to him by professionals in Sacramento, Sando's father became the primary reason for him going to Whitworth, as his father was a 1960 Whitworth grad. When his father died in March of Sando's senior year, Sando still did not know where he was going to college, but made his decision soon after.
"When he passed away, I decided to go [to Whitworth]," Sando said. "I had been up there for a visit, but I drove up there not knowing anybody and just started fresh."
Sando's experience writing his first article for The Whitworthian in 1988 sticks with him. Assigned to cover a football game between Whitworth and Central Washington University, he did not expect what ensued.
"The headline that was put on [the article] was something like 'Wildcats annihilate Bucs.' It was a pretty harsh headline. I never even saw it. I didn't even know," Sando said. "So I get back to my dorm room and there's a sign on my door threatening physical harm for the article I'd written. There were multiple football players that lived down there and some are my buddies still to this day, but I was shook up."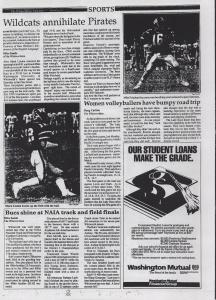 The experience did not sway Sando from being a sports journalist, and he became the sports editor of The Whitworthian a few years later. Looking back on his role during that time, Sando said he thinks of his time with newspaper production as a valuable experience.
"I can remember spending the entire night on Sunday nights," Sando said. "We would have to produce the paper, and we had these early Macintosh computers and I can remember just being in that office. We had to get them to the printers at 6 a.m. in the morning or something. We'd be there the whole way through. You'd stay up the whole night. I think if you're passionate about something you want to do, there's an element of a grind to it."
During his time at Whitworth, Sando interned at The Spokesman-Review, spending six months as a reporter and six months as a copy editor.
"It was a great experience for me because it got my foot in the door in high schools and high school tournaments," Sando said. "[It was great] to be in the office in that environment where you're editing the copy that comes in and learn what does and doesn't work."
Joe Palmquist, who was the assistant sports editor at the time and now serves as the head sports editor of The Spokesman-Review, said Sando approached the editors of the sports section and asked if there was any work he could do.
"He was this tall, gangly kid, real young," Palmquist said. "We said, 'We'll put you to work taking phone calls,' but his interest was pretty obvious right from the beginning that he wanted to do more than just take phone calls. He was eager to learn everything he could and he was really into sports. You could tell that."
Sando's opportunity with The Spokesman-Review came partly with the help of a Whitworthian colleague. Greg Orwig, Whitworth vice president of admissions and financial aid, was a classmate of Sando's and served as the news editor during the time Sando served as the sports editor of The Whitworthian.
Orwig noticed Sando's potential and encouraged him to approach the sports staff, Orwig said.
"He was very sharp, very good writer, quick writer, good editor and being colleagues on The Whitworthian, you come to appreciate people who get it and know what they're doing," Orwig said.
Sando used his time at the Spokesman copy desk to read through and get an understanding for good writing and what it took to emulate it, Palmquist said.
"I think reading a lot of copy really helped and he just had a great natural curiosity," Palmquist said. "I mean, he loved sports. Some people are just natural at it and he was one of them."
After getting his first full-time job at the Spokesman as a copyeditor, Sando eventually transitioned to covering the Eastern Washington University basketball and football beats. Things moved quickly for Sando then as he took over a vacant seat covering Washington State University football when he was 26.
John Blanchette, who was working as a sportswriter for the Spokesman at the time, said Sando had an interesting confrontation with then-standout WSU quarterback Ryan Leaf over something Sando wrote in an article.
"I can't even remember the circumstances of it, but something he had written had somehow, and I'm sure it wasn't even remotely bad in terms of being hypercritical," Blanchette said. "It was just because it was Leaf. I think it was a practice, and Mike had a ball go whizzing by his head and Leaf said, 'If I wanted to hit you I could,' and he didn't throw a slow ball."
The level of profile with the WSU football beat eventually gave Sando some notoriety, Sando said.
"At the time, my good friend from Spokane, Dave Boling, had left to take a columnist job in Tacoma. Then, what are the odds that two years there on the WSU beat, after getting some really good experience covering the prime beat at the paper, what are the odds that John Clayton, one of the foremost NFL beat reporters at any newspaper in the country, is going to be leaving the Tacoma News Tribune to work at ESPN the magazine?" Sando said.
What improved the situation was the fact that not only was Boling working for the Tribune at the time, but he and Clayton were the traveling NFL columnists, Sando said.
"Dave was like, 'Hey, you got to do this man. You don't even know how good this would be.' And I didn't. I had no idea. I wasn't even that initially interested," Sando said. "Then we talked it over, I sent in a resume and months went by. Finally I interviewed and I ended up getting it, but to think it was all part of some grand plan by me- not at all."
Boling, who continues to work as a sports columnist for the News Tribune, said Sando did a lot more for himself in getting to the Tribune then he gives himself credit for. Boling simply pointed the Tribune in Sando's direction, Boling said.
"It was very impressive how he jumped in and quickly started developing sources," Boling said. "I think part of that is his strengths as both a reporter and a writer. There's a lot who are one or the other, but it's far rarer to find somebody who has both."
When Sando arrived at the Tacoma News Tribune as the new Seattle Seahawks beat reporter, his dedication and maturity allowed him to be successful, said Dale Phelps, managing editor of the Tribune.
"He's a mature guy. At that time he was pretty young and covering a professional sports beat for the first time, but he had the kind of maturity where he could do that," Phelps said. "He's a hard-working guy, very detail-oriented. It's important on beats like that because they're very complex."
Due to the fact that Sando was inheriting a beat in which the previous reporters had established a working relationship with Seahawks head coach Dennis Erickson, Sando says he was at an initial loss without an established relationship. However, Erickson was soon fired and Mike Holmgren was brought in. Sando then took it upon himself to do a profile piece on Holmgren right from the start, Phelps said.
"Mike went down and talked to Holmgren's junior high teacher and stuff and really wrote a terrific story about it, but the story also had the benefit of impressing Holmgren," Phelps said. "Holmgren knew Sando was doing all this work and that the guy was really all in and committed to his job."
As the 2006 NFL Draft approached, though, the idea for a Seahawks draft blog would send Sando's writing from the west side of Washington across the country. To provide more in-depth coverage of the Seahawks in the draft, Sando was tasked with creating a blog to integrate fan interaction and following. The web traffic on the newspaper website as a result of this story was unprecedented, Phelps said. They kept the blog going afterward.
"The thing that he got earlier than most people was the digital push that was going to transform our industry," Phelps said. "He got it, he bought into it, he was an industry leader on it. I remember as part of the sports editors convention and stuff speaking at those about the things we were doing, and it was primarily Sando; he was getting a reputation throughout the industry as the front of the digital push and ultimately that's what kind of got him his job at ESPN."
When considering one's career, it is about making the most of what one has in front of them. Continually focusing on doing a good job now will set one up better in the long term, Sando said.
"I've never felt ambitious like I'm plotting my next move," Sando said. "I'm ambitious with what I'm doing now with the belief that if you like what you're doing and you do it really well, it'll probably work out better than if you're scheming and trying to get somewhere. I just kind of take it as it comes."