by James Silberman
Senior Jalana White became one of Whitworth's go-to hitters over her four years as a Pirate, culminating with her 22-kill performance last Friday on Senior Night. But White's legacy is also about the relationships she developed with her teammates during her time on the volleyball team.
Growing up in Post Falls, Idaho, White experimented with basketball and soccer, but her real passion was volleyball, she said.
That passion led her to Whitworth, where she became one of the region's premier players.
"Jalana's a stud," sophomore setter Maddye Dinsmore said. "She brings fire and leadership. I know I can give her the ball in tough situations."
Fellow senior Whitney Santos recalls the time she first realized how good White was going to be for the team.
"I remember playing in Texas for preseason and J getting subbed in as a freshman for a right side starter. She came in off the bench and played unbelievably well," Santos said. "From then on, I knew she was going to be a stud."
As a junior, White received recognition on a larger scale as she was voted second team all-conference.
"I was surprised and excited," White said. "I would rather have won conference than get an individual award but it was exciting."
However, the award was not indicative of White's season, assistant coach Jamie Pancho said.
"I was shocked," Pancho said. "I would have put her on the first team. I think she would start at any school in the conference."
With her 22 kills last Friday, White finished the season with a conference-leading 428.
However, as good as White has been statistically for the Pirates, her influence on the team goes beyond blocks and kills.
"She's a positive leader, and really outgoing and funny and just a really nice person in general," Dinsmore said. "She leads by example and also vocally and off the court as well. She's someone you can talk to.''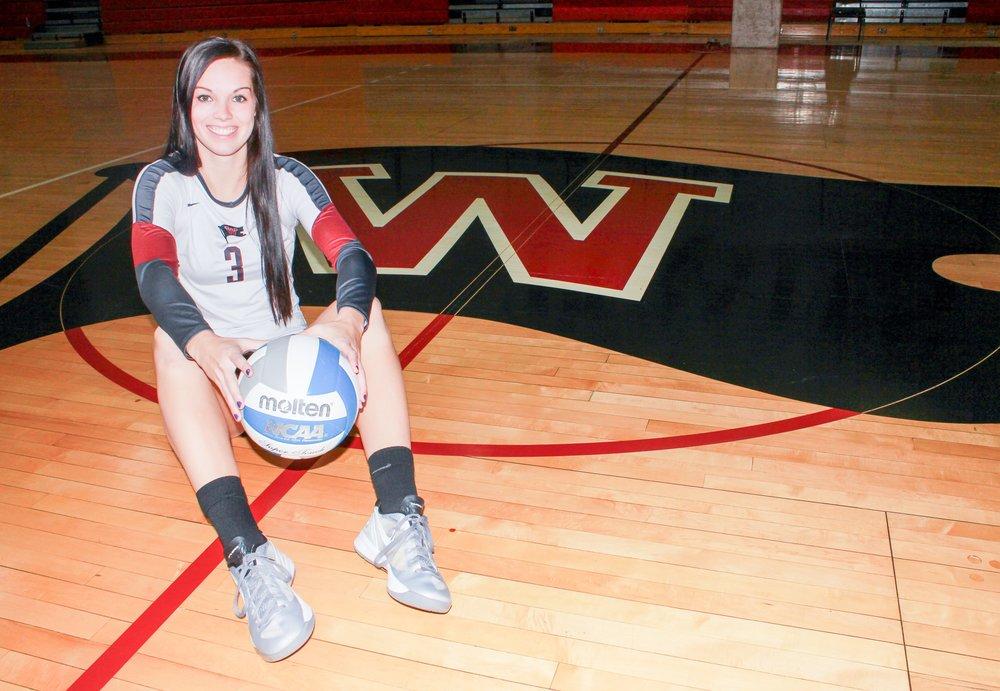 These qualities contributed to White being named a team captain, along with Dinsmore, this season.
"Before I met Jalana, [head coach] Kati would tell me what a great leader she thought Jalana was going to be because she is a hard worker and somewhat of a "mother hen" with the girls," Pancho said. "She leads by example and her teammates have a lot of trust when playing with her."
White strives to be a positive role model for the rest of her team.
"I want to be someone they can look up to," White said. " I want the team to remember me as a hard worker. Someone that led the team. I want them to miss that. I want to be one of the players that girls miss and talk about and say, 'Do you remember when Jalana was here?'"
Being the vocal leader that she is, White has to remind people that her passion should not be mistaken for her being upset.
"On the court I'm really competitive. I warn girls of that before the year, I'm two different people on and off the court. You have to know that I'm not angry at you. It's just intense in the moment," White said. "But off the court I like to have a lot of fun with my team, we laugh a lot and we just have really good chemistry."
White has also made an impression on her teammates in her time off the court.
"J is hilarious. Most of our time off the court is spent laughing or being sassy to the underclassmen," Santos said. "In the nicest way possible of course."
With a 3-1 victory over Whitman to end her last season at Whitworth, White was happy to end on a high note.
"Ending the season strongly and leaving a good foundation for the younger girls is so important to me," White said.
White hopes her hard work, along with that of her teammates and coaches will leave the program in a better place after she graduates.
Contact James Silberman at jsilberman17@my.whitworth.edu