by Connor Soudani
Sports Editor
Junior Samson Martinez defines "family" in his own special way. He refers to it as a verb rather than a noun. Family relates to the people he's close to, to the people that support him through his life, his struggles and his successes. He considers his closest friends to be family even though they are not blood-related, Martinez said.
Martinez's list of priorities is straightforward: God, family, work and school, friends and golf. Yes, golf is last on that list. However, Martinez said the relationships he forms with his teammates go far beyond the sport itself.
"They're not just my golf teammates, they're like a family to me and I would do anything for them. We care for each other like brothers," Martinez said.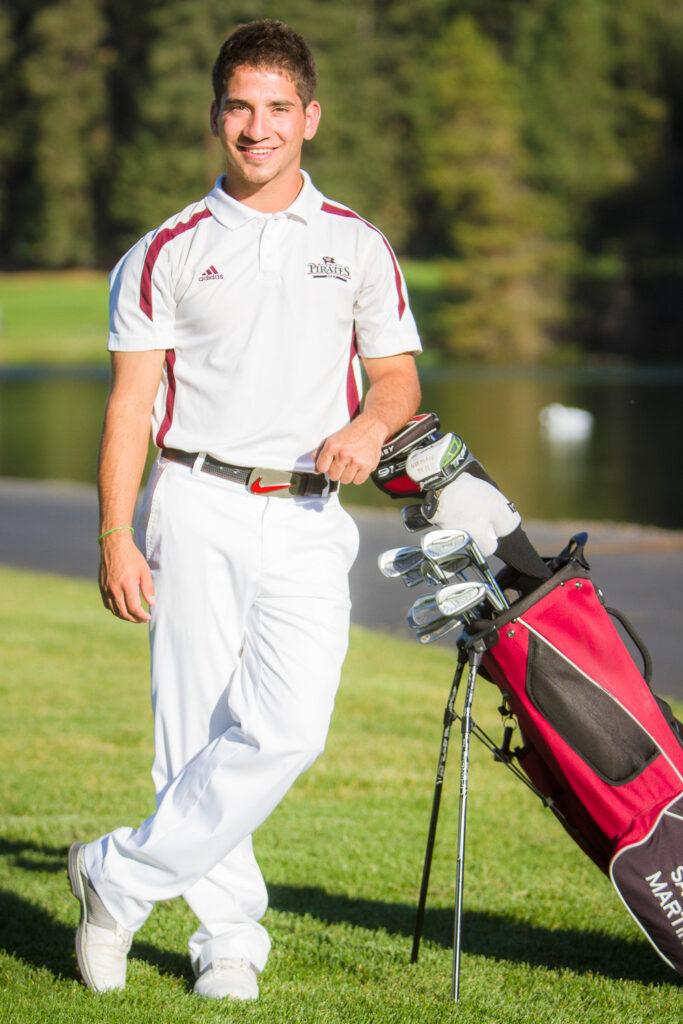 With so many high priorities in his life, Martinez said that golf practice allows him the opportunity to work on a variety of other priorities in his life.
"For me, golf practice, although it's really hard and vigorous and makes me want to get better at my game, it's also my social hours because I'm just out there for two and a half hours with some of my best friends at Whitworth and it makes for a great time," Martinez said. "Golf helps me to fulfill those priorities."
Everything Martinez involves himself heavily in, whether it be golf, academics, being a resident advisor or filling in as a babysitter, Martinez involves himself in because he sees the opportunity to develop the familial relationships in them, Martinez said.
"I just have this belief that when you 'family' each other, when you grow as brothers and not just friends, that bond allows you to accept that we're not going to always believe the same thing, we're not always going to agree with one another, we're not always going to like each other but we will always be there for each other and we will always support each other through our life events," Martinez said.
That mentality is taken directly from the way Martinez interacts with his own family.
"Some people feel like when their family comes to watch them play tournaments they feel like an added pressure or they don't like it," junior Oliver Rudnicki said. "Not the case at all with Samson, he likes them being there and being able to watch him."
However, with all of the commitments Martinez has, it is still important for him to make everything a priority.
"The last thing I would ever want is to be with my teammates or be with my residents and have them get this vibe that I'm not fully invested in them," Martinez said. "The best way to make an impact on the people around you is to fully invest in them and have their complete focus or have your complete focus on them."
Even his coach has taken notice of the way Martinez keeps balance in his life.
"From my vantage point, he manages it all pretty well. I mean he'll hit the books, he'll tell me [he'll be studying] four hours on a Friday night because he knew the weekend was busy and we had a tournament," Head Coach Warren Friedrichs said. "He will hammer through a class while everyone else is out there having a good time."
Despite the great deal of time and effort Martinez has to invest in order to push himself in everything he does, it is undoubtedly worth it in the end, Martinez said.
"People have asked me to sacrifice a couple things but I just can't get myself to do it because every single thing I'm involved in right now has changed my life in an amazing way," Martinez said.
However, on the days when things do not go the way Martinez expects them to, at least in golf, he leaves a reminder for himself on the head cover for one of his drivers.
Jeremiah 29:11 states, "For I know the plans I have for you, plans to prosper you and not to harm you, plans to give you hope and a future."
"Life's not always going to be perfect, but I have a hope that God has a plan for me that's better than I think," Martinez said.
If that plan is any better than what Martinez is living out right now, then it should be pretty good.