by Josiah VanWingerden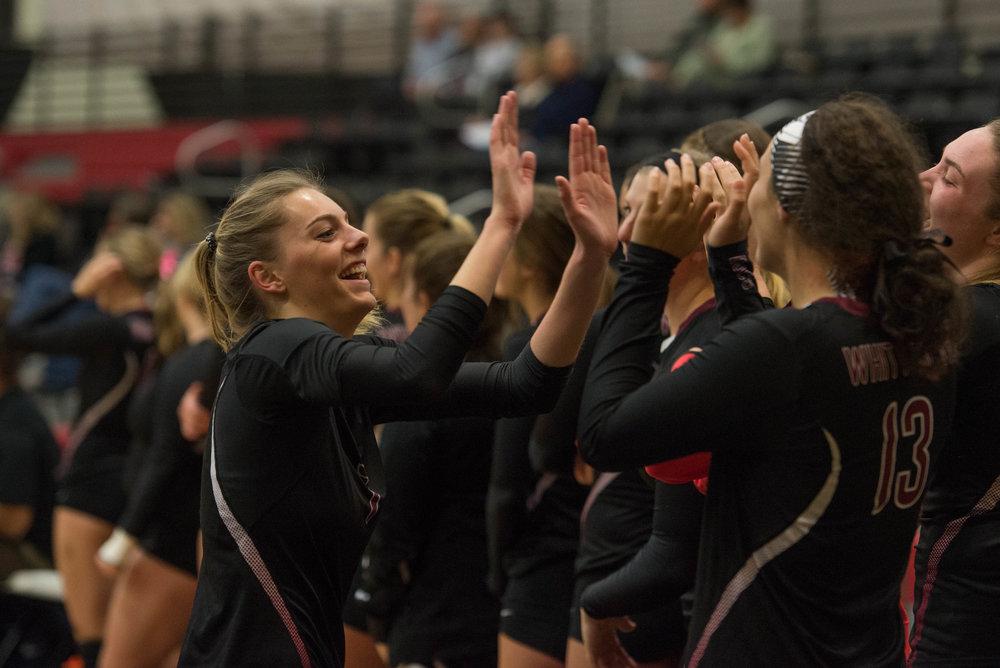 The Pirates' volleyball team won three sets to zero over the Whitman College Missionaries on Wednesday night at the Fieldhouse. They then traveled to Newberg, Oregon, where they beat the George Fox Bruins, 3-0. With the victories, the Pirates hold on to a 10-2 conference record and have put themselves in position to compete for the Northwest Championship in a few weeks.
In Wednesday's game, the Pirates had an advantage in almost every major statistical category against the Missionaries; most notably, a 43-29 advantage in kills, and a 130-112 edge regarding total shot attempts.
Additionally, the Pirates committed less errors than the Missionaries, which helped them control the pace of the game, and maintain stability throughout.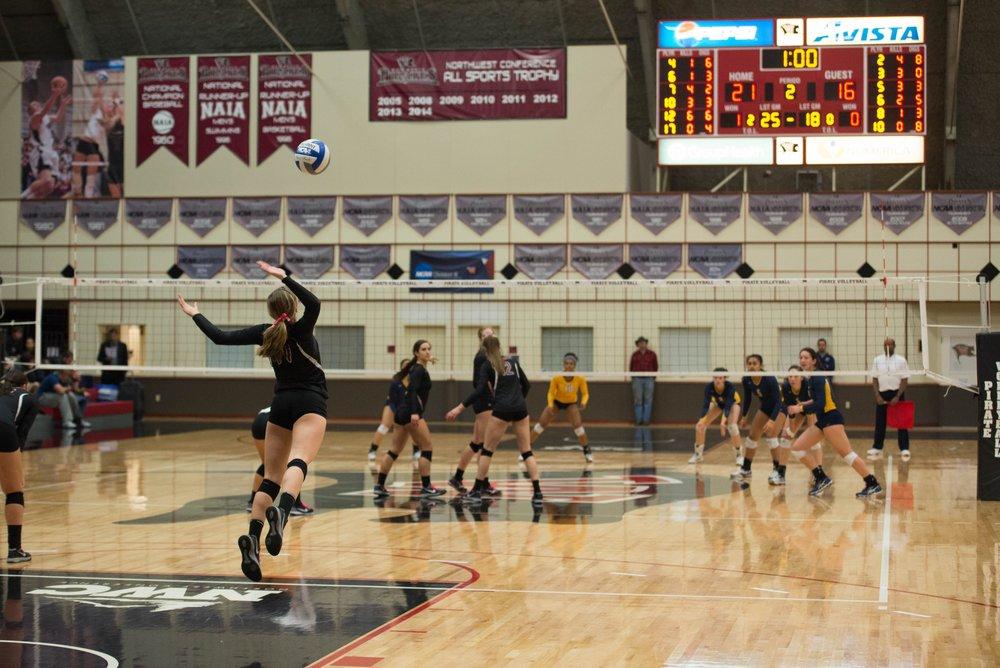 Sophomore outside hitter Cassie Mendoza scored 10 kills, which led the Pirates. Senior right side hitter Shawna Korshavn and senior outside hitter Nicole Leonard had nine kills apiece, while junior middle blocker Brenna Bruil provided eight.
Defensively, senior Mallorie Schoesler had twelve digs, while senior setter Maddye Dinsmore contributed 35 assists to help the Pirates win each set by at least five points.
The Pirates also showed their depth as sophomore outside hitter Karina Lees contributed five kills.
"Our focus has just been to go after it right away at the beginning of the game," Lees said. "Every single game we want to come out strong in the beginning, and power over the team."
Their momentum spilled over into Friday, as they won the first three sets. Mendoza led again with 13 kills and 11 digs.
The first set of the game featured both teams struggling for the lead. The Bruins were able to come within two points, 18-16. However, the Pirates capitalized on a late run by Mendoza and Lees to win the set, 25-21.
The second set was also close, with the score reaching 16-13 at one point. However, the Pirates increased their lead and ended the set with a score of 25-15.
Whitworth ended the match with ease by taking an 11 point lead in the third set, 12-1. The Pirates ended the game with a nal score of 25-16.
The Pirates held key advantages in kills, 41-23 and attacks, 111-88 over the Bruins, while capitalizing defensively on a 49-45 edge in digs.
"I think the team has brought back a lot of energy, excitement and love of volleyball," volleyball manager Ross Johnson said. "It's easy for them to get in a slump during the month of October, having been going for a month and a half. With less than a month left, the girls have brought back a lot of fire and energy."
The Pirates have been able to minimize their opponents' advantages, allowing just one for the Bruins: a slim 5-3 margin in blocks, which has helped the Pirates succeed this season.
The Pirates face the Pacific University Boxers at home next Friday at 7 p.m.
Contact Josiah VanWingerden at jvanwingerden19@my.whitworth.edu