by Jessica Razanadrakoto
Whitworth women's soccer team came away with a 1-0 win against visiting George Fox last Saturday, with a goal created by junior midfielder Jackie Day and scored on a pass to senior midfielder Kristin Wucherer.
Dissimilar to the Pirates' combined four goals allowed to one scored two weeks ago in their two home game losses, the women controlled most of the game against the Bruins. Whitworth outshot George Fox 18-2 with two saves by sophomore keeper Andrea Stump.
"I was very pleased with our backline and our midfield group," head coach Jael Hagerott said. "They didn't make mistakes. They were calm and composed on the ball and that's what helped the team out."
A throw-in from senior defender Jami Hegg to sophomore forward Tiara Pajimola almost gave the Bucs a lead in the 15th minute of the game, but a Bruin defender kicked the ball out of play.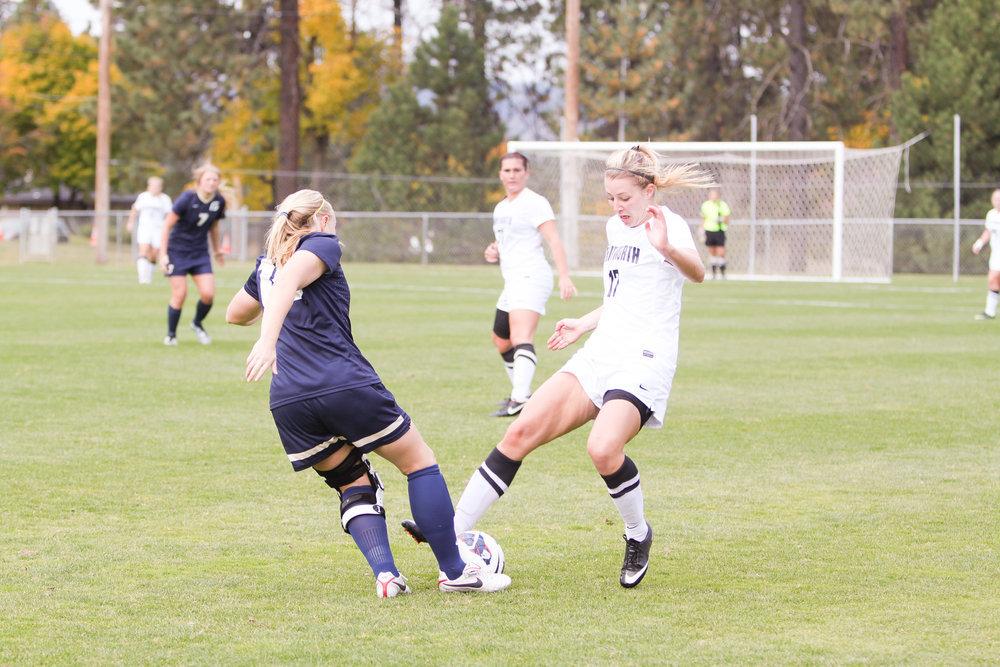 "We had a very good possession of the game," freshman midfielder Megan McCart said. "We had the ball a lot and we fought hard all game long and were pressing them. We had a lot of good offensive movements."
Scoring opportunities occurred throughout the game, which gave the Pirates 10 corner kicks. Unfortunately, none of the kicks led to scores.
Pajimola broke through the Bruin defense after receiving a clear pass and ended up one-on-one with George Fox's senior keeper Alyssa Montero, but her shot to the top right corner landed in Montero's hands.
Though Hagerott thought the team could have scored more goals, she was pleased with the team's performances and the win, she said.
"It was one of the best games we've played so far this year. We were very good on the offensive side of things in creating attacking opportunities," Hagerott said. "Unfortunately we did not finish all of those opportunities on goal, but we haven't been generating those [opportunities] this season so that was good to see out of the team."
After a scoreless first half, Wucherer scored the game-deciding goal four minutes into the second half.
The Pirates moved the ball and worked together as a team to prove how much they wanted the win and finally got a goal in, Wucherer said.
"We were coming up with a couple of tough weekends. We didn't really get the results we wanted but today was really good," Wucherer said. "I had a lot of shots in the first half and I was happy I finally got one in the second half."
McCart emphasized that the goal wasn't just a regular shot.
"Wucherer flicked it with the outside of her foot and it went in. It was a really good placement and a really good goal," McCart said.
Senior defender Amy Sterk pointed out the changes the team made this time to win the game.
"We controlled the ball a lot better than we have in the past games," Sterk said. "We're combining better with each other, so that helped a lot."
The Pirates' lead was not secured toward the end of the game. The Bruins ran multiple intense offensive movements, attempting to tie the match but were ultimately unable to score.
"It definitely wasn't a blowout or anything, though it was scary in the end when they had a couple of runs to our goal," Sterk said.
Though it has been a rough season for the Bucs, last Saturday's game was a great accomplishment, Hagerott said.
"I was pleased with our performance. We've been hit with a lot of injuries. We only have 14 healthy players and that's probably all I'll have for the rest of the season," Hagerott said. "And as a group, to be able to perform the way that we did is a good thing for us."
The Pirates now have a 6-5-2 overall record and a 3-4-2 record in the Northwest Conference. The Bruins fell to 3-7-1 overall and 1-5-1 in the NWC.
Whitworth will host Puget Sound Saturday Oct. 19 and Pacific Lutheran Sunday Oct. 20.
Contact Jessica Razanadrakoto at jrazanadrakoto17@my.whitworth.edu