Katelyn McLean | Sports Editor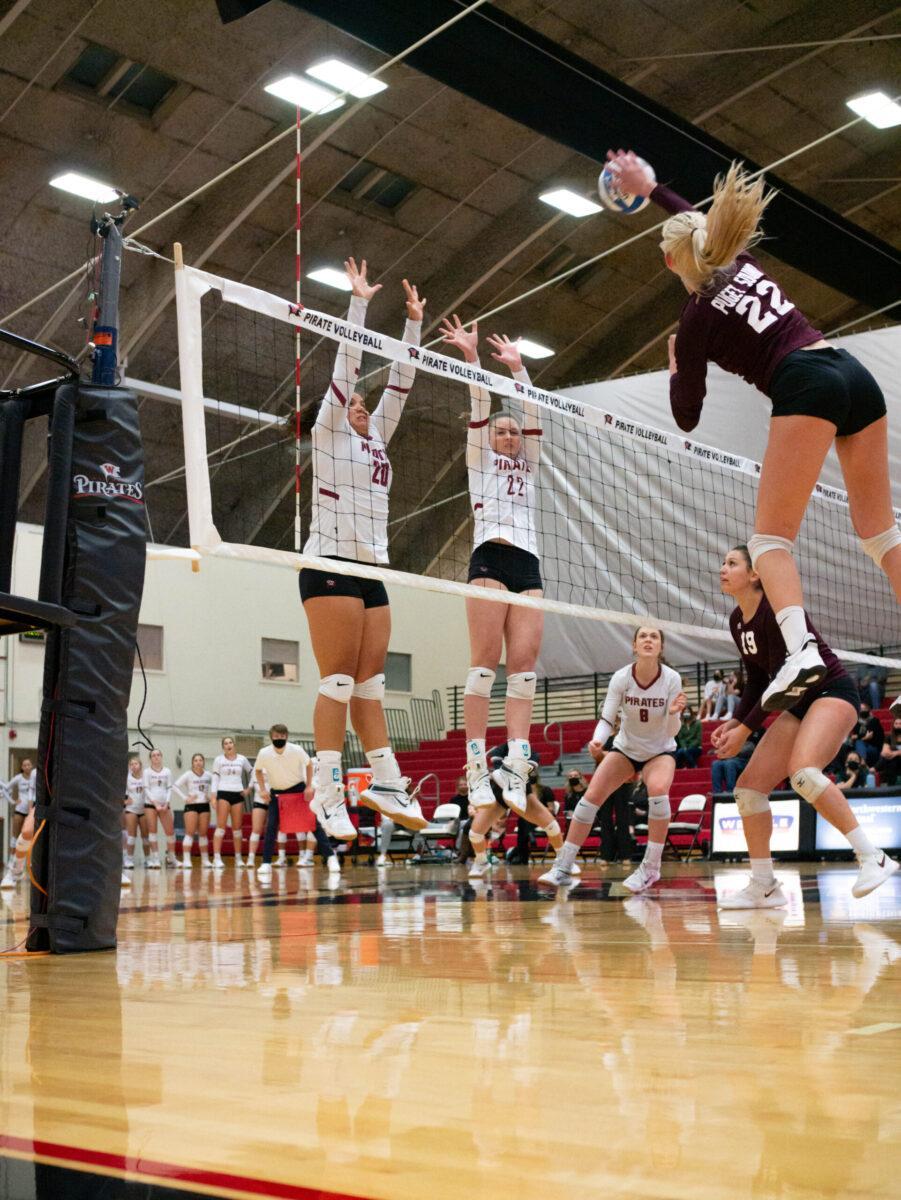 Maddie Lee, Cassidy Franklin and Kaity Barr led the Whitworth offense to a 3-1 win over Puget Sound and a 3-0 win over Pacific Lutheran this weekend.
Both of these teams beat Whitworth on their home courts last spring in a season abbreviated due to COVID, spoiling the Pirates' perfect conference record.
This time around, Whitworth remained a perfect 6-0 in Northwest Conference play.
"I just think our team came in really prepared both [Friday] and [Saturday] knowing that we were facing two really good opponents in UPS and PLU," head coach Kati Bodecker said.
Puget Sound took the first set 25-26, but the Pirates adjusted and rallied back to win the next three 25-17, 25-21 and 25-15.
Lee had 17 kills and 19 digs against Puget Sound, while Abigail Hudson had 12 kills and Barr had six blocks.
Saturday's 3-0 victory was due to a dominant offensive performance by Lee, Franklin and Barr.
Lee had 12 kills and Barr and Franklin tied with 10. Barr had five blocks, Franklin had three and Lee had two.
Franklin was effective at the net on offense where she swung, tipped and changed up the location of the ball.
"I think there are a lot of factors that go into where the block is, especially on my end. Even when I'm blocking, whether I'm off the net or on the net, sometimes I change up where I am, so just seeing where the blockers' hands were when I [went] up to hit and swinging around them."
The volleyball team was motivated by the electric energy of the home crowd, as well as an inspirational pregame speech.
"We actually had a really good talk before the game. One of our players, Renee [Tiumalu], gave them an inspirational speech, and she was just talking about coming in tonight and playing with our heart," Bodecker said. "[She said] that we had enough talent to win for sure, but if we combined our talent with that emotional piece of playing together with our heart, we would be unstoppable and I believe that's what they did."
Whitworth volleyball plays again at home on Wednesday, Oct. 6 at 6pm against Whitman University.