by Jessica Razanadrakoto
The Whitworth women's tennis team opened the 2014 season with an 8-1 victory over Willamette last Friday and a 7-2 victory over Linfield last Saturday afternoon.
The Pirates No. 1 doubles pair, junior Saryn Mooney and sophomore Taylor Peña, changed their play strategy in order to throw the Bearcats off-guard.
"Saryn hit an awesome slice forehand, which made them hit a weak shot," Peña said. "It is so fun being on a team with Saryn and working together to put the ball away."
Though they had a successful teamwork combination, Mooney and Peña ended up losing their doubles match, 8-4.
"We started a little bit slow and they were big power hitters so we were kind of taken back a little," Mooney said.
That loss became a turning point for the Pirates, as they won every remaining matchup.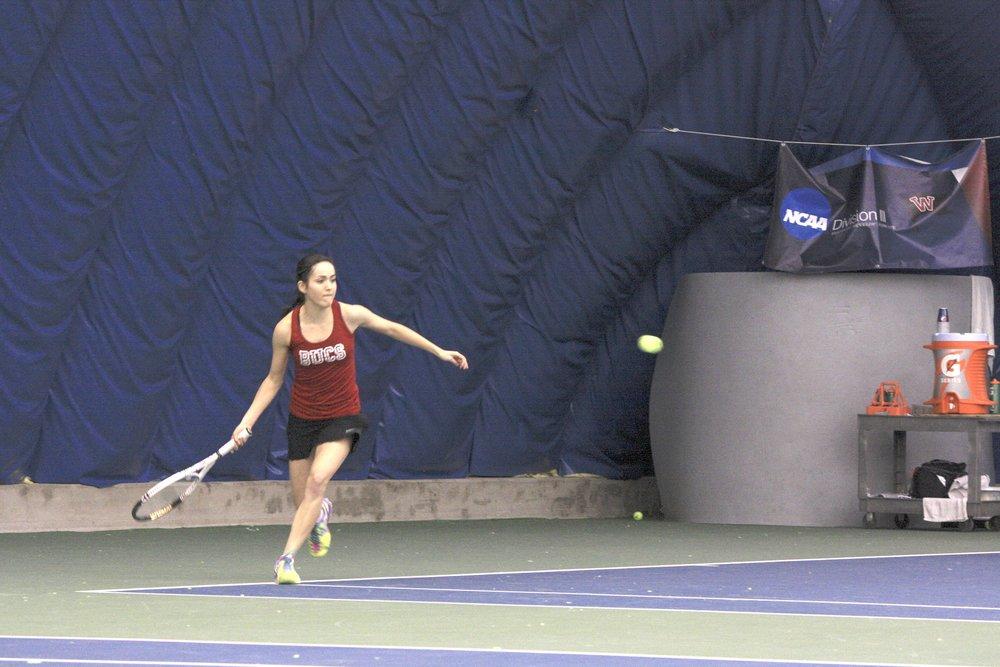 Freshman Bella Hoyos and junior Morgan McDivitt picked up the Bucs' first win, 8-3, against a pair of Bearcats in No. 2 doubles.
The women knew they had to focus on the intricacies of their play to stay ahead of the Bearcats.
"We just had to keep every point going and hit one more ball than our opponents. We focused on having a high first serve percentage of the balls over the net," McDivitt said. "As [assistant coach Colin Storm] says: 'You have to be on the gas pedal all the way until the very end; you can't let up because they could always go back and switch the momentum, so you have to stay focused.'"
Later, in No. 3 doubles, freshmen Hannah Wallin and Anabelle Burns won, 8-2.
"All three teams were down early and we were able to fight back on two and three, but we just got down too big at No. 1, so we just need to get a better start tomorrow," Storm said.
During the No. 2 singles, Peña dominated the match by hitting the ball deep and always directing it to the opponent's backhand. The strategy allowed her to put away points with a backhand slice while approaching the net to score.
"We watch for weaknesses and tell our players where to attack," head coach Jo Ann Wagstaff said. "For instance, we told Taylor to hit primarily to her opponent's backhand. I encouraged Saryn to hit high and deep down the middle to take away the angles from her opponent."
Between points and during changeovers, Peña reminds herself of her game plan—to settle the momentum and to win the first set, she said.
The competition continued Saturday afternoon, in which the women swept all three doubles matches against the Linfield Wildcats.
"I can't remember a time since I have been here that we have swept doubles [against Linfield]," assistant coach Rachel Aldridge said. "I can't think of another time in the last eight years that that's ever happened."
Adjusting to their opponents, being confident, staying focused and having a positive attitude on the court helped the players to support each other, Hoyos said.
Mooney and Peña were tied 5-5 with the Wildcats No. 1 doubles, but kept on drawing the match and did not let their opponents change their game plan. Both aimed their shots to their opponent's baseline. Instead of focusing on defense, they tried to hit at their opponents' backhand volleys, eventually winning the match, 8-5.
Burns and Wallin broke away with an 8-3 win over a pair of Wildcats No. 3 doubles, along with a McDivitt and Hoyos' 8-4 victory over the Wildcats No. 2 doubles team.
The No. 2 singles had a more challenging match as it took them 20 sets to determine who was going to take it away. Peña eventually earned the 11-9 victory.
"[The court where No. 2 doubles] was played really traditional and classic in doubles and it paid off," Aldridge said. "[Bella and Morgan] played in the back because their groundstrokes were more of an offensive weapon than their volleys, which is not typical. They set themselves up and it was pretty to watch."
The women take on George Fox in Newberg, Ore., on Friday after improving to 2-1 overall and 2-0 in the NWC.
Contact Jessica Razanadrakoto at jrazanadrakoto17@my.whitworth.edu