by Stuart Hopson
Walking into the Bryan Oliver Gallery is an experience in and of itself. The space is immense, well-lit and a perfect setting to show off the hard work of senior art majors. The stark walls are peppered with stunning pieces from senior art majors. Two of the three art tracks are represented: graphic design and two-dimensional art.
"It's a chance for the art majors — whether they're 2D, 3D, or graphic designers — to present their work," art lecturer Lance Sinnema said.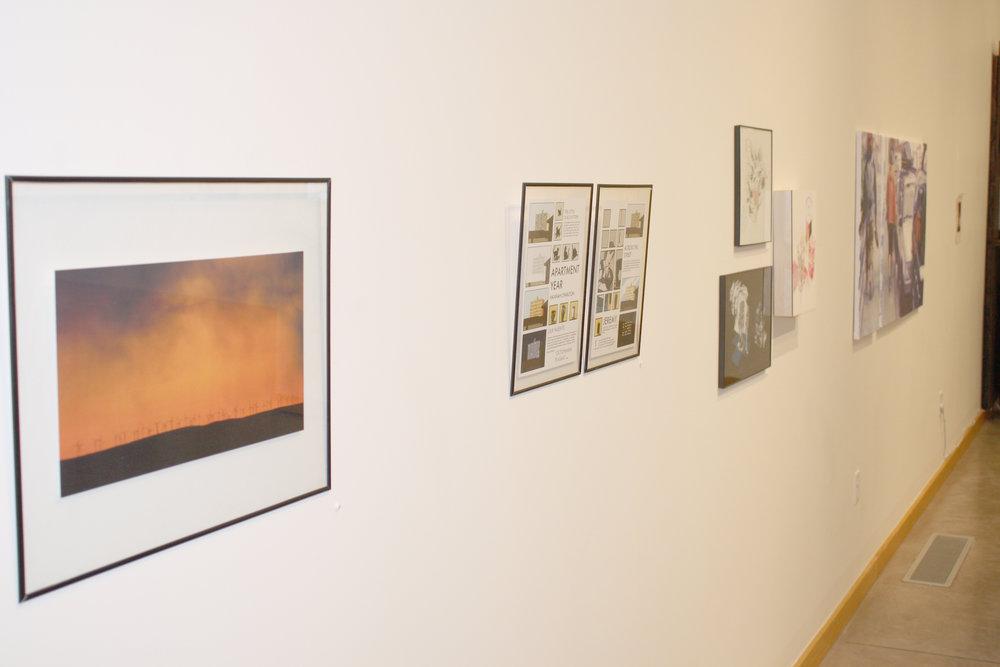 Sinnema teaches a one-credit senior exhibition class that all art majors are required to take in the spring of their senior year.
"For the past four years I think we've had a jurist, so they will present their work to the jurist — at least one piece per person depending on numbers — and they'll pick from that," Sinnema said.
Artists' work is on display in the Lied Center for the Visual Arts alongside their classmates and peers.
"It helped a lot with how to present yourself and with how to make yourself a full package, and it teaches you a lot about displaying your work and how to share the space with other people," senior Jordan Collins said.
Space is limited, and this year has produced a few more exhibitors than usual.
"This year we have 21 majors in the show which is a large group," Sinnema said. "Usually we have 10 or 12, so it limits what each person can show, just because we have a limited amount of space, and it goes quickly with that amount of people."
The exhibit finishes up the year honoring the artists and their work by allowing artists' families to attend a closing ceremony.
"The last day of the show is May 17, which is the Saturday before graduation. We have a closing reception, which is mostly for the parents," Sinnema said. "Most of the parents won't be in town to see their work so we have a closing reception right before graduation so the parents can see their work."
Artists vary in their aspirations for their work as much as their focus. Paintings fill the walls alongside photographs and even multimedia.
"I am a graphic design major so the focus of my piece is graphic design, but I do music outside of school, so I combined the two into making myself a product." Collins said. "It's CDs that I designed. It has my business card on it and a pair of headphones so you can play on the iPad and listen to my music on there," Collins said.
Some artists' focus will lead them away from the gallery world and the exhibit gives them an experience to remember.
"When I go out after I graduate I'm going to be freelancing, working for other companies so I'm probably never going to have this experience again," senior art major Amanda Turner said. "It's also nice to be able to work with my peers and be able to collaborate with them."
The exhibit allows a certain freedom of skill for the seniors to showcase what they have learned during their time at Whitworth.
"It's like the performance in the theater department or in the music department; it's their chance to show off a little bit," Sinnema said.
Some students are using the experience as a springboard into other realms as they add to their resume.
"I want to use it for music and marketing myself and then I'm actually going into grad school here at Whitworth, in the MIT program," Collins said.
Some artists need the exposure to open up opportunities in the future.
"For studio majors, painting/drawing major, 3D major, sculpture class—whatever their emphasis is, exhibits like this is something that they shoot for, it's their goal, somewhere to put their work out there so people can see it," Sinnema said.